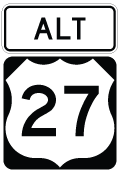 U.S. 27 Alternate branches west from U.S. 27 at Williston along a 93.12 mile route to Fanning Springs, Old Town, Cross City and Perry. The bulk of the route runs alongside U.S. 19/98 with the exception of the 26.60 mile long southern leg (State Road 500) west from Williston to Bronson and Chiefland. The entire route is four lanes.
U.S. 27 Alternate Guides
Connect with:
U.S. 19
U.S. 27
U.S. 41
U.S. 98
U.S. 129
State Road 51
State Road 121
State Road 349
Page Updated 07-21-2020.