U.S. 30 varies as a freeway or expressway from Ogden east to Tama, from west of Cedar Rapids to Mount Vernon, and between DeWitt and Clinton. The rest of the 331-mile route across Iowa primarily consists of two lane roadway through smaller cities and towns.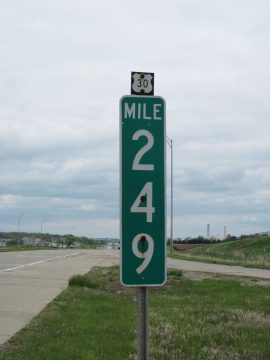 U.S. 30 Iowa Highway Guides
The Gateway Bridge taking U.S. 30 over the Mississippi River into Whiteside County, Illinois was constructed from August 1954 to May 1956 at a cost of $6.8 million.1,2 The suspension bridge opened to traffic following a ribbon cutting ceremony held on the afternoon of June 30, 1956.1 It replaced the Clinton High Bridge, which dated back to 1892.2
The Mount Vernon-Lisbon Bypass realigns a four-mile stretch of U.S. 30 onto an expressway south of the two cities. Excavation on the $94 million project started in spring 2017. Paving work runs from fall 2018 to 2019, with the project completed in 2020.3
| | |
| --- | --- |
| | 6th Avenue SW passes over the Lincoln Freeway ahead of Waconia Avenue west to the U.S. 30-151-218 eastbound on-ramp. This exchange was the temporary west end of the Lincoln Freeway. Photo taken 05/23/08. |
Sources:
"A glimpse of Clinton in the past." Clinton Herald (IA), December 30, 2013.
"9,000 Cars Move Bumper – to – Bumper Over Gateway Bridge Saturday." Clinton Herald, The (IA), July 2, 1956.
"CBJ Report: Construction on Mount Vernon-Lisbon Bypass begins." Corridor Business Journal, April 20, 2017.


Photo Credits:

05/23/08 by AARoads

Connect with:
Interstate 380
U.S. 61
U.S. 67
U.S. 151
U.S. 218
Iowa 1

Page Updated 05-22-2018.