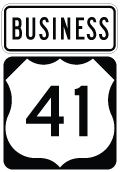 Following a 16.8 mile route, U.S. 41 Business travels from U.S. 41 (Tamiami Trail) and SR 676 (Causeway Boulevard) at Palm River to U.S. 41 at Lutz. The route begins along 22nd Street Causeway northwest to Port Tampa Bay and SR 60 (Adamo Drive) outside Ybor City. Combining with SR 60, the two routes navigate along a dog legged route west to the Tampa Central Business District using Adamo Drive, Channelside Drive and Kennedy Boulevard. A one-way couplet carries U.S. 41 Business between Downtown and U.S. 92 (Hillsborough Avenue) along Florida Avenue north and Highland Avenue and Tampa Street south. North from Hillsborough Avenue, Florida Avenue (SR 685) comprises a four-lane boulevard for the remainder of the business route to Lutz.
Historically, U.S. 41 Business replaced the northern leg of U.S. 541 when it was decommissioned in 1951. U.S. 541 was an intrastate route running south from Lutz and Tampa to Palmetto in Manatee County, partly along the current alignment of U.S. 41 to the south. U.S. 41 was originally routed along what is now U.S. 301 through Riverview and Parrish.
U.S. 41 Business - Tampa Guides
| | |
| --- | --- |
| | Palm Avenue westbound at U.S. 41 Business (Tampa Street) south. Photo taken 03/05/06. |
| | |
| --- | --- |
| | Cass Street forms a one-way couplet with Tyler Street between the Hillsborough River and Jefferson Street on the north side of Downtown. Cass Street east to Orange Avenue provides a fast route from the central business district to I-275 east for I-4 east while motorists bound for I-275 south are directed onto U.S. 41 Business (Florida Avenue) north for the on-ramp at Kay Street. Photo taken 04/15/15. |
Photo Credits:
03/05/06 by AARoads and Justin Cozart. 04/15/15 by AARoads.
Connect with:
Interstate 275
U.S. 41
U.S. 92
State Road 60
State Road 574
State Road 579 - Fletcher Avenue
State Road 580
State Road 582 - Fowler Avenue
State Road 676
State Road 678 - Bearss Avenue
Page Updated 08-13-2015.