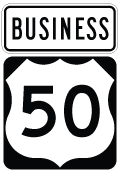 U.S. 50 Business in Carson City will be designated when Interstate 580 is completed around the south side of the city in August 2017. The business route will replace U.S. 50 along Carson Street north and Williams Street east, with U.S. 50 accompanying I-580 and U.S. 395 as part of a bypass. U.S. 50 was previously rerouted away from Downtown Carson City along Fairview Drive east to join the current south end of I-580.
Only the 1.997 mile section of Carson Street south from Fairview Drive to Spooner Junction, where U.S. 50, U.S. 395 and I-580 come together was state maintained. Known as SR 529, the commercial arterial was removed from the system by 2020.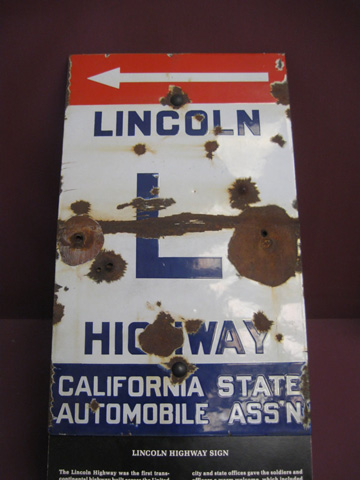 The Lincoln Highway Sign description at the museum reads:
The Lincoln Highway was the first trans-continental highway built across the United States. Construction began in 1914. In 1919, the Lincoln Highway Association convinced the federal government to test if a military convoy made up of heavy vehicles could make it from Washington D.C. to San Francisco, a distance of 3,000 miles. On July 7, 1919, the first Army Transcontinental Motor Convoy started from Washington D.C. The convoy contained seventy-two vehicles and 297 men. On August 23rd, the convoy arrived in Carson City, and the city and state offices gave the soldiers and officers a warm welcome, which included a meal on the Capitol lawn and a dance on Carson Street in front of the Capitol. The soldiers slept on cots on the Capitol grounds and then the next morning continued on their historic trip to San Francisco.
The Lincoln Highway sign represents one of thousands which marked the road across the United States. In the eastern part of the country it is known as U.S. 30. In the west from Salt Lake City to San Francisco the highway is known as U.S. 50.
Connect with:
Interstate 580
U.S. 50
U.S. 395
U.S. 395 Business - Carson City
Page Updated 11-26-2020.