U.S. 60 was extended into Arizona on November 20, 1930, following the efforts of the Becker Brothers, who worked tirelessly to get another transcontinental highway through the state in the late 1920s.
The route of U.S. 60 replaced the original Arizona Highway 74 from Ehrenberg east to Wickenburg and followed U.S. 89 from Wickenburg to Florence Junction. Beyond Florence Junction, U.S. 60 replaced SR 73 on a new alignment to Hon Dah (McNary) and Springerville. Then U.S. 60 overtook U.S. 260 (U.S. 70) from Springerville to New Mexico. U.S. 70 overlapped with U.S. 60 from Ehrenberg to Globe between 1935 and 1969.
A number of sections of U.S. 60 between Superior and Globe were realigned and improved between 1949 and 1952 to reduce the number of curves and make the road safer.
In 1974, U.S. 60 was truncated at Brenda in western Arizona, where it splits from Interstate 10. U.S. 60 was rerouted in 1992 from the historic alignment along Van Buren Avenue, Mill Avenue, Apache Boulevard and Main Street onto Interstate 17, I-10 and former SR 360 through the Phoenix metropolitan area.
U.S. 60 Arizona Guides
Grand Avenue (U.S. 60) was modified in 2004 to add grade separated interchanges between Thomas Road / 27th Avenue and Loop 101. When constructed, all of the intersections were six way.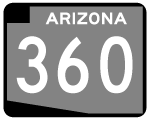 The Superstition Freeway (former State Route 360) was built in phases. The first section, from I-10 to Mill Avenue, opened in 1970, followed by Mill Avenue to Price Road in 1975. Price Road to Dobson Road was completed by 1977, and Dobson Road to Country Club Drive in 1979. Country Club Drive to Gilbert Road was finished in 1981, followed by Gilbert Road to Val Vista in 1983. Val Vista Dr to Power Road opened in 1985, with the remainder by 1992.
The Superstition Freeway is the prototype for the rest of Phoenix's freeways. The roads travels between two and 20 feet below grade, and sound walls and berms buffer surrounding neighborhoods from it. The freeway was widened in 2000 from Interstate 10 to Val Vista Drive, and in 2007 from Val Vista Drive to Ellsworth Road.
| | |
| --- | --- |
| | Begin eastbound U.S. 60 after its junction with Interstate 10 east of Quartzsite. This is the first shield on the nearly transcontinental route. 05/25/03 |



Photo Credits:

05/25/03 by AARoads

Connect with:
Interstate 10
Interstate 17
U.S. 93

Page Updated 11-01-2007.