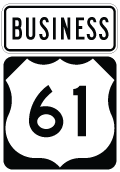 U.S. 61 Business through Davenport of the Quad Cities was approved by AASHTO on May 20, 2010. The new route replaced the U.S. 61 mainline along River Drive and the couplets along Brady Street north and Harrison Street / Welcome Way south. U.S. 61 was realigned to overlap to run north-south along Interstate 280 and east-west along Interstate 80. The rational for relocating U.S. 61 was based upon the "Truck-Eating Bridge", the IAIS Railroad overpass above Harrison Street at 5th Street in Downtown Davenport. The notorious history of the bridge is even profiled on a Quad City Times slide show.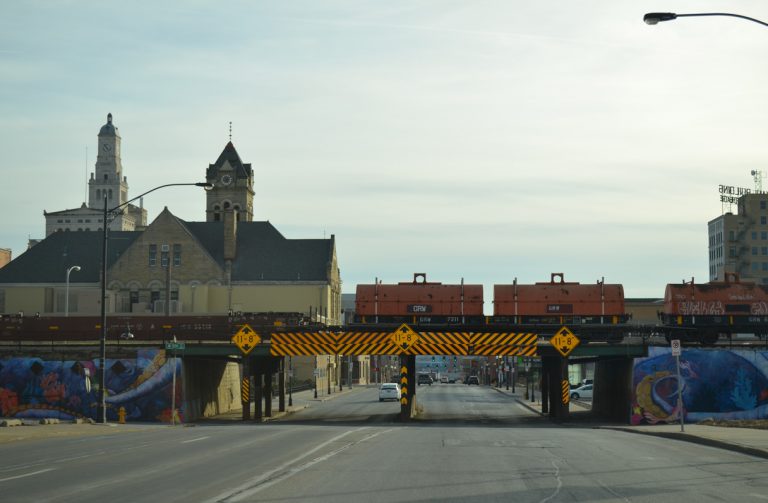 River Drive extends east from Interstate 280 through hilly areas of southwest Davenport to a folded diamond interchange with the east end of Iowa 22 (Rockingham Road). There U.S. 61 Business expands into a divided arterial through industrial areas. Rockingham Road to the north represents the historic alignment of U.S. 61 as River Drive straddles wetland areas to the south by Davenport Harbor and Credit Island Park.
U.S. 61 Business - Davenport Guides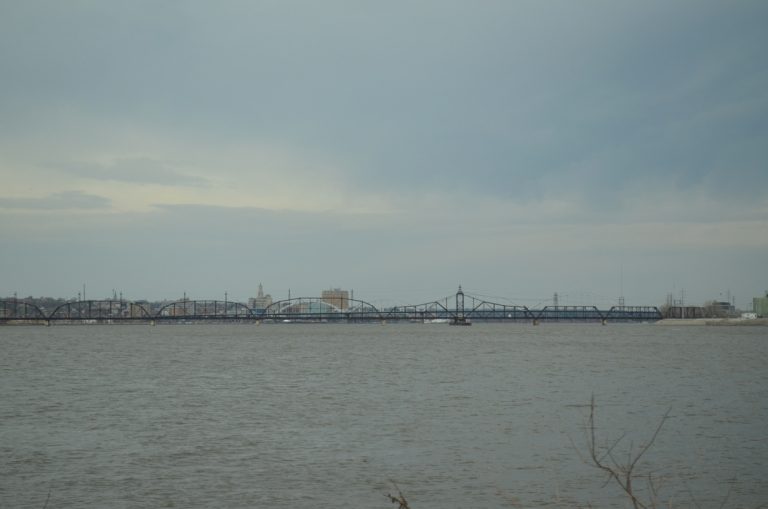 Curving away from the Mississippi River, U.S. 61 Business (River Drive) enters Downtown by Centennial Park, where it combines with U.S. 67 at the north end of the Centennial Bridge linking Davenport with Rock Island, Illinois. The two share a seven block overlap to the couplet of Brady and Harrison Streets, where U.S. 61 Business turns north. U.S. 67 remains along River Drive east to Bettendorf.
Brady Street carries U.S. 61 Business north by the East Bluff neighborhood and through the Vander Veer Historic neighborhood while Harrison Street carries southbound, two blocks to the west through Norwood Park and the Hamburg Historic District. The one-way streets separate further from one another to Duck Creek before converging again by North Park Mall and the junction with U.S. 6 (Kimberly Road). Southbound U.S. 61 Business, from the split with Brady Street and Northwest Boulevard is named Welcome Way. This stretch and Brady Street north consist of a commercialized route with six or more lanes of traffic.
Beyond the crossing over Goose Creek, U.S. 61 combines into a two-way arterial along the remainder of Brady Street north by the Goose Creek heights community. A full cloverleaf interchange joins the north end of U.S. 61 Business with the U.S. 61 freeway leading north to Eldridge and Interstate 80. All of U.S. 61 Business doubles as unsigned Iowa 461.
| | |
| --- | --- |
| | scenes |
| | |
| --- | --- |
| | 35th Street east ends at U.S. 61 Business (Brady Street) north opposite the parking lot for Brady Street Stadium. Photo taken 12/27/14. |
| | |
| --- | --- |
| | 53rd Street westbound approaching U.S. 61 Business (Brady Street) in north Davenport. Photo taken 01/01/15. |
| | |
| --- | --- |
| | Signs still reflected the U.S. 61 mainline along 53rd Street, five years after the official renumbering of Brady Street to U.S. 61 Business. Photo taken 01/01/15. |



Photo Credits:

12/27/14, 01/01/15 by AARoads

Connect with:
Interstate 80
Interstate 280
U.S. 61
U.S. 67
Highway 22

Page Updated 03-11-2016.