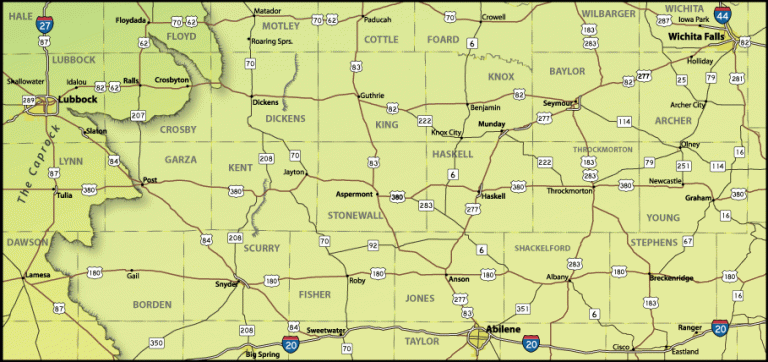 U.S. 82 crosses nearly the width of Texas, entering the Lone Star State west of Yoakum, and crossing into Arkansas along side U.S. 67 at Texarkana. Within the state, the US highway totals 573 miles (the Texas Highway Designation Files attributes 504.08 miles to the route), joining the larger cities of Lubbock, Wichita Falls and Texarkana with Gainesville, Sherman and Paris. Through Lubbock and Wichita Falls, U.S. 82 upgrades to freeways along side U.S. 62 and U.S. 277 respectively.
U.S. 82 Texas Guides
Kell Freeway - Wichita
U.S. 82 east from the Wichita Falls city line 7.5 miles to U.S. 281/287 along the Central Freeway follows the Kell Freeway. Originally proposed in the 1964 Wichita Falls Urban Transportation Plan to keep pace with expected growth along the west side of Wichita Falls,1 the Kell Freeway bypassed the previous route of U.S. 82/277 along Seymour Highway to the south. The city of Wichita Falls held a bond election in 1967 to acquire 448 properties along the planned right of way. The Texas Department of Transportation (TxDOT) funded 50% of the costs. Construction however would not begin until the 1970s, when the frontage road system was built.1
U.S. 82 and 277 remained along the at-grade frontage roads along Kell Boulevard until 1985, when the first of five phases to construct the freeway kicked off. Costing $10.25 million and finished in December 1988, Phase 1 involved building the Kell Freeway from Kemp Boulevard east to Harrison Street. Phase 2 constructed the freeway from Harrison Street east to Holliday Street. Work on the $10.52 million project ran from November 1987 to July 1990.1
The $17.56 million contract to extend the Kelly Freeway west from Kemp Boulevard to Fairway Boulevard was let in January 2001. Work on Phase 3 was completed ahead of schedule in March 2003.1 Work on Phases 4 and 5 was delayed due to funding issues. Changes in the Texas Mobility Fund eventually provided the needed funds.1
Phase 5 involved constructing the "Falls Flyover," the systems interchange connecting the Kell Freeway east end with U.S. 281/287 (Central Freeway). The $32.2 million project started in November 2005 and was scheduled to open in August 2007.1 The exchange was dedicated in November 2007.2
The western three and a half miles debuted to motorists in the days following a ceremony held on September 24, 2009. Costing $28 million and commencing in January 2008, the final project (Phase 4) west from Fairway Boulevard to FM 369 included bridges over Barnett Road, Allendale Road and Southwest Parkway. Overall costs for the entire Kell Freeway topped out at $101 million.3,4
| | |
| --- | --- |
| | Business" width="35"> - Paris |
| | |
| --- | --- |
| | Downtown Paris centers around a town square at 1st Street and Grand Avenue. U.S. 82 Business (Grand Avenue) east intersects U.S. 271 Business and the north end of SH 19 & 24 here. Photo taken 2005. |
| | |
| --- | --- |
| | SH 19 & 24 follow a one-way couplet along 1st Street SW and S Main Street from Downtown Paris to Hearne Avenue. The two head south from Paris to Cooper and eventually IH 30. Photo taken 2005. |
| | |
| --- | --- |
| | U.S. 271 Business combines with U.S. 82 Business on the southeast side of the Downtown square. The two overlap 0.9 miles east to 12th Street SE. Photo taken 2005. |
| | |
| --- | --- |
| | Main Street lines the east side of the Downtown square one block north to Lamar Street and U.S. 271 Business north. Efforts by the city of Paris visible here preserved the historic character of Downtown. Photo taken 2005. |
Sources:
"Flyover progress A look at the construction on the interchange, step-by-step." Wichita Falls Times Record News (TX), February 12, 2006.
"Flyover re-do - Section of U.S. 287/82 ramp to be resurfaced." Wichita Falls Times Record News (TX), January 11, 2008.
"Freeway set to open* Increased safety - cited in Kell West - Extension work." Wichita Falls Times Record News (TX), September 25, 2009.
"Kell job near done." Wichita Falls Times Record News (TX), September 25, 2009.


Photo Credits:

2005 by Justin Cozart

Connect with:
Interstate 27
Interstate 35
Interstate 44
U.S. 287

Page Updated 07-09-2019.