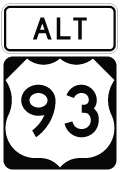 U.S. 93 Alternate comprises a 117 mile route from U.S. 93 at Gages Station to West Wendover, and along Interstate 80 northwest to Oasis and Wells. The US highway provides the best route for travelers from the eastern Nevada communities of Ely, Austin and Eureka to Salt Lake City, Utah. U.S. 93 Alternate also serves those traveling from Wendover to Las Vegas or other Southern Nevada communities.
The lightly traveled route navigates northeast from U.S. 93 across the Antelope Range, Antelope Valley and the Goshute Mountains to the city of West Wendover. U.S. 93 Alternate dog legs west alongside Business Loop I-80 on Wendover Boulevard and Florence Way to connect with Interstate 80 at Exit 410. I-80 and U.S. 93 Alternate overlap northwest across the Toano Range and Goshute Valley to the community of Oasis. The freeway continues the U.S. highway west across the Pequop Mountains and Independence Valley to U.S. 93 (Great Basin Highway) and Business Loop I-80 at Wells.
Previously the route of U.S. 93 Alternate was part of the U.S. 50 mainline established in the 1930s from Lages Station to Eastline and across the Great Salt Lake Desert with U.S. 40 to Salt Lake. The route northwest to Wells was U.S. 40 prior to construction of Interstate 80. U.S. 50 was rerouted to the south of Salt Lake City along U.S. 6 between Ely and Price in 1954. The former loop north to Wendover and Salt Lake City was then redesignated U.S. 50 Alternate. This included the long overlap with U.S. 40 from Eastline, Nevada to Lake Point Junction, Utah.
Actions by the American Association of State Highway and Transportation Officials (AASHTO) on November 12, 1976 both eliminated U.S. 50 Alternate from East Ely, Nevada to Moark Junction, Utah, and established U.S. 93 Alternate. This was part of a wider range change for U.S. 50 in Utah, which shifted the route south from a shared alignment with U.S. 6 from Delta to Green River Junction to a long overlap with Interstate 70 west to Salina, and over Utah State Route 26 to Scipio and Delta.
| | |
| --- | --- |
| | South |
| | |
| --- | --- |
| | U.S. 93 Alternate travels 58.8 miles south from Business Loop I-80 (Wendover Boulevard) in West Wendover to end at U.S. 93 (Great Basin Highway). April 2000 |



Photo Credits:

April 2000 by Dominic Ielati

Connect with:
Interstate 80
U.S. 93

Page Updated 07-12-2017.