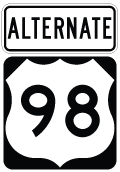 Also designated as Scenic County Road 98, U.S. 98 Alternate (Eastern Shore Parkway) straddles Mobile Bay northward from U.S. 98 at Barnwell to Point Clear, Battles Wharf and Downtown Fairhope. The bannered route shifts away from the immediate shoreline as it continues north to Montrose, Downtown Daphne and its end at U.S. 98 and Park Drive.
U.S. 98 was relocated eastward onto a new alignment extending north from Barnwell to Daphne. The initial stretch of new four-lane roadway was completed south from Daphne to Alabama 104 in Fairhope by 1969. The remainder south to Barnwell was approved by AASHTO on October 3, 1981. The initial request for the establishment of U.S. 98 Alternate, for the old U.S. 98 leading north from Alabama 104 to Daphne, was subitted to AASHTO on October 26, 1969. It was denied. A subsequent application to designate U.S. 98 Alternate over old U.S. 98 along the Eastern Shore was approved by AASHTO on June 28, 1982.
Connect with:
U.S. 98
State Route 104
Page Updated 11-01-2003.