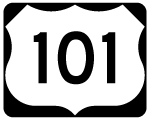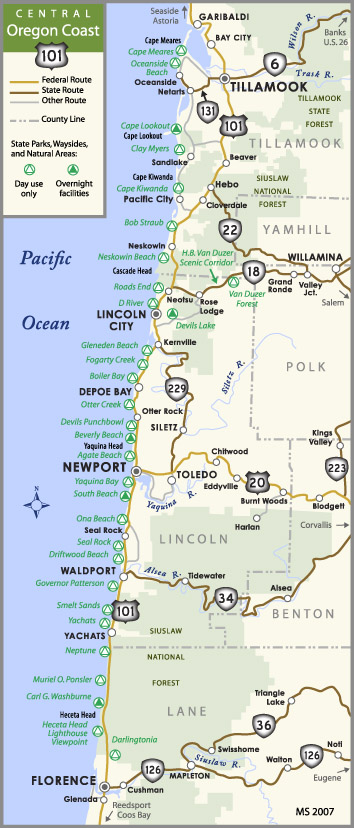 U.S. 101 is the Oregon Coast Highway, following Oregon's scenic coastline from the California State Line north to Astoria via Brookings, Coos Bay, Florence, Newport, and Seaside. The highway is generally two lanes except in urban areas with no long freeway sections.
Commissioned as part of the original U.S. Highway system in 1926, Oregon's portion of U.S. 101 (Oregon Coast Highway) has changed little over the decades. Driving its 363 mile length is like taking a trip back in time and experiencing what motor travel used to be like before the arrival of Interstate freeways. The U.S. highway still serves as the main street for most of the coastal cities from Astoria to Brookings. Many stretches are narrow and winding, sometimes hugging the coastline, at other times swinging inland through farmland and forests. Modern highway interchanges are present but rare along the route. Junctions with state routes are usually at-grade rural crossings or city street intersections. Even the western terminus of U.S. 20 is at an unremarkable intersection with U.S. 101 in downtown Newport.
What the Oregon Coast Highway lacks in modern highway conveniences, it more than makes up for in recreational opportunities and scenic vistas. Part of the Pacific Coast Scenic Byway, U.S. 101 offers easy access to dozens of state parks, waysides, and natural areas that dot the entire length of the Oregon coastline.
U.S. 101 Oregon Guides
| | |
| --- | --- |
| | scenes |
| | |
| --- | --- |
| | This U.S. 101 shield is posted at the intersection of westbound North Bank Chetco River Road (CR 784) with U.S. 101 (Oregon Coast Highway / Chetco Avenue). U.S. 101 north heads into the city of Brookings while southbound continues to Crescent City, California. 05/28/06 |
| | |
| --- | --- |
| | While crossing the Chetco River, this view from the southbound lanes of U.S. 101/Oregon Coast Highway affords beautiful views of the mouth of the Chetco River, Brookings Harbor, and the Pacific Ocean on a rare sunny day on the coast in late spring. 05/28/06 |



Photo Credits:

05/28/06 by AARoads and Joel Windmiller

Connect with:
U.S. 26
U.S. 199 Oregon
Route 126 - Eugene and Springfield

Page Updated 08-23-2007.