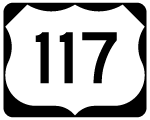 U.S. 117, along with U.S. 158, is one of two US routes remaining wholly within the state of North Carolina. U.S. 117 connects the state port at Wilmington with U.S. 264/Future I-587 at Wilson. The southern end of U.S. 117 was adjusted in 2003 to move the terminus from the Parsley Street Bridge in Wilmington to River Road near the entrance to the port. For much of its route, U.S. 117 follows a two-lane highway paralleling well-traveled Interstate 40. North to Goldsboro, U.S. 117 expands to a four lane highway.
U.S. 117 North Carolina Guides
U.S. 117 was realigned onto a freeway from Goldsboro (U.S. 70) northward to U.S. 264 that was completed in 2006. The route was also extended west along side U.S. 264 to I-95 while the former two lane alignment was renumbered as U.S. 117 Alternate. All of this changed in November 2007 with the AASHTO approval of Interstate 795. Ensuing action replaced all markers for U.S. 117 from Goldsboro to Wilson and I-95 with I-795 shields. NCDOT subsequently moved U.S. 117 back to its old alignment.
Long range plans lengthen Interstate 795 south along U.S. 117 to I-40. A future I-795 corridor sign was installed along U.S. 117 at Goldsboro in 2017.
Connect with:
Interstate 40
Interstate 795
U.S. 64
U.S. 301
Page Updated 09-10-2018.