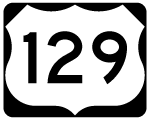 U.S. 129 joins the county seats of Chiefland, Trenton, Live Oak and Jasper in North Florida. Originating from U.S. 19/98/27 Alternate in Chiefland, U.S. 129 heads northeast and then north across agricultural areas into Gilchrist County. Passing through Trenton, U.S. 129 meets SR 26 and then the south end of SR 47 before turning northwestward en route to the town of Bell. Staying east of the Suwannee River, U.S. 129 advances north to U.S. 27 in southern Suwannee County.
U.S. 129 combines with U.S. 27 for 4.07 miles as it leads west into the town of Branford. Passing through Downtown Branford along Suwannee Avenue, U.S. 129 intersects the south end of SR 247. The ensuing stretch traverses a mix of farm and timberland north to O'Brien and McAlpin. Eventually U.S. 129 arrives within the city of Live Oak, taking Ohio Avenue north to SR 51 (11th Street SW) and Downtown.
SR 51 replaces SR 249 as the hidden route for U.S. 129 from Live Oak to Jasper. This section of U.S. 129 connects with both Interstate 10 and I-75. Heading into Jasper, U.S. 129 overlaps with U.S. 41 for 3.40 miles as well. The northern 7.52 miles from U.S. 41 to the state line doubles as SR 100. U.S. 129 continues into Echols County, Georgia to Statenville.
U.S. 129 Florida Guides
U.S. 129 was designated in Florida from Jasper northward in 1941. The initial extension lengthened the highway south over SR 51 to Live Oak, SR 249 to Branford, and SR 349 to U.S. 19/27 Alternate at Old Town in 1947. U.S. 129 was realigned away from SR 349 through Lafayette and Dixie Counties over SR 49 from U.S. 27 east of Branford to U.S. 19/98/27 ALT in Chiefland in 1959. U.S. 129 ALT was established along the former route along SR 349 between Branford and Old Town. The bannered route was eliminated by 1970.
Connect with:
Interstate 10
Interstate 75
U.S. 19
U.S. 27
U.S. 41
U.S. 90
U.S. 98
State Road 26
State Road 47
State Road 51
Page Updated 04-30-2020.