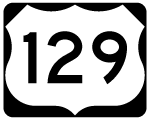 Unlike its parent within the Peach State, U.S. 129 strays away from Interstates for the most part. The U.S. Highway travels the height of Georgia from the Florida state line southeast of Valdosta, to the Tennessee state line in the north Georgia Mountains. U.S. 129 serves the cities of Warner Robins, Macon, Athens and Gainesville along a 377.57 mile long route.
Through Gainesville, U.S. 129 was relocated initially to the south. Athens Highway / E.E. Butler Parkway was completed as a new four-lane facility to the west of Athens Street (old U.S. 129) by 1970. The American Association of State Highway Officials (AASHO) signed off on the new alignment on November 6 of that year.
A second change in Gainesville took place when a new alignment (Limestone Parkway) was constructed from Cleveland Highway south to Jesse Jewell Parkway on the east side of the city. The relocation was approved by the American Association of State Highway and Transportation Officials (AASHTO) on June 4, 1990. It included the recognition of U.S. 129 Business over the former route along Park Hill Drive south to Downtown.
U.S. 129 Alternate branches east from U.S. 29 at Hawkinsville to connect U.S. 129 with U.S. 23 at Cochran. U.S. 23/129 Alternate overlap north from there to Macon. AASHO approved the temporary marking of U.S. 129 Alternate along what was previously the U.S. 129 mainline, between Hawkinsville and Macon, on November 12, 1976. The Alternate route remains signed today, with U.S. 129 traveling northwest to Warner Robins, and with U.S. 41 into Macon. AASHO made the U.S. 129 realignment northwest over SR 247 and SR 49 to Macon official on July 13, 1976.
Connect with:
Interstate 16
Interstate 20
Interstate 85
Interstate 985
U.S. 23
U.S. 80
U.S. 84
U.S. 441
State Route 10 Loop - Athens Perimeter Highway
Page Updated 06-15-2020.