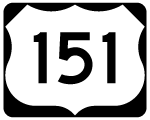 Entering Wisconsin at the extreme southwest corner of the state, U.S. 151 traverses northeastward a little over 220 miles serving cities and towns including Platteville, Dodgeville, Madison, Waupun and Fond du Lac. The route concludes in Downtown Manitowoc near Lake Michigan.
U.S. 151 Wisconsin Guides
Connect with:
Interstate 41 / U.S. 41
Interstate 43
Interstate 90
Interstate 94
U.S. 10
U.S. 61
Page Updated 04-08-2016.