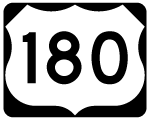 U.S. 180 begins at the New Mexico state line, and travels northwestward to Valle, just south of the Grand Canyon. The road travels through lightly populated areas between St. Johns and Holbrook, then overlays Interstate 40 for the long run to Flagstaff.
Leaving Flagstaff, U.S. 180 branches northwest, passing Arizona Snowbowl, a popular skiing area. U.S. 180 meets State Route 64 in Valle, and follows SR 64 to the Grand Canyon.
U.S. 180 was originally designated as U.S. 260 in 1932, traveling from New Mexico to Holbrook, following the present-day route. This route has only been modified once, to bypass Concho in 1973 (with the original section becoming Arizona 180A).
Originally, U.S. 260 ended at U.S. 66 in Holbrook. In 1960, Arizona designated SR 164 as a state route from Flagstaff to Valle. Shortly thereafter (in 1962), U.S. 260 was renumbered to U.S. 180.
In 1962, the section of road was realigned slightly between Springerville and St. Johns. The old alignment was abandoned by resolution on November 16, 1962.
U.S. 180 was extended to reach the Grand Canyon as part of the renumbering in 1962. However, as State Route 164 was not complete by that point, U.S. 180 was temporarily routed along I-40/U.S. 66 to SR 64 in Williams, then north along Arizona 64 from Williams to the Grand Canyon. In 1963, U.S. 180 was moved to its present day routing from Flagstaff to Valle and the Grand Canyon.
U.S. 180 actually ends in Valle. However, the road is signed along with SR 64 from Valle north to the Grand Canyon. This is shown in the State Highway Log as mileage attributed to SR 64.
U.S. 180 Arizona Guides
Sources:
Resolution 62-144. Minutes, State Highway Commission, November 16, 1962.
Connect with:
State Route 64
Interstate 40
U.S. 191
State Route 61
Page Updated 02-14-2012.