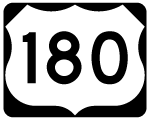 U.S. 180 parallels the route of U.S. 380 through the adjoining counties to the south from Hobbs, New Mexico east to Weatherford. Like many other US highways in Texas, the 329-mile route of U.S. 180 serves to connect county seats. U.S. 180 enters the state paired with U.S. 62 en route to the Gaines County seat of Seminole. U.S. 180 travels 44 miles from there to Lamesa and U.S. 87, then 32 miles to the Borden County seat of Gail.
East from Snyder and U.S. 84, U.S. 180 runs north of the IH 20 corridor to Roby, Anson, Albany, Breckenridge and Mineral Wells. The eastern most extent overlays historic U.S. 80 from Downtown Weatherford to Hudson Oaks and its terminus at Interstate 20.
U.S. 180 Texas Guides
Connect with:
Interstate 20
U.S. 62
U.S. 84
Page Updated 07-30-2019.