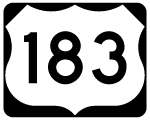 U.S. 183 runs through central Texas from Cuero to Oklahoma north of Oklaunion. Outside of Austin, the bulk of the 496 mile route in the state is rural, connecting Lampasas, Goldthwaite, Brownwood, Rising Star, Breckenridge, Seymour and other county seats. Texas Highway Designation Files attributes 428.38 miles to U.S. 183.
Through Austin, U.S. 183 follows freeways along Anderson Lane and Research Boulevard. Upgrades to the route along Ed Bluestein Boulevard, between Loop 111 (Airport Boulevard) and U.S. 290, rebuild the mainline to tolled express lanes and shift U.S. 183 to an at-grade frontage road system. Further north, Toll 183A provides a high speed bypass of U.S. 183 through the cities of Cedar Park and Leander.
U.S. 183 Texas Guides
Connect with:
Interstate 10
Interstate 35
U.S. 77
U.S. 90
U.S. 290
State Highway 183A
State Highway 45
Page Updated 01-29-2018.