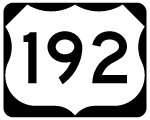 U.S. 192 travels just 74.7 miles from U.S. 27 at Four Corners to Florida State Road A1A (Miramar Avenue) at Indialantic. The route starts as a six-lane arterial along the Lake and Polk County line by a number of RV parks. Eastward along the Orange and Osceola County lines, the US route becomes more commercialized to the interchange with SR 429 (Western Beltway) and the Disney World area.
Continuing with six lanes, U.S. 192 angles southeast into northern Osceola County by a number of restaurants, hotels and vacation condos catering to tourists visiting the Disney World theme park. A brief rural reprieve ensues east of Old Lake Wilson Road (CR 545) across Reedy Creek. Interchanges join an expressway section of U.S. 192 with World Drive, the main access road to Disney World from the south, and Interstate 4. U.S. 192 transitions back into a slow moving commercial arterial east from there to the south end of International Drive and older retail development on the outskirts of Kissimmee.
State Road 535 ties into U.S. 192 (Irlo Bronson Memorial Highway) from resort areas east of Disney Springs and Interstate 4, as the US highway curves southeast to the city of Kissimmee. The route retains six lanes separated by a narrow median to U.S. 17/92 and John Young Parkway along Vine Street. U.S. 17/92 combine with U.S. 192 east for 0.7 miles to Main Street, where they turn north along side U.S. 441 to Orange Blossom Trail in Orange County. U.S. 441 south meanwhile turns east for a 24.5-mile overlap with U.S. 192 to Holopaw.
U.S. 192/441 travel southeast from Kissimmee by Osceola County Fair to intersect ramps with Florida's Turnpike (Exit 244) opposite Shady Lane. The arterial reduced to four lanes east from there, but construction added a lane per direction to Nova Road in St. Cloud. A $37.7 million project expands a 3.970 mile stretch between Aeronautical Drive to Budinger Avenue in the city of St. Cloud to Fall 2019.
U.S. 192/441 bisect St. Cloud along 13th Street with six overall lanes between Budinger Avenue and Eastern Avenue. The arterial previously reduced to four lanes beyond Eastern Avenue, but a $16.2 million project completed in Summer 2017 expanded another 3.200 miles of the highway east to Narcoossee Road (CR 15).
Construction in 2006-08 expanded U.S. 192/441 southeast from the outskirts of St. Cloud to Holopaw as a four-lane divided highway. This included building a new alignment between Alligator Lake and Lake Lizzie. The former two-lane roadway was retained as service roads on the south side and renamed Alligator Lake Shore East and West.
The highway becomes rural southeast of Old Melbourne Highway (CR 500A) to Harmony. Harmony was developed on rural land south of Buck Lake starting in 2003. The master-planned community includes a golf course and high school. The school entrance represents the lone traffic light along U.S. 192 between Narcoossee Road and St. Johns Heritage Parkway at West Melbourne.
U.S. 441 turns south at Holopaw for a lightly traveled route 33.8 miles to Yeehaw Junction, where State Road 60 and the Turnpike meet. U.S. 192 east plies across wetland and conservation areas to West Melbourne and Interstate 95. The initial ten mile section between the Osceola County line and I-95 was expanded to four lanes starting in June 2002. The $24 million project was the first of a two-phase, five year project designed to widen 35 miles of the corridor between CR 532 and I-95. The subsequent 25-mile section between CR 532 and the Brevard County line cost around $90 million and was underway in 2005.1 Construction of St. Johns Heritage Parkway just west of the freeway added a signal for the new arterial beltway developed around Palm Bay.
East of I-95, U.S. 192 transitions to New Haven Avenue, a 6.2 mile long urban arterial through June Park, Melbourne Village, West Melbourne and Melbourne. The US route shifts north one block onto Strawbridge Avenue to Downtown Melbourne and U.S. 1. Melbourne Causeway leads the route east across Indian River Lagoon and the Intracoastal Waterway to Indialantic. U.S. 192 ends at SR A1A a half block from the beach.
U.S. 192 Florida Guides
Originally U.S. 192 ended in Downtown Kissimmee from the east. The US highway followed what is now Neptune Road (CR 532) west from St. Cloud onto Drury Avenue in Downtown Kissimmee. U.S. 17/92 followed Broadway and Main Street at that time, with U.S. 192 concluding at their intersection with Drury Avenue. The route was extended west in 1972 to serve the Walt Disney World area traffic.
Sources:
"Widening to Relieve U.S. 192 - Twenty-Six Deaths and more than 300 Accidents have Occurred Since 1995 on a 35-Mile Stretch of the Road." Orlando Sentinel, The (FL), June 7, 2002.
Connect with:
Interstate 4
Interstate 95
U.S. 1
U.S. 17
U.S. 27
U.S. 92
U.S. 441
State Road A1A
State Road 429 - Western Beltway / Apopka Expwy / Wekiva Pkwy
State Road 535 - Vineland Road
Page Updated 11-04-2018.