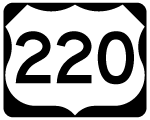 U.S. 220 travels 187 miles across western Virginia from south of Martinsville to north of Monterey. The US highway enters the state northeast from Price, North Carolina along a four lane, divided highway. Three miles northward, U.S. 220 splits with U.S. 220 Business through the town of Ridgeway.
A second Business route for U.S. 220 runs into the city of Martinsville as U.S. 220 combines with U.S. 58 along a freeway bypass to the west and south. U.S. 220 transitions into an at-grade highway again north of Collinsville en route to the Franklin County line at Oak Level.
U.S. 220 circumvents Skelt Mountain northeast to Sydnorsville and continues past Brier Mountain to Rocky Mount, where there is a third Business route. U.S. 220 winds northwest to Boones Mill between Cahas Mountain and Blue Ridge and then eastward again leading into the city of Roanoke.
Through Roanoke, U.S. 220 upgrades to a freeway, partially along side Interstate 581 and also as the Future I-73 corridor. U.S. 220 ALT follows the former alignment to the east while U.S. 220 overlaps with I-81 for 6.3 miles to Daleville.
U.S. 220 travels to Fincastle and Eagle Rock at Jefferson National Forest. Passing through the gap between Crawford and Rathole Mountains, U.S. 220 parallels the James River northward to Clifton Forge. There U.S. 220 combines with I-64/U.S. 60 west 11.3 miles to Covington. The two routes separate form the freeway to Downtown before parting ways.
Leading northeast from Covington, U.S. 220 runs along side Little Mountain through Falling Spring Valley and Warm Springs Valley to SR 39 at Warm Springs. The highway follows the east slopes of Back Creek Mountain northward to U.S. 250 at Monterey. U.S. 220 crosses into Pendleton County, West Virginia beyond Forks of Waters and Gulf Mountain.
U.S. 220 Virginia Guides
Connect with:
Interstate 81
Interstate 581
U.S. 58
U.S. 11
U.S. 221
U.S. 460
U.S. 60
State Route 116
State Route 101 - Hershberger Road
Page Updated 04-12-2010.