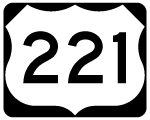 U.S. 221 travels 42.24 miles within the Sunshine State from Perry to the Georgia state line north of Ashville. Paralleling the Georgia & Florida Company Railroad, U.S. 221 leaves Perry north from Boyd to Shady in northern Taylor County. Crossing into Madison County, U.S. 221 continues to Ebb, Interstate 10 near Hixtown Swamp and into the town of Greenville. There U.S. 221 dog legs west along side U.S. 90 for 0.31 miles. Resuming a northward course from there toward Quitman, Georgia, U.S. 221 advances into eastern Jefferson County to Ashville.
U.S. 221 Florida Guides

Within the city of Perry, U.S. 221 was realigned to bypass downtown. A 2.277 mile section of Jefferson Street, from U.S. 27 north to a point just north of Green Farm Road, was relinquished by the Florida Department of Transportation to the city in 2018. U.S. 221 was relocated west from Jefferson Street along side U.S. 27 for 0.425 miles, north along U.S. 19/27 (Byron Butler Parkway) for 2.794 miles to CR 359A (Slaughter Road), and east on SR 359A (Wright Road) for 1.346 miles back to its original alignment. All FDOT Straight Line Diagrams (SLD's) were updated by May 2019 to show the changes.
State Road 55 was established north from Perry into Madison County by 1950. U.S. 221 was extended southward along SR 55 to U.S. 19/98 south of Downtown Perry by 1955.
Connect with:
Interstate 10
U.S. 19
U.S. 27
U.S. 90
U.S. 98
State Road 14 / County Road 14
County Road 146
County Road 158 / County Road 1540
County Road 361
Page Updated 04-29-2020.