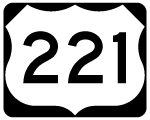 U.S. 221 travels 260 miles across the Peach State along a mostly rural course. Entering Georgia from Ashville, Florida, U.S. 221 heads north to Quitman, where it combines with U.S. 84 east to Valdosta. The two routes overlap for 20.5 miles to the U.S. 41 bypass east of Valdosta. There U.S. 221 turns north along side U.S. 41 for 1.8 miles before branching northeast to the Lanier County seat of Lakeland.
Shifting eastward again, U.S. 221 runs in tandem with U.S. 129 for 2.6 miles out from Lakeland. The two partition east of the Alapaha River, with U.S. 129 turning south to Stockton and U.S. 221 angling northeast to Pearson.
A 15.2 mile overlap with U.S. 441 north to Douglas commences south of Pearson. The pair separate on the south side of Douglas, with U.S. 221 taking Bowens Mill Road, an arterial belt route to the east, and U.S. 441 continuing north to Downtown. Beyond Douglas, U.S. 221 ventures northeast to West Green and Hazelhurst, where it meets both U.S. 23 and U.S. 341.
Remaining rural, U.S. 221 advances north to Mt. Vernon, Soperton, Norristown and Jefferson County. U.S. 319 combines with U.S. 221 for 3.6 miles leading into Bartow. The two-state route turns east to end at Wadley while U.S. 221 maintains a northward trajectory to eventually converge with U.S. 1 at Louisville.
U.S. 1/221 run concurrently for 16.1 miles between Louisville and Wrens. U.S. 1 connects Wrens with Augusta to the east while U.S. 221 bypasses Augusta westward to Harlem, Pollards Corner and Thurmond Lake Dam into South Carolina.
U.S. 221 Georgia Guides
Connect with:
Interstate 16
Interstate 20
Interstate 75
U.S. 1
U.S. 23
U.S. 78
U.S. 80
U.S. 82
U.S. 84
U.S. 129
U.S. 319
U.S. 341
U.S. 441
Page Updated 04-12-2018.