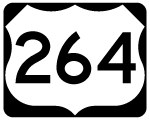 An intrastate highway, U.S. 264 provides an alternate route from Raleigh to the Outer Banks of North Carolina. U.S. 264 measures 215.75 miles in length from I-87/440-U.S. 64 (Cliff Benson Beltline) in Raleigh to U.S. 64 near Manns Harbor. Prior to 2003, U.S. 264 overlapped with U.S. 64 east from Manns Harbor to Manteo and Whalebone Junction.
U.S. 264 North Carolina Guides
U.S. 264 follows a freeway east from the split with U.S. 64 (Future I-87) at Zebulon to Wilson and Greenville. I-587 overlaps with U.S. 264 east 37.07 miles from I-95/795 at Wilson to NC 11 (Greenville Bypass) outside Greenville. The remainder west of I-95/795 will eventually be upgraded to Interstate 587. The American Association of State Highway and Transportation Officials (AASHTO) conditionally approved the establishment of I-587 from I-95/795 east to NC 11 at Greenville at the Spring 2021 Meeting. The Federal Highway Administration (FHWA) followed with approval of I-587 in November 2021.
Photo Credits:
12/14/17 by AARoads
Connect with:
Interstate 95
Interstate 587
Interstate 795
U.S. 13
U.S. 17
U.S. 64
U.S. 258
Page Updated 08-13-2021.