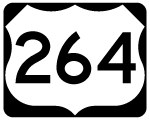 An intrastate route, U.S. 264 provides an alternate route from Raleigh to the Outer Banks of North Carolina. U.S. 264 measures 215.75 miles in length from I-87/440-U.S. 64 (Cliff Benson Beltline) in Raleigh to U.S. 64 near Manns Harbor.
U.S. 264 North Carolina Guides
U.S. 264 follows a freeway east from the split with U.S. 64 (Future I-87) at Zebulon to Wilson and Greenville. This stretch will eventually be signed as Interstate 587. Prior to 2003, U.S. 264 overlapped with U.S. 64 east from Manns Harbor to Manteo and Whalebone Junction.

Future I-587 was approved by the American Association of State Highway and Transportation Officials (AASHTO) on November 14, 2016 with the condition that it is also approved by the Federal Highway Administration (FHWA). The proposed route overlays U.S. 264 east for 56 miles to the interchange with SR 1467 along the Greenvile Bypass. This includes the northern portion of Interstate 795 around Wilson. Bringing the U.S. 264 freeway up to Interstate standards is expected to improve economic development.1
Two separate projects along Future I-587 in Greene and Pitt Counties will upgrade portions of U.S. 264 to Interstate standards. Expanding the outside shoulders from four to ten feet, $22.5 million in construction coincides with pavement resurfacing. Work will be completed by late 2020 or early 2021. Subsequent construction required through Pitt and Greene Counties will address vertical bridge clearance and the length of exit ramps. Estimates to fully bring U.S. 264 up to Interstate standards is around $100 million.1