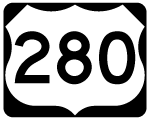 U.S. 280 follows the Florida Short Route from Birmingham southeast to Sylacauga, Opelika and Phoenix City through Alabama. The 138.03 mile route doubles as SR 38.
Prior to 1953, U.S. 280 did not enter the state and instead ended at Columbus, Georgia. The western extension of U.S. 280 overtook what was U.S. 241 north from Phenix City, Alabama to Sylacauga, and Alabama 91 from the Talladega County seat to U.S. 31 in Birmingham. Having replaced U.S. 241 south to Dothan, U.S. 431 overlaps with U.S. 280 west 25 miles from Phenix City to I-85 at Opelika. U.S. 231 replaced the remainder of U.S. 241 north from Sylacauga to Huntsville.
U.S. 280 bypasses Phenix City west from Columbus, Georgia along a varying controlled access arterial and expressway. Constructed by the mid 1960s between the Chattahoochee River and Opelika Road (CR 427 / former U.S. 241-431 / 280), the four lane highway carries portions of U.S. 80 and U.S. 431 in addition to all of U.S. 280. Prior to the bypass, U.S. 80 extended east along Crawford Road to 13th Street in Columbus, Georgia. U.S. 280 and 431 (previously U.S. 241) followed Opelika Road southeast to Crawford Road and U.S. 80 east to Broad Street, where U.S. 431 traveled south.
All of U.S. 280 through Alabama is four-laned. This includes a shared alignment with U.S. 31 along the Elton B. Stephens Expressway in Birmingham, a short freeway by Lane Park to Mountain Brook, and a 3.44 mile overlap with I-85 around Opelika. The rest of the corridor varies as a suburban or commercial arterial, or rural divided highway.
U.S. 280 Alabama Guides
AASHTO approved the extension of U.S. 280 north along the Red Mountain Expressway, from Homewood to I-59/20 in Birmingham, on June 6, 1989. The overlap with I-85 around Opelika was approved by AASHTO on April 7, 2000.
| | |
| --- | --- |
| | scenes |
| | |
| --- | --- |
| | Older shield assemblies on 24th Street N in Central City, Birmingham for the Elton B. Stephens Expressway southbound entrance ramp from 3rd Avenue N. 08/10/02 |



Photo Credits:

08/10/02 by AARoads

Connect with:
Interstate 85
Interstate 459
U.S. 31
U.S. 78
U.S. 80
U.S. 231
U.S. 431

Page Updated 05-18-2017.