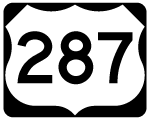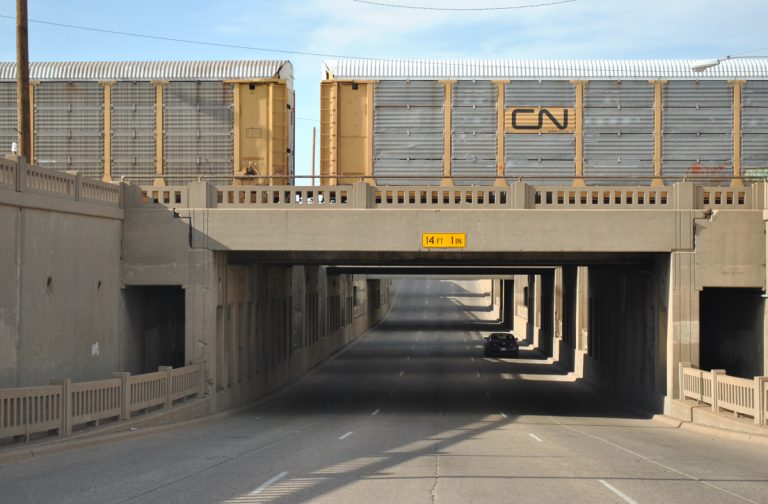 Traveling across northern reaches of Texas, from the Panhandle to the Dallas-Forth Worth area, U.S. 287 follows four lane highways or freeways from Straford, near the Oklahoma state line, to Coriscana. U.S. 287 leads south through Dumas to Amarillo, where it joins IH 40 east. The four lane corridor branches south from the freeway to Claude, Clarendon, Childress and Vernon.
Approaching Wichita Falls, U.S. 287 shifts onto a full freeway east from Electra to IH 44, U.S. 82 and U.S. 277. West of Downtown Wichita Falls, U.S. 287 combines with U.S. 277/281 along the Central Freeway above the couplet of Broadway and Holliday Streets. The 1.7 mile long viaduct system joined separate freeway segments north of the Wichita River and south of the Kell Freeway (U.S. 82). Construction on the elevated lanes of the Central Freeway kicked off on February 16, 1999. Changes made for the Sixth Street entrance ramp added $1.6 million in costs, and the overall project cost $47.8 million. Work on the Central Freeway finished on May 10, 2002.1
U.S. 82 combines with U.S. 281/287 east along the Central Freeway to the Henry S. Grace Freeway. There U.S. 281 drops south toward Jacksboro and U.S. 82/281 continue along the Grace Freeway east a short distance to SH 79 north. U.S. 82/287 run concurrently to Henrietta, where U.S. 287 resumes a southeasterly heading to Fort Worth via Bowie and Decatur.
Within Fort Worth, U.S. 287 overlaps with IH 35W south from the terminus of U.S. 81 to the Martin Luther King Freeway. The MLK Freeway angles southeast from Downtown to IH 820. U.S. 287 dog legs south on IH 820 and east on IH 20 to connect with a second stand alone freeway.
U.S. 287 south from Fort Worth serves Mansfield. A pair of bypasses continue the route east around Midlothian and Waxahatchie. The US highway merges onto Interstate 45 south from Ennis to Corsicana.
The remainder of U.S. 287 from IH 45 plies southeast across the Piney Woods region to Palestine, Crockett and Woodville. U.S. 287 overlaps with U.S. 69 south from Woodville and with U.S. 96 south from Lumberton to their shared end at SH 73 in Port Arthur.
U.S. 287 Texas Guides
Sources:
"Central Freeway ready Road project comes to end seven months early." Wichita Falls Times Record News (TX) May 10, 2002.
Connect with:
Interstate 27
Interstate 40
Interstate 44
State Loop 335
State Highway 73
Page Updated 07-11-2019.