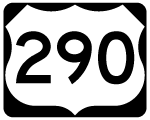 U.S. 290 begins in the Hill Country at IH 10 southeast of Junction. The road branches off and travels east to Fredricksburg, a center of German culture in the Hill Country. East from there, U.S. 290 advances to the Blanco County seat of Johnson City, named for former President Lyndon B. Johnson's forefathers. LBJ National Historical Park is located in Johnson City, where U.S. 281 crosses U.S. 290. Continuing east, U.S. 290 reaches south Austin, where it combines with IH 35 north through the city.
Toll 290 accompanies U.S. 290 east from IH 35, with the US highway traveling at-grade along the frontage road system to SH 130 and east suburb of Manor. Departing Austin, U.S. 290 reaches Elgin, originally a townsite on the Houston and Texas Central railroad but now known as the "Sausage Capital of Texas". Leaving Texas Hill Country, U.S. 290 follows the old rail line all the way to Houston, passing through Giddings (another rail town) before reaching Brenham. Brenham is famous for Blue Bell Ice Cream, a Texas original and some of the best ice cream to be found in the country (most Texans will say it IS the best in the country).
Advancing southeasterly from Brenham, U.S. 290 passes Hempstead, one of the most notoriously violent towns in Texas before 1905, when US Congressman John Pinckney was shot inside the county courthouse. Today, Hempstead is a ranching and farming center. SH 6 combines U.S. 290 in Hempstead, with the two roads co-signed along a freeway through the Northwest suburbs of Houston to FM 1960.
U.S. 290 follows the Northwest Freeway east to end at IH 610, just north of IH 10 and six miles west of Downtown Houston. The Northwest freeway is unremarkable, and simply fulfills its role as a commuter freeway.
U.S. 290 Texas Guides
From 1927 to 1992, U.S. 290 began at what is now the IH 10/IH 20 split near Kent. U.S. 290 followed the route of present-day IH 10 through Fort Stockton, Sheffield, Ozona, Sonora and Junction to where it currently separates from IH 10. A portion of this road is signed as SH 290 through Sheffield today.
| | |
| --- | --- |
| | scenes |
| | |
| --- | --- |
| | RM 479 intersects U.S. 290 in sparsely populated southeast Kimble County. Photo taken 12/31/02. |
| | |
| --- | --- |
| | Confirming marker for RM 479 north, posted after U.S. 290. RM 479 travels 32.27 miles overall in an arc north from SH 27 and IH 10 to U.S. 290 and west to FM 2169 (old U.S. 290) near IH 10 Segovia. Photo taken 12/31/02. |



Photo Credits:

12/31/02 by AARoads

Connect with:
Interstate 35
Interstate 610
State Highway 130
Loop 1 - Mopac MoPac Expressway
U.S. 183

Page Updated 01-27-2018.