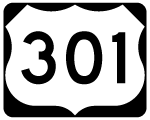 U.S. 301 provides an alternate route to Baltimore for long distance travelers between Washington and northern Delaware, in addition to serving the Maryland Eastern Shore and interests between Wilmington and Middletown. Opened on January 10, 2019, U.S. 301 in New Castle County runs along a 11 mile long toll road from near Warwick, Maryland to Middletown and Delaware State Route 1 at Biddles Corner. The limited access highway runs along the west side of Middletown and then turns northeast across SR 71 south of Mount Pleasant and west of the Bayberry development. Interchanges along the route connect U.S. 301 with SR 299, SR 71 and Jamison Corner Road. All electronic toll (AET) gantries are located at each end and at the three interchanges along the expressway.
U.S. 301 Toll Road Exit Numbers:
Exit 2 - State Route 299 - S. Middletown / Townsend
Exit 5 - State Route 71 - N. Middletown
Exit 9 - Jamison Corner Road
Exit 147 - split from State Route 1 south
U.S. 301 Delaware Guides
Prior to completion of the U.S. 301 toll road, U.S. 301 entered the First State along a rural alignment into southwest Middletown. Bypassing Downtown Middletown and the adjacent street grid, U.S. 301 formed a commercial arterial with numerous big box stores and businesses along a four-lane stretch. North from Middletown, U.S. 301 combined with SR 71 along a two lane route through a mixture of agricultural areas and suburban housing tracts.
Once at Mount Pleasant, U.S. 301/SR 71 combined with SR 896 north from Boyds Corner Road. The three routes circled west by Summit Airport (EVY) along a four-lane alignment to SR 15, south of Summit Bridge. Summit Bridge comprises a high level steel thru truss bridge across the Chesapeake and Delaware Canal to an area west of Lums Pond State Park. There SR 71 branches east and northward to Kirkwood and Red Lion.
The remainder of U.S. 301/SR 896 extended north along a four-lane divided highway with a wide grassy median. This stretch was originally proposed as a freeway, but widened as a surface roadway instead during the mid 1990s. The route culminates on the Glasgow bypass, where SR 896 separates from a business route (Glasgow Avenue) to the east. U.S. 301 ended at the intersection with U.S. 40, while SR 896 continues north to Iron Hill and Newark.
U.S. 301 History
The original route of U.S. 301 took the highway north from Bowie, Maryland along what is now MD 3. The US highway ended at U.S. 1 at Mt. Clare in west central Baltimore. The Eastern Shore alignment for U.S. 301 was initially marked as MD 71 in 1956. It formed a multi-state route with SR 71 in 1958, and was proposed to extend northeast to U.S. 40 near Bear.
U.S. 301 was rerouted east from Bowie along side U.S. 50 across the Chesapeake Bay Bridge and along MD 71 northward in 1960. The new alignment ran north to Middletown where it partitioned into separate north and south branches.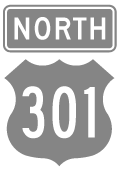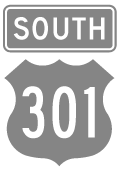 The initial split alignment of U.S. 301 took U.S. 301 North along SR 299 east between Middletown and Odessa, and along U.S. 13 north from Odessa to Tybouts Corner. U.S. 301 South angled southwest along SR 71 from Tybouts Corner through Kirkwood to Lums Pond. Combining with SR 896, U.S. 301 South crossed the Summit Bridge en route to Middletown.
The course of U.S. 301 North was first proposed to shift westward from Odessa and U.S. 13 to a route using SR 896 north from the Summit Bridge to Glasgow, and U.S. 40 east from there to State Road. AASHTO deferred on this proposal on November 6, 1970. A subsequent request for the change was made by Delaware at the December 3, 1971 AASHTO meeting. It was approved.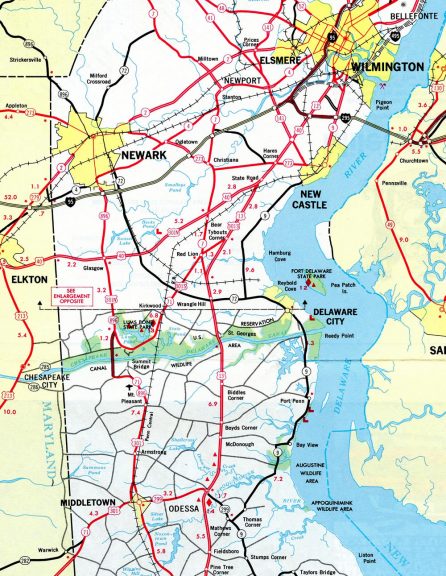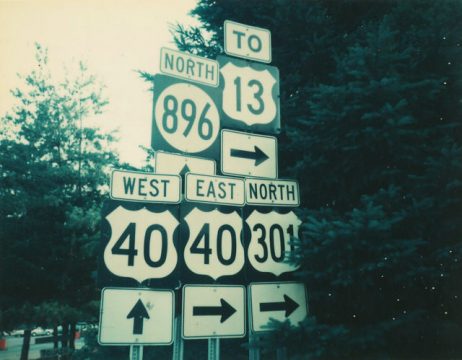 The separate alignments of U.S. 301 North and South were combined into a single alignment using SR 896 east from Mount Pleasant to Boyds Corner, and along an overlap with U.S. 13 north from there to State Road. This was approved by AASHTO on June 20, 1983. Delaware followed with the removal of U.S. 301 North and South on July 7, 1983.1
A Truck route for U.S. 301 was established in the late 1980s after structural deficiencies along the St. Georges Bridge across the Chesapeake and Delaware Canal mandated weight restrictions on U.S. 13/301. The truck route followed SR 896 north from Mount Pleasant to Glasgow, and U.S. 40 east from Glasgow to State Road. Some signs for the route remained in place until 2001.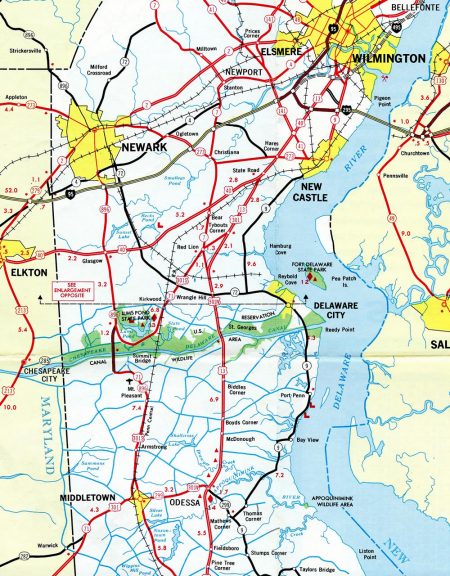 The split routing of U.S. 301 was rather unique in the US highway system. Unlike other suffixed branches, such as U.S. 70N and 70S in Tennessee, which represented distinct branches with two-way traffic, the U.S. 301 separation was signed in one direction along what were otherwise two-way roads. The subject was discussed on misc.transport.road in a post by John Taber on January 17, 2002:
"Why didn't northbound and southbound U.S. 301 just use the same road?
Because both used narrow two-lanes for most of their length. I think the original idea was to get that traffic off of U.S. 13 (when it wasn't that wide either), but not to overburden any one road. They moved the whole thing over to U.S. 13 around 1984 or 1985 - it now (sort of) follows the former "north" route which has since been widened. The signs for where 301 south split off from 13 south looked to be from the 1940s or 1950s - they were still up for a little while after the change was made.
No, if you went the other direction there wouldn't be signs saying "To South 301". In fact, most of the time if you approached it from another highway the junction signs would only refer to the other route the road carried - SR 896 or U.S. 40 for 301N, SR 71 or US 13 for 301S - but once you turned onto 301 there would be a trailblazer that included it.
Changes to U.S. 301 in Delaware were again made in 1992, when AASHTO approved a request by the state to reroute U.S. 301 north along SR 896 from Mount Pleasant to U.S. 40 at Glasgow, and east along U.S. 40 to U.S. 13 at State Road. This replaced the previous realignment of U.S. 301 North. The change was made by January 1, 1993, following the fall 1992 completion of SR 896 widening between Mount Pleasant and Glasgow. This also improved travel time from Mt. Pleasant to the Interstate 95 main line south of Newark.1
Another minor change took place in 1994 with the relocation of U.S. 301 in Middletown onto a new-0.7-mile alignment bypassing Downtown. This removed U.S. 301 from an L-shaped route using Main Street (SR 299) and Peterson Road. It was approved by AASHTO on April 9, 1994. All alignments up to this point took U.S. 301 north along Dupont Highway to the Farnhurst Interchange with Interstate 295. However U.S. 301 signs were eventually removed from U.S. 40 and 13 between Glasgow and State Road, without a request to AASHTO for the truncation.
U.S. 301 Freeway Proposals
Controversial and abandoned plans dating back to the 1960s called for a U.S. 301 freeway between the Maryland state line and Interstate 95. By 1992, options consisted of upgrading SR 896 to a freeway, building a new alignment west of Middletown along the ridge that separates the Chesapeake and Delaware Bay watersheds (known as the "Ridge Route"), and a new alignment northeast from Glasgow to the Delaware Turnpike at unbuilt Exit 2. These would tie into U.S. 301 in Maryland, which was already built with controlled access. Further upgrades of U.S. 301 along the Eastern Shore to an Interstate highway were however officially dropped in 1992.2
Corridors considered for U.S. 301 in Delaware until 19922:
Upgrade of the existing SR 896 corridor to a freeway
New alignment from Middletown to the SR 1 Turnpike
New freeway west of Middletown to Summit Bridge (the Ridge Alternate) and two corridors northeast from Glasgow to Interstate 95
New freeway near the Delaware/Maryland state line west of Middletown and Glasgow that utilizes the existing Summit Bridge - dropped in 1992
Freeway bypass east of Middletown - dropped in 1992
Proposals for new alignments along the Maryland state line were deemed too detrimental to area wetlands and required too many stream crossings. The Middletown eastern bypass alternative was dropped due to the impact of important agricultural areas.2 The rest of the proposals remained unpopular with the exception of the option to widen SR 896 as an at-grade facility.
The Glasgow bypass was also scaled back, as it was initially planned as a limited access roadway with a full interchange at U.S. 40. Instead a compromise was made to build the bypass as a four-lane expressway with controlled access. A portion of the right of way acquired for the interchange was repurposed as part of Glasgow Park, a county facility developed in 2004.
In 1994, DelDOT again discussed ideas on how to address the growing traffic demands along U.S. 301 between the state line and I-95. The options considered included constructing a new 300-foot wide corridor between 15 and 19 miles, widening of the remaining two-lane sections of U.S. 301, and adding interchanges to existing SR 896. Cost estimates at the time included $200 million for property acquisition, environmental studies and highway construction.3
New corridors that were considered in the 1994 plan:3
Northeasterly routes from U.S. 40 at Glasgow across SR 72 to Interstate 95
Route west of Summit Airport
"Ridge Alternate" to the west of Summit Bridge and Middletown
Officials in Dover could not reach an agreement on a solution for U.S. 301 in 1994, and all plans were subsequently dropped from consideration.4
The section of SR 896 between U.S. 40 (Pulaski Highway) and Interstate 95 was also planned as a full freeway until 1994. Opposition again surmounted as residents in and around Iron Hill expressed concern that the potential roadway would require too much real estate for a planned interchange at Old Baltimore Pike. DelDOT instead widened SR 896 into a controlled access arterial.
Other U.S. 301 proposals included adding a toll plaza at the state line. Funding woes resulting from a failed gas tax increase in 1996 spurred discussion for tolling the US highway. Adding tolls to U.S. 301 were also cited as a method to dissuade truckers from using the route as a long distance bypass of Interstate 95 and Baltimore.
New considerations for U.S. 301 in 1998 included expanding the highway with HOV-dedicated lanes, increasing bus service to Middletown and the planned Whitehall community, and the creation of two commuter light rail lines. The list of several options considered in 1998 include:
New six-lane expressway for U.S. 301 from Maryland to Interstate 95
Create rail lines between Middletown and Wilmington, and Newark to Wilmington by way of Bear
New HOV-only lanes on Interstate 95, SR 1, and SR 896 between U.S. 40 and Interstate 95
Widen existing U.S. 301 and SR 1
Construct a no-exit express road from U.S. 301 at Middletown to SR 1
Toll road options in April 1998 were not considered and the six-lane freeway option was estimated to cost $205 million.4 A subsequent meeting held on U.S. 301 in August 1998 revised the 1994 plan for a new freeway to more public support. Other options reviewed included "smart traffic" solutions such as traffic signal coordination, other traffic control and the improvement of pedestrian and bicycle access. The HOV project received the least amount of public support.5
U.S. 301 Toll Road
Potential U.S. 301 improvements emerged again in 2005. Ideas under consideration focused the construction of a new U.S. 301 highway along the "Ridge Alternate" previously discussed in 1992 and 1994, and the creation of a new freeway connector from U.S. 301 at Mount Pleasant east to SR 1 near Boyds Corner. Construction was projected to take two and a half years to complete, pending environmental impact statement approval by the FHWA and funding availability.
The "Green Alternative" was selected as the most preferable corridor for the U.S. 301 toll road around Middletown. Planned as a limited access route, the alignment for U.S. 301 runs west of Middletown and crosses old U.S. 301 on a northeasterly trajectory to SR 896, east of Mount Pleasant. Advancing from there, the U.S. 301 toll road ties into the SR 1 toll road north of the Biddles Toll Plaza. A two lane, limited access spur route will travel along the Ridge line northward from new U.S. 301 to the south end of the Summit Bridge, where SR 15, 71 and 896 intersect.6
The first contract for the toll road was awarded on November 13, 2015. The $70-million project to build the northernmost two segments of the 11-mile expressway kicked off in January 2016.7 Additional work on the remainder of the route south to the state line followed by February 2016, though the contract for work on the spur to Summit Bridge had yet to be awarded by August 2016.8 Completion of the $636-million highway was scheduled for January 1, 2019. It opened finally on January 10.9 See the U.S. Route 301 Project Development web site for additional information and updates.
U.S. 301 Delaware Mileage: 14.93
U.S. 301 Annual Average Daily Traffic (AADT)
Begin Milepost
From:
To:
AADT Composite
0.00
MD state line
SR 299
10,862
1.01
SR 299
Levels Road
36,854
3.62
Levels Road
Peterson Road
16,400
4.05
Peterson Road
SR 896 Mount Pleasant
25,112
7.42
SR 896 Mount Pleasant
Bethel Church Road
23,497
9.57
Bethel Church Road
SR 71
26,840
11.52
SR 71
U.S. 40 Glasgow (14.93)
31,782
Source: Delaware Vehicle Volume Summary 2014 (Traffic Summary)
Sources:
Rahul; email, "DelDOT community relations officer regarding the suffixed versions of U.S. 301 and its relocation to Delaware 896 between Mt. Pleasant and Glasgow," June 2, 2000.
"U.S. 301 planners cull options." The News Journal (DE), December 3, 1992.
"Deadline nears for U.S. 301 plan." The News Journal (DE), October 16, 1994.
"Big plans in store for U.S. 301." The News Journal (DE), April 29, 1998.
"Road options are all over the map." The News Journal (DE), August 30, 1998.
"DelDOT picks U.S. 301 bypass route." The News Journal (DE), November 14, 2006.
"US 301 construction will begin in January." The News Journal (DE), November 13, 2015.
"$89 million in US 301 contracts move forward." The News Journal (DE), February 3, 2016.
"Start your engines: U.S. 301 toll road to open Thursday after morning rush hour." The News Journal (DE), January 10, 2019.
Connect with:
U.S. 40
State Route 15
State Route 71
State Route 299
State Route 896
Page Updated 01-10-2019.