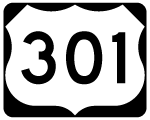 U.S. 301 connects a string of counties in southeastern Georgia inland from the coastal counties along the Interstate 95 corridor. U.S. 301 runs from Folkson north of the Florida line to the Savannah River at Burtons Ferry Landing in Screven County.
U.S. 301 Georgia Guides
Auxiliary Routes
U.S. 301 enters the Peach State alongside U.S. 1/23 and SR 4/15 in Charlton County. The five routes combine with SR 23/121 in Folkston. 6.77 miles north of the state line outside Folkston, U.S. 301/SR 23 separate from U.S. 1/23-SR 4/15/121.
Paralleling a CSX Railroad line, U.S. 301/SR 23 proceed north to the Brantly County seat of Nahunta and U.S. 82/SR 520 (South Georgia Parkway). COntinuing into Wayne County, U.S. 301/SR 23 converge with U.S. 25 and U.S. 84 around Jesup. U.S. 25/84/301 overlap 9.50 miles northeast from the Jesup bypass across the Altamaha River into Long County. U.S. 84/SR 38 remain alongside a CSX Railroad line east from Ludowici while U.S. 25/301 and SR 23 combine with SR 57 northwest 20.99 miles to Glennville in Tattnall County.
SR 23 accompanies U.S. 301 north 65.60 miles overall to SR 144 (Barnard Street) in Downtown Glennville. SR 23/57 branch northwest from U.S. 25/301 to Reidsville while SR 73 accompanies the remaining 74.13 miles of U.S. 301 in Georgia north.
U.S. 25/301 head north from Glennville to Claxton in Evans County, where they meet U.S. 280/SR 30 and SR 129. Within Bulloch County, U.S. 25/301 converge with Interstate 16 at Exit 116 before turning northeast to the city of Statesboro. U.S. 25 Bypass and U.S. 301 Bypass encircle Statesboro while U.S. 25/301 lead north to Downtown and U.S. 80/SR 26-67 along Main Street. U.S. 301 Bypass loops around the east side of Statesboro for 6.82 miles. The 71.58 mile long overlap with U.S. 25 concludes at Northside Drive, where U.S. 25/SR 67 join U.S. 80/SR 26 northwest toward Millen.
North from Bulloch County and the Ogeechee River, U.S. 301/SR 73 advance to the city of Sylvania. An unsigned business route for U.S. 301 separates at the Screven County seat alongside SR 73 for 3.03 miles while U.S. 301 combines with SR 21 and SR 73 Loop along a bypass to the west. Beyond a 0.66 mile long overlap with SR 23 southeast of Hilltonia, U.S. 301/SR 73 arc northeast to the South Carolina line at the Savannah River.