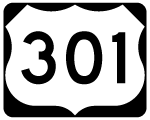 The bulk of U.S. 301 throughout North Carolina parallels Interstate 95 as a local route. Exceptions occur through Lumberton, where U.S. 301 follows the original bypass route of Downtown, which in 1961 became a part of Interstate 95. Further north, U.S. 301 overlaps with nearly the entirety of Business Loop I-95 through Hope Mills and Fayetteville. Until 1988, a lenghty portion of U.S. 301 through the Rocky Mount vicinity was also cosigned as Business Loop I-95.

scenes
NC 72 (W 5th Street) splits with the original U.S. 301 alignment ahead of the diamond interchange with I-95 at Exit 17. U.S. 301 followed W 5th Street before Interstate 95 was constructed.
12/16/07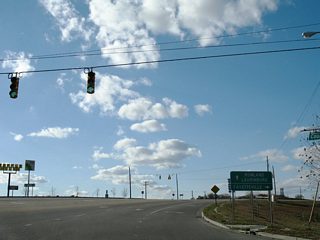 NC 72 west at I-95/U.S. 301 north to Fayetteville. NC 711 combines with NC 72 west from this exchange. NC 711 travels ten miles to Pembroke while NC 72 turns northward to Red Springs.
12/16/07
Sources:
"New Exit 22 traffic pattern debuts soon." The Robesonian (Lumberton, NC), August 23, 2015.
"Interstate 95 Exit in Lumberton Reaches Final Paving Operation." North Carolina Department of Transportation (NCDOT), press release. October 16, 2015.
Photo Credits:
12/16/07 by AARoads
Connect with:
Interstate 95
Business Loop I-95 - Fayetteville
U.S. 64
U.S. 421
Page Updated 08-01-2020.