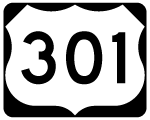 | | |
| --- | --- |
| | South |
| | |
| --- | --- |
| | Crossing the Potomac River on the Governor Harry Nice Bridge along southbound U.S. 301. Photos taken 06/01/04. |
| | |
| --- | --- |
| | U.S. 301 emerges from the Governor Nice Bridge south of a power plant located on the north bank of the Potomac River. Photo taken 06/01/04. |
| | |
| --- | --- |
| | U.S. 301 continues 14 miles south from the Governor Nice Bridge to Port Royal. Photo taken 06/01/04. |
| | |
| --- | --- |
| | The first major intersection along southbound U.S. 301 is with Virginia 218, a scenic route that heads west to Fredericksburg and southeast to Virginia 205 midway between Edgehill and Potomac Beach. Photo taken 06/01/04. |
| | |
| --- | --- |
| | Southbound U.S. 301 reaches Virginia 218 at this traffic signal just south of the Governor Nice Bridge in Owens. Photo taken 06/01/04. |
| | |
| --- | --- |
| | The next major intersection along southbound U.S. 301 is with Virginia 205 in Edgehill. Virginia 205 connects with U.S. 3 west to King George and east to Colonial Beach (via Virginia 205Y) and Oak Grove. Photo taken 06/01/04. |
| | |
| --- | --- |
| | Southbound U.S. 301 reaches Virginia 205 in Edgehill. Photo taken 06/01/04. |
| | |
| --- | --- |
| | Continuing south, U.S. 301 next approaches a junction with Virginia 3 south of Edgehill. Photo taken 06/01/04. |
| | |
| --- | --- |
| | Virginia 3 heads west to King George, Fredericksburg, and ultimately Culpeper. Following Virginia 3 southeast, the highway serves the Birthplace of George Washington National Monument at the intersection with Virginia 204, Warsaw, Lancaster, Greys Point, and its southern terminus at Saluda (Junction U.S. 17). Photo taken 06/01/04. |
| | |
| --- | --- |
| | Southbound U.S. 301 reaches Virginia 3, and a gas station is located at the interchange despite not being in a town. Photo taken 06/01/04. |
| | |
| --- | --- |
| | Southbound U.S. 301 approaches its junction with U.S. 17. Use U.S. 17 north to reach Fredericksburg, Warrenton, and Winchester. Use U.S. 17 south to reach Hampton Roads (including Newport News, Norfolk, Virginia Beach) and the Outer Banks of North Carolina. Use U.S. 301 south to continue toward Richmond. Photo taken 06/01/04. |
| | |
| --- | --- |
| | Southbound U.S. 301 reaches its junction with U.S. 17 south of Port Royal. Both U.S. 301 and U.S. 17 are multi-lane divided highways from here south to their next major destination (although U.S. 301 makes its connection via Virginia 207 to Interstate 95 at Carmel Church. Photo taken 06/01/04. |
| | |
| --- | --- |
| | This mileage sign provides the distance to Bowling Green, Richmond, and Emporia along southbound U.S. 301 after the intersection with U.S. 17. Photo taken 06/01/04. |
| | |
| --- | --- |
| | U.S. 301 enters Fort A.P. Hill after its intersection with U.S. 17. Continuing as a four-lane expressway, there are only a few side streets, driveways, or other connecting roads while U.S. 301 passes through the reservation. The four-lane expressway will continue south to Bowling Green, then continue southwest via Virginia 207 to meet Interstate 95 near Carmel Church north of Richmond. Photo taken 06/01/04. |
| | |
| --- | --- |
| | View of limited access, four-lane U.S. 301 as it passes through Fort A.P. Hill. The northbound lanes are not visible in this picture. Photo taken 06/01/04. |
| | |
| --- | --- |
| | |
| | After departing Fort A.P. Hill, U.S. 301 approaches the business loop for U.S. 301 into Bowling Green. A right turn leads into the town, while the freeway continues as a bypass around the southern edge of town, with connections to Virginia 207 at the southern end of the bypass. Photo taken 06/01/04. |
| | |
| --- | --- |
| | Use Business U.S. 301 south to Bowling Green as well as Virginia 2 north to reach Fredericksburg. Photo taken 06/01/04. |
| | |
| --- | --- |
| | Southbound U.S. 301 reaches its intersection with Business U.S. 301 south to Bowling Green and Virginia 2. To reach Interstate 95 via Virginia 207, continue straight ahead along south U.S. 301. Photo taken 06/01/04. |
| | |
| --- | --- |
| | The main lanes of U.S. 301 shift directly onto Virginia 207; U.S. 301 exits itself onto a two-lane highway. Most through traffic to Richmond should use Virginia 207 south to Interstate 95 south at Carmel Church. Photo taken 06/01/04. |
| | |
| --- | --- |
| | Virginia 207 continues the Bowling Green Bypass in the absence of U.S. 301 as the US route departs the four-lane highway for South Main Street with Virginia 2. An end U.S. 301/begin Virginia 207 shield assembly is posted at the connector roadway linking U.S. 301 Business with U.S. 301. Photo taken 10/10/09. |
| | |
| --- | --- |
| | South |
| | |
| --- | --- |
| | A connector road carries U.S. 301 north from South Main Street (Virginia 2 / U.S. 301 Business) onto the Bowling Green Bypass at Virginia 207's eastern terminus. Virginia 207 leads southwest 11.93 miles to Exit 104 of Interstate 95. Photo taken 10/10/09. |
| | |
| --- | --- |
| | Southbound U.S. 301 (Crater Road) at the intersection with Wagner Road east. Wagner Road constitutes a multi-lane arterial east to Interstate 95, and as U.S. 460 east from the freeway to Virginia 106 (Courthouse Road) and County Drive (U.S. 460 Business). Photo taken 06/25/10. |
| | |
| --- | --- |
| | scenes |
| | |
| --- | --- |
| | Wagner Road joins U.S. 301 (Crater Road) with I-95/U.S. 460 at an nearby cloverleaf interchange (Exit 48) in south Petersburg. The arterial was shown as Interstate 795 on the 1988 Virginia State Highway Map. Pictured here is the west end at Crater Road. U.S. 301 continues north to Fort Davis and south to I-95 at Exit 45. Photo taken 06/25/10. |
3 photos

3 photos

3 photos

The Governor Harry Nice Bridge as seen from a rest area/welcome center grassy park located on the southern bank of the Potomac River. Managed by the Maryland Transportation Authority and almost entirely within the state of Maryland, the 1.7 mile long bridge features a causeway section at the south end, and a high rise span for ships at the center. Photos taken 06/01/04.
2 photos

2 photos

A power plant is located on the north bank of the river, and it provides a backdrop to the bridge in these late-afternoon pictures. Photos taken 06/01/04.
Photo Credits:
06/01/04 by AARoads.
10/10/09 by Will Weaver.
06/25/10 by AARoads.
Page Updated 03-02-2011.