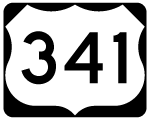 U.S. 341 travels 225 miles, wholly within Georgia from Brunswick and the Golden Isles to Jesup, Hazlehurst, Eastman, Perry, Fort Valley and Blairsville. U.S. 341 doubles as Golden Isles Parkway northwest to Perry.
Northward from Musella, alignment changes approved by the American Association of State Highway Officials (AASHO) on October 14, 1967 included a new straighter route from Roberts north to Musella. Old U.S. 341 parallels the highway to the east along Salem Church Road and then Musella Road. Continuing toward the rural city of Culloden, Old 341 West represents the former route west of U.S. 341. U.S. 341 bypasses Culloden to the east, overtaking old U.S. 341 as it leads north along Main Street. 2.4 miles further north, another new section of U.S. 341 was built in 1967. This 1.4 mile long linear route eliminated the curve through Strouds, with SR 83 extending south along the former route to U.S. 341, and Strouds Road representing old U.S. 341 to the northwest.
Within the Perry area, U.S. 341 was realigned out of Downtown to bypass the city along Perry Parkway, a 6.22 mile long, mostly divided arterial. Advocated by local government, U.S. 341 was removed from through the city and relocated over what was U.S. 341 Bypass. This change was approved by the American Association of State Highway and Transportation Officials (AASHTO) on May 21, 2018. The former alignment remains state maintained, and designated as SR 7 for 2.27 miles northwest along Ball Street and Sam Nunn Boulevard and as SR 11BU east on Main Street 2.55 miles between U.S. 41 and U.S. 341. Perry Parkway is SR 11 east of U.S. 41 and SR 11 Connector west of U.S. 41.


North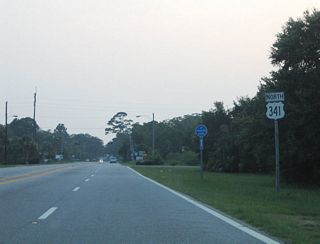 The first confirming marker for U.S. 341 stands along 4th Avenue just west of U.S. 17 in Brunswick. Combining with U.S. 24, U.S. 341 travels 11 miles northwest to SR 99 at Sterling and 40 miles to Jesup.
07/22/04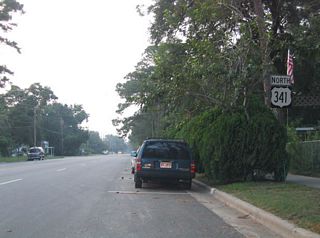 Newcastle Street constitutes a four lane boulevard leading U.S. 341 north six blocks to Prince Street.
07/22/04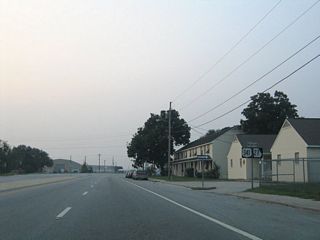 Confirming markers for U.S. 341/SR 27 posted along Bay Street north ahead of London Street. Paralleling a Norfolk Southern Railroad line, Bay Street originates at the Brunswick River marine terminal.
07/22/04


South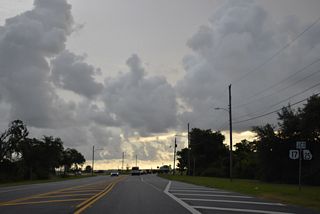 U.S. 341 concludes along 4th Avenue east at U.S. 17/SR 25 (Glynn Avenue) in Brunswick across from marshland spreading north from the Brunswick River.
07/22/04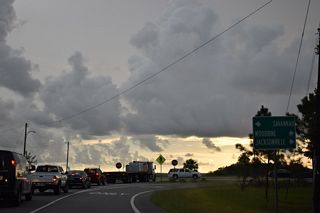 An end shield for U.S. 341 stands at U.S. 17. U.S. 17 constitutes a four lane, divided arterial south to the Sidney Lanier Bridge spanning the Brunswick River and north to F.J. Torras Causeway to the coastal communities of St. Simons Island and Sea Island.
07/22/04
Connect with:
Interstate 75
Interstate 95
U.S. 1
U.S. 17
U.S. 25
U.S. 84
U.S. 129

Page Updated 06-14-2020.