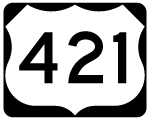 Although U.S. 421 is signed with north/south cardinal directions, the majority of the highway across North Carolina travels east-west. The 320-mile long route originates at Fort Fisher in southern New Hanover County along the Atlantic Coast and crosses into Tennessee at Zionville.
U.S. 421 North Carolina Guides
Traveling north from Pleasure Island, U.S. 421 joins Carolina Beach, Kure Beach and other coastal communities with Wilmington. North from the port city, U.S. 421 parallels the I-40 corridor to Clinton and Dunn. The two diverge west of I-95, with U.S. 421 traveling to Sanford and Siler City.
U.S. 421 and Interstate 40 reconvene at Greensboro. Prior to 2008, U.S. 421 overlapped with Interstate 40 west from Joseph M. Hunt Expressway in Greensboro. This changed in September 2008, when U.S. 421 was realigned to bypass the city along I-85 and I-73 (Painter Boulevard). The relocation occurred simultaneously with the return of Interstate 40 through Greensboro over what was briefly posted as Business Loop I-40.
Historically through Greensboro, U.S. 421 followed Liberty Road (SR 3549) north to I-40/85, where it turned east alongside U.S. 29/70 (O' Henry Boulevard) to Market Street west through Downtown.
U.S. 421 connects with I-40 west from I-73 near Piedmont Triad International Airport (GBO). The two run concurrently for 5.3 miles to Kernersville. There U.S. 421 shifts northward onto Business Loop I-40, the pre-1992 freeway of I-40 through Winston-Salem.
Construction through 2020 upgrades a substandard portion of Business Loop I-40 west of Downtown Winston-Salem. Upon completion, Business Loop I-40 will be retired and the 19-mile freeway between Winston-Salem and Kernersville rebranded as Salem Parkway and signed solely as U.S. 421.
U.S. 421 and Interstate 40 converge just west of Winston Salem. The part ways on respective courses to Yadkinville and Statesville. U.S. 421 extends west along a freeway to I-77 and Wilkesboro. The remainder of the highway traverses increasingly mountainous areas to Deep Gap across the Blue Ridge.
U.S. 421 combines with U.S. 221 west 9.5 miles to Boone and 6.7 miles with U.S. 321 west from Boone around Rich Mountain. The westernmost stretch of U.S. 421 travels north to Silverstone and the Tennessee state line by Poplar Ridge.
| | |
| --- | --- |
| | Joseph M. Hunt, Jr. Expressway (former U.S. 421) - North |
| | |
| --- | --- |
| | Joseph M. Hunt Jr. Expressway (former U.S. 421) north at I-40/U.S. 29-70-220. The eastbound entrance partitions into respective ramps to I-40 east to Burlington, Durham and Raleigh and U.S. 29-220 north / U.S. 70 east to Wendover Avenue and Reidsville. 07/24/04 |
| | |
| --- | --- |
| | The westbound entrance ramp falls between the freeway mainline and the merging ramp from U.S. 29-220 south / U.S. 70 west. U.S. 421 previously combined with I-40 westward through Winston-Salem here. 07/24/04 |
| | |
| --- | --- |
| | Joseph M. Hunt Jr. Expressway transitions into Martin Luther King Jr. Drive as it advances northward into Downtown Greensboro. Historically U.S. 29-70-220-421 traveled north through Downtown to Wendover Avenue. 07/24/04 |



Photo Credits:

07/24/04 by AARoads

Connect with:
Interstate 40
Interstate 73
Interstate 77
Interstate 85
Interstate 95
Interstate 140
U.S. 17
U.S. 64
U.S. 70
U.S. 74
U.S. 76
U.S. 301
U.S. 401

Page Updated 09-11-2018.