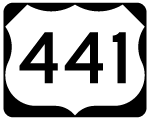 Within the Peach State, U.S. 441 runs northward from the Florida state line southwest of Fargo to the North Carolina state line along side U.S. 23 from Dillard. Staying away from parallel Interstate highways, U.S. 441 has a number of concurrences with other U.S. routes in Georgia. U.S. 441 combines with U.S. 221 north from Pearson to Douglas, U.S. 319 from McRae to Dublin, U.S. 129 from Eatonton to Athens, and U.S. 23 from Cornelia to Sylva, North Carolina.
U.S. 441 was relocated around Milledgeville on a 7.1 mile bypass as approved by the American Association of State Highway and Transportation Officials (AASHTO) on December 2, 1988. U.S. 129 combines with U.S. 441 north from Eatonton to Madison, Watkinsville and Athens. The northernmost portion of their overlap was realigned onto the Athens Perimeter Highway with U.S. 29 to bypass Downtown to the east per AASHTO on June 25, 1979.
North at Commerce, AASHTO approved the realignment of U.S. 441 onto a four-lane bypass to the east on June 4, 1990. The first of several changes made for U.S. 441 between Baldwin and Clarkesville took place in 1972, with the opening of a new four-lane roadway to the west of Cornelia. The new route doubled as U.S. 23, with the old alignment through Cornelia redesignated as U.S. 441 Business. AASHTO signed off on both changes on June 20, 1972.
U.S. 23 would later be realigned north of Baldwin onto a new expressway (State Route 365) extending northeast from Gainesville. Completion of the four-lane route north around Clarkesville included shifting U.S. 441 east to a longer overlap with U.S. 23.


North
U.S. 441 and SR 94 split after 0.87 miles south of the Suwannee River and Fargo. SR 94 continues 8.26 miles southeast into Columbia County, Florida.
06/29/17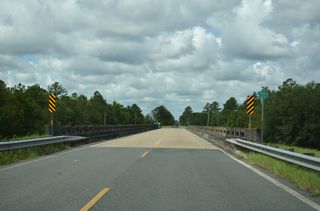 U.S. 441/SR 89 cross Cypress Creek midway between SR 94 near Edith and the Echols County line.
06/29/17
Connect with:
Interstate 16
Interstate 20
Interstate 85
U.S. 23
U.S. 84
U.S. 129
State Route 10 Loop - Athens Perimeter Highway
Page Updated 06-15-2020.