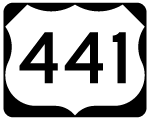 U.S. 441 travels 64.5 miles through western reaches of the state, providing part of a four-lane corridor between the Appalachians and Atlanta to the south and the main route through Great Smoky Mountains National Park. U.S. 441 overlaps with U.S. 23 from the Georgia state line to Dillsboro, where it turns west on U.S. 74 for eight miles before resuming a northward course five miles to U.S. 19. Beyond a short overlap with U.S. 19 at Cherokee, U.S. 441 ascends into the Great Smoky Mountains. Commercial vehicles are prohibited from using the route through the National Park.
U.S. 441 North Carolina Guides
Connect with:
U.S. 19
U.S. 23
U.S. 64
U.S. 74
Page Updated 01-30-2013.