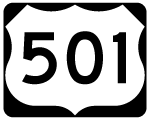 U.S. 501 begins in Myrtle Beach, South Carolina. U.S. 15/501 combine in Laurinburg and commingle for two thirds of their course in North Carolina northward to Pinehurst, Sanford, Pittsboro and Durham. Coming into Chapel Hill along a four lane highway north from U.S. 64 on the Pittsboro bypass, U.S. 15-501 bring a fair amount of traffic into the Triangle region. Through Chapel Hill, U.S. 15/501 (Fordham Boulevard) bypass the city center and the University of North Carolina along an arterial bypass. The former old alignment enters Downtown along NC 86 and E Franklin Street.
Beyond Durham, U.S. 15 generally follows I-85 northeast to Oxford, then turns north toward Virginia. U.S. 501 traces a route north to Roxboro and South Boston, Virginia, before turning northwest toward Lynchburg and Buena Vista, where it ends.
U.S. 501 North Carolina Guides
Connect with:
Interstate 40
Interstate 74
Interstate 85
U.S. 15
U.S. 64
U.S. 70
U.S. 401
Page Updated 07-17-2020.