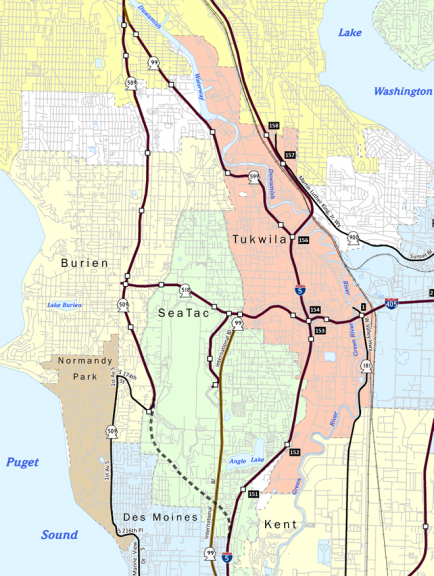 A somewhat winding yet heavily traveled route, Washington State Route 509 stems east from a single point interchange with I-705 and South 21st Street in Tacoma toward the Port of Tacoma by way of a cable stayed bridge over the Thea Foss Waterway. This bridge opened on January 22, 1997, and it features two, 180-foot towers.
SR 509 starts at I-705 at a Single Point Urban Interchange and heads east along a freeway alignment through the Port of Tacoma. After crossing through the Port of Tacoma, SR 509 changes from a freeway to an expressway with a wide median at Alexander Ave, then just north of Taylor Way to a boulevard named Marine View Dr and then takes a 90 degree turn heading northbound. At Norpoint Way NE, Marine View Dr downgrades to a two lane highway and becomes a windy two lane road along Marine View Dr and East Side Dr and then becomes Dash Point Road SW after passing Dash Point State Park. At SR 99, SR 509 turns north onto SR 99 and follows until SR 516. SR 509 turns west following SR 516 into Des Moines where SR 516 ends. SR 509 then continues north out of Des Moines along Marine View Dr and then 1st Ave S toward Burien. Once at S 174th St, SR 509 turns east to meet Des Moines Memorial Dr S for about a mile until reaching a trumpet interchange for the beginning of a freeway alignment that is the rest of SR 509 north until meeting SR 99 near the 1st Ave S bridge where SR 509 ends.
Washington State Route 509 Guides
Within Federal Way, SR 509 formerly only overlapped with SR 99 for about one mile between Dash Point Road SW and 16th Ave S until 1991. SR 509 previously turned to follow 16th Ave S, Woodmont Dr, and Marine View Dr to meet SR 516 in Downtown Des Moines.
Prior to the completion of the Port of Tacoma freeway alignment in 1997, SR 509 followed E 11th St between downtown Tacoma and Marine View Dr.
A SR 509 spur route is planned to connect to Port of Tacoma freeway to the proposed SR 167 freeway in Fife at a new Diverging Diamond interchange. Construction timetables have not been scheduled however the right of way has been purchased.
The SR 509 freeway that currently ends south of Burien near SeaTac Airport is also slated to be extended. The extension would go south to near S. 200th St and curve east to meet I-5 at about S. 210th St to include a south SeaTac Airport access freeway to I-5 south. WSDOT also owns right of way along a strip south of S. 200th St between 16th Ave S. and 18th Ave S. down to SR 516. The original plan was to extend the freeway southward along this right of way however there was too much local opposition to the proposed route and was cancelled. The local cities have been discussing a new boulevard along this right of way in more recent times.
Work between 2022 and 2029 will extend the SR 509 freeway southeast to I-5 near the interchange with SR 516 at Kent. Included in the SR 509 Completion Project is the construction of a South Access Road to Sea-Tac Airport and interchange with 24th Avenue S in Des Moines. Funding for these projects are a part of the $1.88 billion Puget Sound Gateway Program.
There is some speculation that the northern freeway from I-5 through Burien to SR 99 may get redesignated to a new number and remove the overlapping pieces along SR 99 and SR 516 once the freeway connection to I-5 is made. No specific number has been mentioned however there currently is no SR 511 or SR 517 so that might be an appropriate designation should the freeway get a new number.
Connect with:
Interstate 705
State Route 99
State Route 518
Page Updated 05-31-2019.