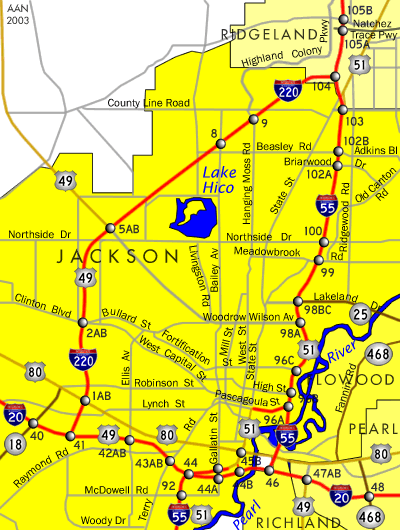 Interstates | US Highways | Jackson Streets
Located along the Pearl River and at the cross roads of Interstates 20 and 55, Jackson anchors a five county metropolitan area of over a half million people.
The origins of Jackson can be traced to the establishment of a trading post along the Pearl River by the French-Canadian trader Louis LeFleur. The state capitol was relocated from Natchez to what the site of LeFleur's Bluff in 1821. Named after Major General Andrew Jackson (the eventual 7th U.S. President), the area provided a more centralized location in the state. Growth in Jackson was slow to come, with just 8,000 residents by 1900.1

Steady population growth ensued from 1920 to 1980, with the city gaining 180,000 residents through to a peak of 202,985. Population within the capital city however has steadily declined from 195,526 residents in 1990 to an estimated 169,148 in 2016. The state government represents the largest area employer, with the University of Mississippi Medical Center following.
Connecting Vicksburg with Meridian in Mississippi, Interstate 20 traverses the southern portions of the city of Jackson, framing Downtown with Interstate 55 to the south and east. The freeway carries four lanes overall, with early 2000s construction expanding I-20 to six lanes east from Interstate 220 to U.S. 49 at Pearl. Sound barriers line the route as it passes south of Downtown with 65 mile per hour speed limits. A short concurrency with Interstate 55 culminates at a three-level interchange locally known as "The Stack". The freeway joins the capital city with Jackson International Airport (JAN) east at Pearl.
Interstate 20 opened east from Terry Road in Jackson by 1970, and through to I-59 in Meridian by 1971. The section west from Terry Road to Clinton Raymond Road and the merge with U.S. 80 was opened to traffic by 1971. The freeway directly overlaid U.S. 80 west from Clinton, with I-20 completed to Edwards by 1973.
The main north-south corridor through the state of Mississippi is Interstate 55. What Interstate 65 is for Alabama, Interstate 55 is for Mississippi. The highway links the major metropolitan areas of New Orleans and Memphis outside the state with Jackson, and smaller cities such as Grenada and McComb. The freeway enters the metropolitan area with four lanes from the south. I-55 dog legs east along side Interstate 20 along a heavily traveled six-lane overlap through to "The Stack" east of the Pearl River.
Turning northward from the split with I-20 east, Interstate 55 passes east of Downtown Jackson en route towards Ridgeland. U.S. 51 accompanies the route northward, with commercialized frontage running along side the six lane freeway. The suburban freeway accommodates six lanes of traffic north to Interstate 220, and eight lanes from I-220 through Ridgeland to Mississippi 463 (Exit 108) in Madison.
The first sections of Interstate 55 built in Mississippi extended both north from Woodrow Wilson Drive (then U.S. 49) to State Street at Ridgeland, and south from the State Street freeway spur to Downtown to Terry. Collectively 22 miles in length, both roadways were opened by 1960. The succeeding stretch completed ran north from U.S. 51 (State Street) at Ridgeland to Mississippi 22 at Canton by 1964. The route through Jackson, including the overlap with I-20, was finished in 1970.
Forming a half-beltway serving the northern and western portions of the city, Interstate 220 is a four-lane freeway with a rural design and 70 MPH speed limits. The north end is a three-level interchange with Interstate 55.
Pavement settling is very evident on the 11.60 mile route due to the soil composition of the area. Drivers along Interstates 20 and 55 across the south side of Jackson encounter a similar undulation to the pavement there.
Interstate 220 opened initially between U.S. 49 (Delta Drive) and County Line Road through north Jackson by 1980. The remaining portions both north and south opened the following year.
U.S. 49 / Medgar Evers Boulevard
U.S. 49 circumvents Jackson along a combination of Interstates 20, 55 and 220. The route enters the metropolitan area at Richland from the south, carrying traffic from Hattiesburg and the Mississippi Gulf Coast to the I-55 corridor leading north. With increasing commuter traffic, coupled with beach bound motorists and long distance freight movements, the northernmost portion of the route leading to "The Stack" with I-20 and I-59 was upgraded to an expressway. Heading northwest from I-220, U.S. 49 rejoins Medgar Evers Boulevard (formerly Delta Drive) for the rural route to Yazoo City.
Prior to completion of the western belt freeway, U.S. 49 followed Delta Drive southeast to Woodrow Wilson Drive east. Until 1967, U.S. 49 combined with U.S. 51 south along State Street through Downtown. Opening then was I-55, which doubled as U.S. 49 north to Woodrow Wilson Avenue. U.S. 49 & 51 split at a folded diamond interchange with U.S. 80 and the feeder expressway linking with Interstate 55 south. U.S. 49 then dog legged east along side U.S. 80 across the Pearl River before turning south and eventually joining its current alignment beyond I-20.

U.S. 51 overlaps with Interstate 55 north from Crystal Springs in Copiah County through to the west split with I-20. Prior to 2011, U.S. 51 spurred northeast along an older expressway, briefly traveling between the east and westbound roadways of I-20/55 before shifting north onto State Street. The U.S. 51 spur ended at U.S. 80, with the U.S. 51 mainline shifted east onto Interstate 55 to bypass Jackson northward to County Line Road (Exit 103). North from County Line Road, U.S. 51 trends eastward from I-55 along a commercial arterial through Ridgeland.
Historically U.S. 51 traveled all of State Street through Jackson. The urban route passes one block east of both Jackson City Hall and the Mississippi State Capitol. The five-lane commercial boulevard extends north to Millsaps College and Woodrow Wilson Avenue (old U.S. 49), where U.S. 51 once turned east to join I-55 north after it was completed. State Street otherwise continues north with six lanes by the University of Missisippi School of Medicine to the split with Old Canton Road. State Street reduces again to five lanes by a mix of retail, wooded neighborhoods, apartments and light industrial businesses, converging with U.S. 51 at County Line Road.
| | |
| --- | --- |
| | State Street / old U.S. 51 - North |
| | |
| --- | --- |
| | The State Street freeway (former U.S. 51) shifts north from below the westbound lanes of I-20/55 to span Lynch Creek at the Gallatin Street off-ramp. Guide signs along the freeway were replaced by 2011 and no longer reference U.S. 51. 04/14/02 |
| | |
| --- | --- |
| | State Street paralleled a ICG Railroad line beside the left side ramps with U.S. 80. U.S. 80 passes over the abandoned railroad line and the Pearl River east to Flowood and Pearl. 04/14/02 |
| | |
| --- | --- |
| | State Street / old U.S. 51 - South |
2 photos

2 photos

A sweeping loop ramp stems south from State Street to connect with the eastbound lanes of I-20/55 ahead of their split. Long since removed, this assembly included a state-named shield date stamped from September 29, 1985. 04/14/02

Generally serving local traffic, U.S. 80 runs across south Jackson, varying as a four to five-lane commercial arterial east to Lynch Creek. Frontage roads accompany the route east ahead of Valley Street, with controlled access standards extending through to the Pearl River bridge. U.S. 80 elevates across State Street, an abandoned railroad line and the adjacent Pearl River on a pair of 1938-built concrete bridges. East of the river, U.S. 80 passes under I-55 & U.S. 51 ahead of the split with Old Highway 49 south. Continuing through Pearl, U.S. 80 again expands into a four-lane commercial arterial.
| | |
| --- | --- |
| | East |
| | |
| --- | --- |
| | What was previously the last state-named shield for I-220 stood alongside U.S. 80 east by Metrocenter Mall. 04/14/02 |
| | |
| --- | --- |
| | Entering the three quarter cloverleaf interchange with Interstate 220 & U.S. 49 on U.S. 80 east. 04/14/02 |
| | |
| --- | --- |
| | U.S. 49 accompanies I-220 north for another 4.4 miles to Medgar Evers Boulevard, where it branches northwest. 04/14/02 |
The central business district from Pascagoula Street and other streets in Downtown Jackson. A modest skyline surrounds the Mississippi State Capital located at High and President Streets. Photos taken 04/14/02.
Pascagoula / Pearl Streets
Built in conjunction with Interstate 55, the Pearl and Pascagoula Street one-way collector system joins Downtown Jackson with I-55 & U.S. 51 to the east at Exit 96A. Pearl Street flows west along the south side of the Mississippi State Fairgrounds and Mississippi Coliseum. With two lanes, Pearl Street elevates onto a viaduct above ramps to the Coliseum, a former Illinois Central Gulf Railroad (ICGRR) line and Jefferson Street. The 1971-built viaduct ties into the intersection with State Street (former U.S. 51).
Pascagaoula Street parallels Pearl Street one block to the south, heading east from the Jackson Convention Complex. East of State Street, the two-lane street passes through a 1970-built subway below Commerce Street and what was the ICGRR line. The collector intersects Jefferson Street before defaulting traffic to the trumpet interchange with Interstate 55.
| | |
| --- | --- |
| | Long since removed, this trailblazer directed motorists southward on West Street to I-20 from Pascaougla Street eastbound. 04/14/02 |
| | |
| --- | --- |
| | East of Jefferson Street, an on-ramp joins Pascagoula Street from the Mississippi State Fairgrounds ahead of the ramp split for Interstate 55 & U.S. 51. 04/14/02 |
| | |
| --- | --- |
| | Pascagoula Street partitions into ramps for I-55 & U.S. 51 south across the Pearl River to Interstate 20 and I-55 north to Ridgeland, Madison and Grenada. 04/14/02 |
Terry Road
Terry Road is the pre-freeway alignment of U.S. 51 leading south from U.S. 80 in Jackson to Taylorsville, New Byram and Cunningham Avenue at I-55 in Terry.
| | |
| --- | --- |
| | Terry Road constitutes an older commercial arterial linking U.S. 80 and University Boulevard with Interstate 20 in south Jackson. This former shield array preceded the overpass carrying I-20 & U.S. 49 northwest from I-55. 04/14/02 |
2 photos

2 photos

On-ramps link Terry Road with both I-20/55 & U.S. 49 east to Pearl and I-55 & U.S. 51 south to McComb. 04/14/02
Similar to the famous Blue Ridge Parkway, the Natchez Trace Parkway is a limited access roadway with few connecting roads. Operated by the National Park Service, the parkway begins at Natchez and travels northeast around Jackson. Northeast from Ridgeland, the scenic route straddles the north shore of Ross Barnett Reservoir route to Tupelo and Nashville, Tennessee.
Construction on Natchez Trace Parkway commenced in 1938. The 444-mile route was completed in May 2005, when the two final segments were finally paved. This included the gap between Interstate 20 at Clinton and Interstate 55 at Ridgeland.2
Sources:
City of Jackson, MS – Official Website – History. https://www.jacksonms.gov/index.aspx?NID=550 accessed on 02/14/18.
"Natchez Trace." Southeast Missourian (Cape Girardeau, MO), June 5, 2005.
Updated February 15, 2018.