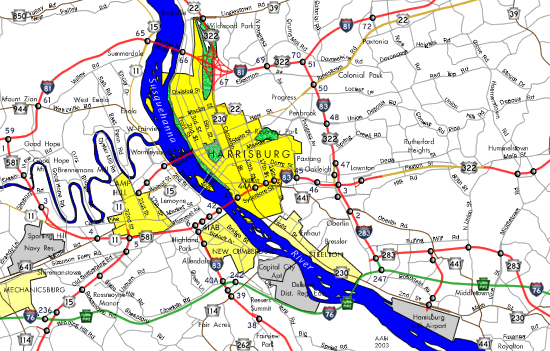 The capital city of Pennsylvania, Harrisburg lies in the south central part of the Keystone State at the cross roads of the Pennsylvania Turnpike (I-76) and Interstate 81. With an area of less than 12 square miles, Harrisburg spreads east from the Susquehanna River and north from Steelton to Lucknow along the U.S. 22/322 freeway. Home to around 50,000, the formerly industrial based city once boasted nearly 90,000 residents. The metropolitan area includes portions of Cumberland, Dauphin, Perry and York Counties.
Interstate 76 passes south of Harrisburg through northern reaches of York County and across the borough of Highspire and Lower Swatara township. Four interchanges join the Pennsylvania Turnpike with the Harrisburg metropolitan area: U.S. 11 (Interstate 81) in Middlesex township, U.S. 15 in Upper Allen township, Interstate 83 in Fairview township, Interstate 283 at Highspire. The Carlisle Interchanges does not provide a direct connection between I-76 and I-81.
The Pennsylvania Turnpike travels through the Harrisburg area with four overall lanes. The original toll road opened from Middlesex west to Irwin in Westmoreland County on October 1, 1940. Work on the Philadelphia Extension, which extended east from Middlesex to the Valley Forge Interchange with the Schuylkill Expressway, started on September 28, 1948. Included was a 4,526 foot long span across the Susquehanna River. The 100-mile stretch debuted to traffic on November 15, 1950. Associated work demolished the main line toll plaza and ramps at Carlisle, with a new plaza and ramps built further east.1
A heavily used trucking corridor, Interstate 81 generally travels east-west across the Harrisburg area. Passing through the borough of Carlisle, I-81 crosses the Pennsylvania Turnpike and Conodguinet Creek northward to Hampden township and the west end of PA 581. PA 581 spurs southeast, joining I-81 with Camp Hill, Lemoyne and Harrisburg to the east while I-81 expands to six overall lanes and bypasses to the north along side Blue Mountain.
Crossing the Susquehanna River on the George N. Wade Bridge, I-81 enters northern reaches of Harrisburg by Estherton. An expansive four-level interchange joins Interstate 81 with the U.S. 22 and 322 freeway south of Wildwood Lake and Park. U.S. 322 combines with I-81 east from there along a six-lane stretch through to the north end of I-83 in Paxton township. U.S. 22 parallels to the south as both routes progress east through suburban areas of Dauphin County to East Hanover township.
Baltimore-Harrisburg Expressway
Interstate 83 is the main freeway serving the capital city, passing south of Downtown from the John Harris Bridge over the Susquehanna River, to the adjoining borough of Paxtang. I-83 expands to six overall lanes from the east end of PA 581 at Camp Hill to South 17th Street in Harrisburg. Local traffic reports refer to the lane reduction at Exit 44B as the "19th Street Bottleneck."2 Other than the additions of auxiliary lanes, the freeway maintains just four lanes otherwise across the Harrisburg area.
The I-83 Master Plan prepared by PennDOT in 2003 identified a number of design deficiencies, capacity issues and the need to replace deteriorating pavement. The resulting I-83 Capital Beltway Project addresses these aspects in four sections.
The I-83 Master Plan outlined a full systems interchange at the locally known "York Split", where Interstate 83 and PA 581 converge at the borough of Lemoyne. An interim project using available funding expanded the congested single lane ramp for the I-83 northbound mainline to two lanes and made ramp modifications to reduce traffic conflicts. Costing $30.2 million, construction commenced in April 2012 and wrapped up in September 2015.
Reconstruction outlined for Interstate 83 north from the Peiffers Lane underpass to the directional T interchange with I-81 will expand the freeway to six overall lanes, with auxiliary lanes between respective interchanges. Additional modifications will be made at the cloverleaf interchange (Exit 50) with U.S. 22 (Jonestown Road), with two of the three remaining ramps removed and the exchange reconfigured into a parclo. A previous change took place in 2010, eliminating the loop ramp from I-83 south to U.S. 22 east.
Work on the first of two contracts for Section 1 started on June 15, 2016. Running through early 2019, Contract 1 elements include replacements of the Elmerton Avenue, U.S. 22 (Jonestown Road) and Union Deposit Road overpasses, and the aforementioned redesign of Exit 50. Bids for Contract 2, the expansion of the I-83 roadways, are expected in 2018.
Work on Section 2 widens Interstate 83 south from the Union Deposit Road interchange (Exit 48) to the Eisenhower Interchange with U.S. 322 and I-283, and west from there to 29th Street. Built in the late 1960s and previously known as the Penn-Harris Interchange, the multi-level exchange joining I-83, I-283 and U.S. 322 includes a number of design deficiencies. Of those, both directions of I-83 reduce to single lane ramps, with the mainline relegated to make turn off to stay on (TOTSO) movements. Additionally I-83 leading west from U.S. 322 includes a left-hand merge with traffic from I-283 north, resulting in a weaving traffic pattern.
The I-83 Master Plan proposed construction of a new seamless mainline for Interstate 83, and an overall redesign of all ramps north to Derry Street and west to 29th Street. A substantial amount of right of way will be needed, including all land between U.S. 322 along Eisenhower Boulevard, and the sweeping curve of I-83 south of Derry Street. Preliminary engineering and environmental studies are underway for the Section 2 project as of 2017.
Section 3 will upgrade I-83 west from near 29th Street to just east of the Susquehanna River in Harrisburg. Preliminary engineering and environmental studies commenced in 2017 for the expansion of this section.

Interstate 283 is a 2.91 mile long connector linking the Pennsylvania Turnpike (I-76) and the PA 283 freeway east toward Harrisburg International Airport (MDT), with Interstate 83, U.S. 322 and the Eisenhower Interchange at Oakleigh. Prior to the state wide conversion to mile-based exit numbers, interchanges along I-283 counted up from north to south.
Pennsylvania Route 283 is an important freeway linking the Harrisburg and Lancaster metro areas. Traversing rolling hills and a hodgepodge of farm land, suburban development and incorporated boroughs, PA 283 follows a 29 mile course southeast from Eisenhower Boulevard outside Highspire, to the U.S. 30 freeway bypass of Lancaster. Speed limits on rural stretches of the four-lane freeway are posted at 65 miles per hour.
PA 283 replaced U.S. 230, which was subsequently decommissioned in 1967. PA 230 follows the former U.S. route on a parallel alignment east from Highspire to Mount Joy. Early 2000s expansion of the easternmost portion of PA 283 added a lane per direction, full shoulders, sound walls and ramps to complete movements between the two highways.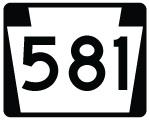 Formally known as the Harrisburg Expressway, Pennsylvania Route 581 arcs 7.5 miles southeast from I-81 through Hampden township to U.S. 15 at Camp Hill and I-83 at Lemyone. U.S. 11 accompanies the freeway east from Sporting Hill to U.S. 15 north through Camp Hill. PA 581 was never planned as Interstate 581, though a 1990s-era ADC map once made that distinction.
Prior to 1995, the Harrisburg Expressway only extended west to U.S. 11 at Sporting Hill. Opened at that time was the north-south leg to the previously built directional T interchange (Exit 59) with Interstate 81. Subsequent work reconstructed and modernized PA 581 east to Camp Hill, including the addition of sound barriers and sign replacements. Overall a four lane highway, an auxiliary lane accompanies eastbound between Exits 2 (Creekview Road) and 3 (Carlisle Pike).2
The Capital Beltway was designated soon after the completion of the Harrisburg Expressway northwest to I-81. The beltway overlays all of PA 581 and portions of I-81 and I-83. Beltway trailblazers were installed on the area freeways to aid motorists traveling in and around the metropolitan area.
2008-09 road work at the full cloverleaf interchange joining the Harrisburg Expressway with the U.S. 15 freeway north from Lower Allen township addressed weaving traffic concerns. The loop ramp from U.S. 15 north to U.S. 11 south / PA 581 was removed and replaced with a signalized left-hand turn. The westbound ramp from PA 581 to U.S. 11/15 north was realigned as well.

Paralleling Interstate 81 northward from Hagerstown, Maryland through Chambersburg, Shippensburg and Carlisle, U.S. 11 separates from the freeway at Middlesex along an arterial route east to Hampden township. The route overlaps with PA 581 east along the Harrisburg Expressway to connect with U.S. 15 north through the borough of Camp Hill. U.S. 11 & 15 remain paired northward from Wormleysburg to West Fairview, Overview and Marysville. The tandem upgrade to a freeway bypassing Duncannon, and continue north from there with four overall lanes along the west side of the Susquehanna River through to Selinsgrove and Shamokin Dam.

U.S. 15 varies as a freeway and arterial northeast from Gettysburg to Dillsburg, Shephardstown and Camp Hill west of Harrisburg. Combining with U.S. 11 north from PA 581 (Harrisburg Expressway), U.S. 15 arcs around Camp Hill along an older arterial route along 32nd Street and Cumberland Boulevard. The two split with the Camp Hill Bypass expressway leading to the M. Harvey Taylor Bridge at a wye interchange for two-lane Walnut Street. U.S. 11 & 15 turn north along Front Street through the borough of Wormleysburg, straddling the west banks of the Susquehanna north to Conodoguinet Creek.
1990s construction added an additional lane in each direction along portions of the U.S. 11/15 concurrency north from U.S. 22/322 at Duncannon. The two highways conclude a 56.4 miles overlap west of Sunbury. U.S. 15 extends north from U.S. 11 along the Susquehanna River West Branch to Williamsport.
U.S. 22 follows an L-shaped alignment around the periphery of Harrisburg. Combining with U.S. 322 at Lewistown, U.S. 22 winds southeast along a freeway paralleling the Juniata River to Millerstown and U.S. 11/15 at Duncannon. U.S. 22/322 briefly travel at-grade before crossing the Susquehanna River.
The Dauphin Bypass freeway hugs the east banks of the Susquehanna River southward to the borough of Dauphin. U.S. 22/322 continue by Fort Hunter and Rockville to enter northern reaches of the Harrisburg city limits by Wildwood Lake. A large directional interchange joins U.S. 22 with Interstate 81, which doubles as U.S. 322 east to I-83.
The U.S. 22 freeway spurs south from I-81 to Elmerton Avenue, where the route transitions into a surface arterial along Cameron Street by the Pennsylvania Farm Show Complex & Expo Center. Pennsylvania 230 overtakes Cameron Street south toward Downtown, while U.S. 22 shifts east along Arsenal Boulevard to bypass the city to Herr Street.
Herr Street continues U.S. 22 east to Walnut Street through the borough of Penbrook and the community of Progress. Crossing into Paxton township, U.S. 22 follows Jonestown Road to I-83, Colonial Park Mall and the Paxton Towne Center retail complex. Allentown Boulevard extends the commercial arterial east from Paxtonia, as U.S. 22 parallels I-81 to the south through to the Interstate 78 corridor.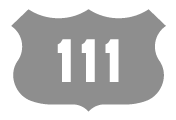 U.S. 111 originally joined Harrisburg with York and Baltimore, Maryland to the south and with Williamsport and Lawrenceville by the New York state line to the north. The northern section was renumbered as U.S. 15 in 1936. With construction of the Baltimore-Harrisburg Expressway, U.S. 111 was realigned onto opened sections as they were completed. With the establishment of the Interstate Highway System, U.S. 111 became redundant to Interstate 83, with it decommissioned in 1963.
Historically U.S. 111 followed Bridge Street through the borough of New Cumberland, and 3rd Street north to end at U.S. 11/15 (Market Street) in Lemoyne. The route shifted to the Susquehanna Expressway (I-83) by 1960, taking it to 3rd Street in Lemoyne.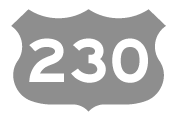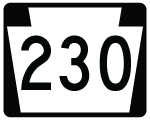 U.S. 230 was a short route branching northwest from U.S. 30 in Lancaster to Front Street (historically U.S. 11, 15 and 22) along the Susquehanna River in Harrisburg. Within the capital city, U.S. 230 followed Maclay Street east along side U.S. 22 to Cameron Street south to circumvent Downtown. The route was decommissioned in 1966 and redesignated as PA 230.
PA 230 begins at the U.S. 22 turn from Arsenal Boulevard west onto Cameron Street north, where U.S. 22/230 combined west along Maclay Street. The state route totals 28 miles along old U.S. 230, heading south from Harrisburg to the boroughs of Steelton and Highspire, Harrisburg International Airport (MDT) and Middletown. Through Lancaster County, PA 230 stays south of PA 283 through Elizabethtown and Mt Joy before converging with the freeway at a wye interchange, seven miles northwest of U.S. 30.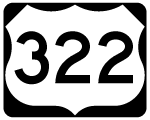 U.S. 322 – Eisenhower Bl / Paxton St
U.S. 322 overlaps with U.S. 22 south from Lewistown to Interstate 81 in north Harrisburg. The route bypasses the city along a combination of I-81 east to Paxton township and I-83 south to Swatara township. Emerging from I-83 just north of the Eisenhower Interchange, U.S. 322 follows a short section of Eisenhower Boulevard south to meet I-83 again at a parclo interchange. U.S. 322 turns east along its own freeway from I-83 and I-283 along Paxton Street. The route transitions into an at-grade arterial through a strip of big box retail and distribution centers to the Hummelstown freeway bypass.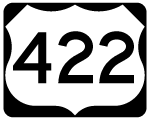 The eastern segment of U.S. 422 originates from U.S. 322 at the east end of the Hummelstown freeway bypass. U.S. 422 branches north from U.S. 322 to Swatara and Hershey. Following Chocolate Avenue to the south of the Hersheypark theme park, U.S. 422 heads east to Palmdale and the Lebanon County line.
Historically U.S. 422 extended west along side U.S. 322 (Paxton Street) into the city of Harrisburg. The concurrency was eliminated in 1961.
Sources:
Pai, Dave. "Harrisburg Focus Page," email: October 28, 2004.
Page Updated February 7, 2018.