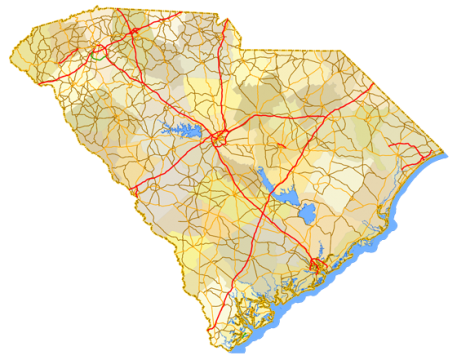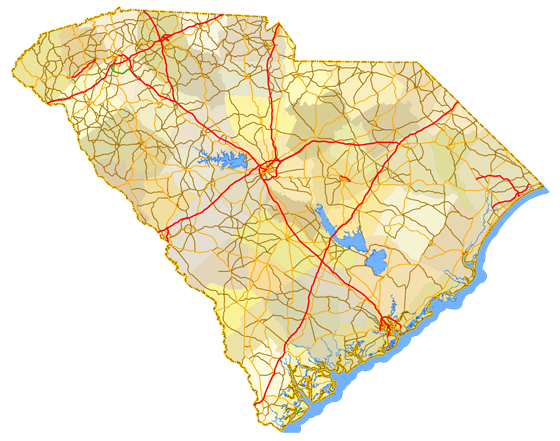 Researched by Paul Martin, the South Carolina Route Log lists all Interstate, U.S., and State Highways in South Carolina.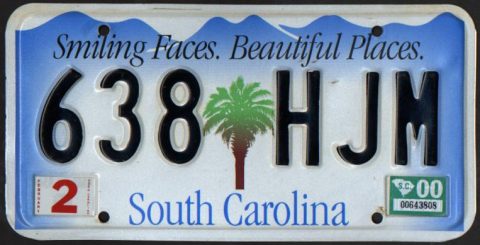 The state slogan Smiling Faces. Beautiful Places was incorporated into the new South Carolina license plate in 2000. The Palmetto State redesigned the plate twice since then.
An alternate standard tag design available features the state flag and caption In God We Trust. Vanity tags issued in the state feature an alternate background featuring a mountain and seagrass motif, indicative of the state's diverse geography.
Five major interstates serve the state. Interstate 20 joins the capital city with Florence and Interstate 95 to the east and Augusta and Atlanta, Georgia to the west. Interstate 26 joins Charleston and the LowCountry with Columbia and the Greenville/Spartanburg area. Interstate 77 provides a link from Columbia northward to Rock Hill and Charlotte, North Carolina. Interstate 85 straddles the Appalachian Mountain Piedmont as a busy freeway linking Atlanta with Charlotte. Interstate 95 travels north-south along the coastal plain, primarily providing through traffic needs between Florida and the Northeast U.S.
Interstate 73 is a planned route from southern North Carolina near Rockingham eastward into the Myrtle Beach and Grand Strand area. Funding delays, environmental concerns due to wetland impacts, and public support have hampered efforts for new corridor. As such, some portions may be built as a toll road to accelerate construction.
Six branch routes serve cities across the Palmetto State. These include Interstate 185, a combination urban spur to Downtown Greenville and tolled loop south of Greenville. Joining I-185 at Greenville is Interstate 385. The lengthy route originates east of Downtown along the Golden Strip Freeway. The freeway circles east and south to Mauldin, where it overtakes U.S. 276 southeast to Simpsonville, Fountain Inn and Clinton where it connects with I-26. Interstate 585 rounds out the Upstate spurs, connecting Business Loop I-85 with Spartanburg alongside U.S. 176 on an older freeway.
Further south, Interstate 126 spurs east from I-26 to Downtown Columbia. The 2009 completed extension of I-520 east to I-20 at North Augusta completed the loop south around Augusta, Georgia. The lone branch route in the LowCountry is Interstate 526. The east-west freeway forms a bypass for U.S. 17 and commuter route from I-26 west and east of Charleston. Efforts continue to complete the loop south and east to the James Island Freeway (South Carolina 30).
| Designation | Mileage | End Points | Major Population Centers |
| --- | --- | --- | --- |
| 20 | 144.4 (includes 1.8 mile of business spur in Florence) | GA border (Savannah River) near North Augusta to US-76 in Florence | North Augusta, Aiken, Columbia, Columbia, Camden, Florence |
| 26 | 221.7 | NC border near Landrum to US 17-701 / Meeting St. (Exit 221), downtown Charleston | Spartanburg, Clinton, Newberry, Columbia, Orangeburg, Summerville, North Charleston, Charleston |
| 73 | TBD | NC border north of Bennettsville to S.C. 31 at Myrtle Beach. | Marion, Conway, Myrtle Beach |
| 74 | TBD | NC border near Little River to Myrtle Beach. | Myrtle Beach, North Myrtle Beach |
| 77 | 91.6 | I-26 / US 12-176-321 at exit 116 near Cayce to NC Border just south of Charlotte. | Columbia, Chester, Rock Hill |
| 85 | 106.3 | GA Border (Tugaloo River) near Fair Play to NC Border near Blacksburg. | Anderson, Greenville, Greer, Spartanburg, Gaffney |
| 95 | 199.2 | GA Border (Savannah River) north of Savannah to NC Border north of Dillon. | Walterboro, Sumter, Florence, Dillon |
| 126 | 4.6 (includes 0.5 mile of business spur in Columbia) | I-26 exit 108 to US 76 / SC-277 (Bull St.) in downtown Columbia. | Columbia |
| 174 | 24.5 (to be extended to Interstate 74) | GA border (Savannah River) to I-20 near North Augusta | Myrtle Beach, North Myrtle Beach |
| 185 | 12.2 (includes 9.6 miles of toll road) | I-385, Exit 31 to W. Faris Rd. in SW Greenville | Greenville, Mauldin |
| 385 | 42.4 (includes 0.4 mile of unmarked business spur in downtown Greenville) | I-26 exit 51 near Clinton to Academy St. downtown Greenville. | Clinton, Laurens, Simpsonville, Mauldin, Greenville |
| 520 | 7.20 | GA border (Savannah River) to I-20 near North Augusta | North Augusta |
| 526 | 22.7 (includes 1.1 mile of business spur in Mt. Pleasant) | Corner of US-17 (Savannah Hyw.) & SC-7 (Sam Rittenburg Blvd.) W of Charleston to SC-703 in Mt. Pleasant | Charleston, North Charleston, Mt. Pleasant |
| 585 | 3.1 miles (includes 0.3 mile of business spur multiplexed with US-221 in Spartanburg) | Valley Falls Rd. to US-221 in Spartanburg | Spartanburg |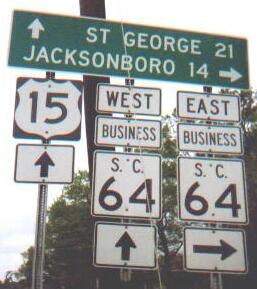 Much of the original network of U.S. routes within the Palmetto state remains in intact. Some exceptions are the truncation of U.S. 276 due to Interstate 385 and the removal of U.S. 29 Alternate near the Spartanburg vicinity due to Interstate 85. Additional realignments include U.S. 17 with I-95 south from Yemassee, U.S. 15 & 301 with I-95 across Lake Marion, and U.S. 76 along the I-126 spur into Columbia.
SCDOT also assigns U.S. and State Highway spurs. These routes are generally unsigned, and provide connectivity between intersecting or adjacent routes. U.S. 52 Spur extends south to the Charleston historic district as an example.
U.S. 17A northbound at U.S. 15 and South Carolina 64 Business in Walterboro. U.S. 15 begins a six-state run from here. Photo taken by Paul Martin (2001).
Route
Mileage
Begin
End
Major Population Centers
1
176
NC Border, 7N Wallace
GA Border @ Augusta
Cheraw, Camden, Columbia, Lexington, Aiken,
North Augusta
15
166
NC Border, 2N McColl
US 17-A, Walterboro
Bennettsville, Hartsville, Sumter, Walterboro
17
229
NC Border, 1N Little River
GA Border @ Savannah
Myrtle Beach, Georgetown, Charleston
17A
127
US 17, Georgetown
US 17, Pocotaligo
Moncks Corner, Summerville, Walterboro
21
241
NC Border @ Charlotte
Hunting Island State Park
Rock Hill, Columbia, Orangeburg, Beaufort
25
139
NC Border, 18N Travelers Rest
GA Border @ Augusta
Greenville, Greenwood, North Augusta
29
111
NC Border, 7NE Blacksburg
GA Border, 15SW Anderson
Gaffney, Spartanburg, Greenville, Anderson
52
161
US-17, Charleston
NC Border, 10NW Cheraw
Charleston, North Charleston, Kingstree, Florence,
Darlington, Cheraw
76
303
NC Border, 8E Nichols
GA Border, 19NW Westminster
Marion, Florence, Sumter, Columbia, Newberry,
Laurens, Anderson, Clemson
78
143
US-17, Charleston
GA Border @ Augusta
Charleston, North Charleston, Summerville, Bamberg,
Aiken, North Augusta
123
66
BS I-385 (Stone St.), Greenville
GA Border, 10W Westminster
Greenville, Easley, Clemson, Seneca
176
250
NC Border, 3NW Landrum
US-52 S, Goose Creek
Spartanburg, Union, Columbia, Goose Creek
178
231
NC Border, 21N Pickens
US-78, 3NW Ridgeville
Pickens, Anderson, Greenwood, Saluda, Orangeburg
221
124
NC Border, 3N Chesnee
GA Border @ Strom Thurmond Dam
Spartanburg, Laurens, Greenwood, McCormick
221A
4
NC Border 5 NE Chesnee
SC-11 3E Chesnee
(none)
276
45
I-385 & Standing Sprs Rd, Mauldin
NC Border, Caesars Head S.P.
Mauldin, Greenville
278
147
Forest Beach, Hilton Head Island
GA Border @ Augusta
Hilton Head Is., Ridgeland, Hampton, Allendale,
North Augusta
301
190
NC Border, South of the Border
GA Border, 13W Allendale
Dillon, Florence, Manning, Orangeburg, Bamberg,
Allendale
321
225
NC Border, 4N Clover
US-17 S, Hardeeville
York, Chester, Winnsboro, Columbia
378
217
US-501/701, Conway
GA Border, 8W McCormick
Conway, LAke City, Sumter, Columbia, Lexington,
Saluda, McCormick
401
79
NC Border, 2N McColl
US-15, Sumter
Bennettsville, Darlington, Sumter
501
77
NC Border, South of the Border
US-17, Myrtle Beach
Dillon, Marion, Conway, Myrtle Beach
521
172
NC Border, 20N Lancaster
US-17/701, Georgetown
Lancaster, Camden, Sumter, Manning, Georgetown
601
181
NC Border, 3N Pageland
US-321, 23S Hampton
Camden, Orangeburg, Bamberg, Hampton
701
122
NC Border, 6N Loris
Jct. I-26, Charleston
Conway, Georgetown, Charleston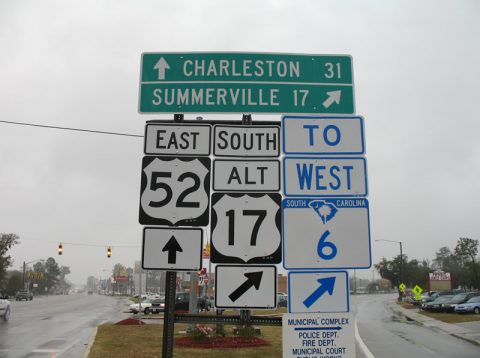 South Carolina state highways are not organized in a north-south or east-west scheme. Route clustering is also not used in the state. Three-digit state highways however act as loops and spurs from their implied parent routes. South Carolina 171 for instance refers to U.S. 17 in its numbering, or can be read as South Carolina 17-1. South Carolina 165 technically reads South Carolina 16-5, as it branches from South Carolina 5. This configuration is not unique to South Carolina, as Washington state also follows the practice.
Several multi state routes join the South Carolina state highway system, including MSR 72 with Georgia, MSR 28 with Georgia and North Carolina, and MSR 121 south to Florida. Freeway construction at Myrtle Beach designated South Carolina 22 as part of the future Interstate 73 corridor and South Carolina 31 along the Carolina Bays Parkway. Carolina Bays Parkway is the potential "eastern" extent for Interstate 74 from coastal North Carolina. S.C. 31 previously was numbered along the Mark Clark Expressway (now I-526) west of Charleston.
The following tables list all routes within the South Carolina State Highway System: