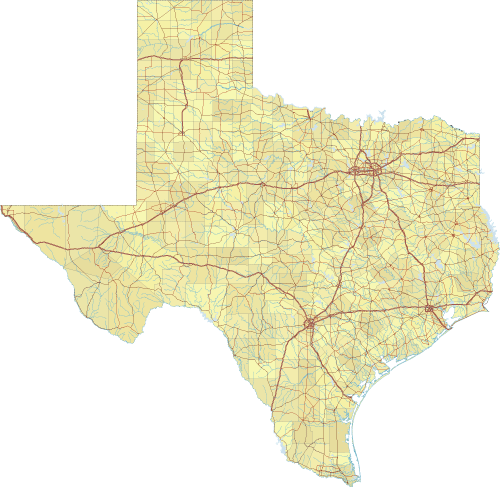 Texas, the second-largest state in the Union, has the most state highway miles in the country.
Photography contributions by Alex Nitzman, Andy Field, Brent Ivy, Jeff Royston, Justin Cozart and Kevin Trinkle. Many thanks to Kevin, who both started Lone Star Roads on AARoads in 2005 and compiled the bulk of the original Texas highway guides found throughout the site.
Photo Guides
What is a FM Road?
A Farm to Market Road (FM) is a secondary state highway. The system was conceived in the 1930s as part of a "Good roads" project to ensure farms (or ranches) have all-weather access to markets. The system was originally funded by an earmark from the general fund with state funds (no federal funds). Some FM roads are eligible for federal aid, however.
There is no difference between a FM, Ranch to Market (RM) or Urban Road (UR) for state purposes. RM markers are generally found in Western Texas where ranches are dominant, while FM roads are generally found in eastern Texas where farms dominate. There are some exceptions to this general rule though.
Urban Roads were originally FM roads (most notably around Houston and San Antonio) but were reclassified in 1995 to UR status (since they do not serve farms anymore). All are still signed as FM roads to avoid driver confusion and save costs involved in re-signing the road.
Texas Highway Designations
TxDOT classifies Interstates. U.S. Highways, State Highways and other routes across the state with two letter abbreviations. The full list can be found at the TxDOT web site. A summary of those commonly used on AARoads include:
IH – Interstate Highway
SH – State Highway – includes the lettered routes for Old San Antonio Road (OSR) and NASA Road 1
SL – State Highway Loop
SS – State Highway Spur
UR – Urban Road – a farm or ranch to market road routed within an urban area.
RM – Ranch to Market Road – generally used in rural areas of the state
PR – Park Road – a state maintained roadway to a state or national park
Other terms referenced in the TxDOT Designation Files (route log for all state maintained roadways):
BI – Business Interstate Highway
BU – Business US Highway
BS – Business State Highway
BF – Business Farm to Market Road
RE – Recreational Road
UA – U.S. Highway Alternate
UP – U.S. Highway Spur
Farm and Ranch to Market Roads may have Spur routes posted as well.
State Population
29,145,505

Metropolitan Populations

Dallas-Fort Worth-
Arlington
7,637,387
Houston-The Woodlands-
Sugar Land
7,122,240
San Antonio-
New Braunfels
2,558,143
Austin-Round Rock-
Georgetown
2,283,371
McAllen-Edinburg-
Mission
870,871
El Paso
868,859
Killeen-Temple
475,367
Corpus Christi
421,933
Brownsville-
Harlingen
421,017
Top County Populations
Harris
4,731,145
Dallas
2,613,539
Tarrant
2,110,640
Bexar
2,009,324
Travis
1,290,188
Collin
1,064,465
Denton
906,422
Hidalgo
870,781
El Paso
865,657
Top City Populations
Houston
2,316,120
San Antonio
1,567,118
Dallas
1,343,266
Austin
995,484
Fort Worth
927,720
El Paso
681,534
Arlington
398,864
Corpus Christi
327,248
Plano
291,296
Sources: 2020 U.S. Census Data (metro populations and counties), 2020 U.S. Census Estimate (cities)
Updated February 27, 2023.