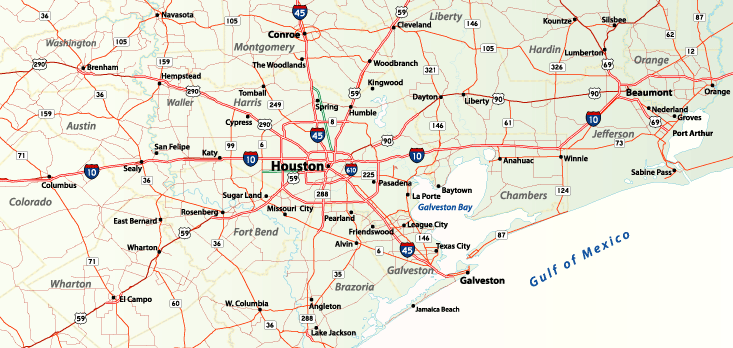 Houston is the largest city in Texas and fourth-largest city in the United States. The city is a center for the Oil and Energy industry, but is also home to NASA's Johnson Space Center and former Continental Airlines (which merged with the UAL Corporation in October 2010). The world's first domed stadium, the Astrodome, is located in Houston. Houston also offers the largest hospital in the state, and is home to University of Houston and Rice University. Major sports teams include the Houston Astros (MLB), Texans (NFL) and Rockets (NBA).
Interstates | Toll Roads | US Highways | State Highways | FM Roads
Background information on Houston freeways will be limited in scope on this site. Erik Slotbloom's book and website, Houston Freeways, goes into significant detail on the freeways that are vital to keeping Houston moving.
With the rapid growth of Houston, roadway construction struggles to maintain pace with new developments and the infrastructure required to support growth. This list is not all-inclusive, but rather highlights some of the major projects ongoing or completed around Houston:
Alvin Freeway – signed as Spur 5, work starts in 2025 on a three mile extension south from U.S. 90 Alternate (Old Spanish Trail) to Belford Avenue at South Park, Houston. The Alvin Freeway is part of the proposed SH 35 corridor.
Katy Freeway reconstruction – completed in October 2008, the $2.8 billion investment widened IH 10 from six lanes with HOV to 8-10 general purpose lanes, and four managed express toll / HOV lanes (Katy Tollway).
Grand Parkway – Extend SH 99 around Houston between IH 10 west and SH 146 in Baytown, circling the north side of Houston, from IH 69 & US 59 west to SH 146 east of IH 45 near Kemah. All portions of Grand Parkway are completed, except for Segments H and I-1, the northeastern loop from IH 69/U.S. 59 near Humble south to IH 10 at Mont Belvieu. Construction here through Spring 2022 commenced in Summer 2017.
North Houston Highway Improvement Project – relocate IH 45 to run side by side with IH 69/U.S. 59 and IH 10 around Downtown Houston while demolishing the Pierce Elevated section along the west side.
SH 288 Toll Lanes Project – construction underway from October 2016 to September 2019 adds four managed lanes to the median of SH 288 (South Freeway), from IH 69/U.S. 59 (Southwest Freeway) to the Harris County line at Clear Creek.
West Loop – Reconstruction of IH 610 between IH 10 and US 59. Included reconstruction of both stack interchanges.
Katy Freeway / East Freeway
IH 10 travels west to east across the metro area, entering in Katy and leaving the metro area at Baytown. As the only east-west freeway across Houston, IH 10 is heavily traveled with through traffic and commuters from Katy and the western suburbs.
The first section of the Katy Freeway opened in 1956, between Campbell and Blacock roads. Campbell Road west to IH 610 opened In 1961. SH 6 west to Katy opened in 1966, and the gap between SH 6 and Blacock road opened in 1967. The final section from Loop 610 to IH 45 opened in 1968. Between IH 45 and IH 69/U.S. 59 downtown, IH 10 opened on May 17, 1972.
The first section of the East Freeway opened in 1953, between the then-existing Houston city limits near present-day Beltway 8 and the San Jacinto River. The freeway was extended east to Baytown by 1959. A short section from McCarthy Road to Loop 610 opened in 1958, with this gap between the 1958 and 1953 sections completed in 1961. The freeway was completed to U.S. 59 in 1966.
The Katy Freeway, from Katy to Loop 610, was reconstructed during a five year project wrapped up in October 2008. The original freeway was built in a minimal right of way, with only six lanes. The new road accommodates at least eight general purpose lanes from Fort Bend County to IH 610, with four toll lanes (Katy Tollway) in the middle from SH 6 to IH 610, and a reversible HOV lane between SH 99 (Grand Parkway) and SH 6.
Gulf Freeway / North Freeway
Beginning in Galveston, the Gulf Freeway aims directly for the heart of Houston. Once Downtown, IH 45 forms the west side of the Downtown loop along the Pierce Elevated. North of Downtown, IH 45 is the North Freeway, a workhorse freeway that is the poster child for freeway development in Texas (many would argue it is a visual eyesore with the overwhelming commercial activity).
The first section of the Gulf Freeway opened in 1948 from Scott Street to Telephone Road. The freeway was extended to South Loop 610 in 1951, then extended (as expressway) to Galveston in 1952. The expressway sections were upgraded in phases during 1959 (South Loop 610 to Fuqua Street), 1964 (Fuqua Street to FM 1959), and 1976 (FM 1959 to Galveston). The loop around downtown between Allen Parkway and Pierce Street opened in 1955, with the full freeway between IH 10 and Pierce Street open in 1962. The Pierce Elevated (Pierce Street to Scott Street) opened in 1967, followed by the US 59/IH 45 interchange in 1974.
The North Freeway was constructed very quickly. Crosstimbers Road to Parker Road was the first section to open in 1959, followed by North Loop 610 to Crosstimbers Road in 1961. The section north of Beltway 8 through Spring also opened in 1961. The link between Loop 610 North and Downtown opened in 1962, followed by the link between Parker Road and Beltway 8 in 1963.
IH 45 underwent a number of construction projects to widen the freeway during the 1980s and 1990s. The freeway, however, remained narrow and clogged. The North Freeway has a parallel road, the Hardy Toll Road, to ease congestion, but most of the traffic takes IH 45 to avoid tolls.
The North Houston Highway Improvement Project will realign IH 45 on a parallel alignment to both IH 69/U.S. 59 and IH 10 around the east side of Downtown Houston. The Pierce Elevated will be subsequently demolished.

North / East / South / West Loop
Loop 610 is the inside loop of Houston. Named simply for which side of downtown the road is on (North Loop 610, East Loop 610, South Loop 610, West Loop 610), Loop 610 was first proposed in the 1930s, and approved in 1941 as surface streets (known as Loop 137).
The North Loop was constructed between primarily between 1960 and 1964 with the exception of Hardy Street to Fairbanks Road, which opened in 1975. The West Loop was constructed between 1963 and 1968. The first leg of the South Loop between IH 45 and SH 225, opened in 1952, with the remainder open between 1969 and 1975. The East Loop was the last to be built, with construction between 1973 and 1975. More details on each individual section can be found on Houston Freeways.
Eastex Freeway / Southwest Freeway
IH 69/U.S. 59 enters the metropolitan area in Kingwood as the Eastex Freeway. Traveling south through Humble, IH 69/U.S. 59 passes the east side of George Bush Intercontinental Airport (IAH) then travels southwest into Downtown. Forming the east and southeast side of the Downtown loop, the Southwest Freeway separates with SH 288, then goes southwest past Greenway Plaza to Sharpstown, eventually ending up in Sugar Land before leaving the metropolitan area on the way to Victoria.
U.S. 59 was constructed between IH 10 and IH 45 in 1966. The Eastex Freeway first opened in 1953 near Loop 610, with the section from IH 10 north to Tidwell Road open in 1956. The freeway was completed to Beltway 8 in 1960, and extended to FM 1960 between 1969 and 1970. North of FM 1960, U.S. 59 was completed in 1981. Reconstruction of U.S. 59 was completed in 1998.
The Southwest Freeway opened in 1961 from Spur 527 southwest to Kirby Road, followed by Kirby Road to Westpark Road. in 1962. Construction through Sharpstown was completed in 1965, with the freeway finished through Houston by 1975. The former elevated freeway near Montrose Road was trenched during a reconstruction project.
IH 69 was designated along U.S. 59 (Eastex Freeway) from the North Loop of IH 610 to Liberty County in 2012. The following year IH 69 was established along the Southwest Freeway between Rosenburg and the West Loop of IH 610. U.S. 59 within the IH 610 beltway was upgraded to IH 69 by the Transportation Planning and Programming Division on March 26, 2015. IH 69 will eventually join Houston with Victoria to the southwest and Shreveport, Louisiana to the northeast.

The Grand Parkway was first discussed in 1965, but plans for the roadway were allowed to be extinguished in the mid-1970s. Developers of Cinco Ranch, a community on the west side of Houston, resurrected plans for the parkway in 1982. Due to issues with environmental impacts, land acquisition, and delays, TxDOT took control of the project, with the first completed section between IH 10 and U.S. 59 (Southwest Freeway) through Cinco Ranch opening in 1994.
Sections of Grand Parkway between IH 10 and IH 69/U.S. 59 north of Houston, as well as IH 69 southwest of Houston to SH 288 were subsequently constructed in phases. The segment between IH 10 east of Baytown and SH 146 was also built. The final section, including portions in Chambers, Liberty and Montgomery Counties, started with construction in early September 2018. Costing $894 million, work on the last phase extends to 2022. Grand Parkway will be the largest highway loop in the country upon completion.1
The Hardy Toll Road is a parallel reliever route to the North Freeway, IH 45. Houston's first toll road was approved in 1983. The section north of Beltway 8 opened in 1987, followed by the section south of Beltway 8 to IH 610 in 1988. The airport connector opened in 2000. The Hardy Toll Road has no frontage roads along the northern section.
Plans are to extend the Hardy Toll Road 3.6 miles south to Downtown, meeting IH 10 and IH 69/U.S. 59 at their interchange. The HCTRA plans for the Hardy Toll Road Downtown Connector were approved by TxDOT in August 2006. The city of Houston approved associated at-grade crossings at Lorraine, Collingsowrth and Quitman in 2011. HB&T Railroad relocation for the corridor followed by September 2014. Work on the toll road is anticipated to run from August 2020 to December 2023.


Plans for a second beltway around Houston were formulated as early as 1952, with a corridor designated as a freeway by 1960 by Harris County. However, construction was slow and Harris County could not build the freeway, so the beltway was adopted into the state highway system in 1969. The first completed section, between IH 45 and U.S. 59 to serve Intercontinental Airport, opened in 1970 as frontage roads only. As the route continued to get delayed, Harris County stepped in again and took the road back, eventually agreeing to build the main lanes as a tollway, with TXDot constructing and maintaining the frontage roads. As a result, the frontage roads are Beltway 8 while the tolled lanes are the Sam Houston Tollway.
The toll lanes opened between 1987 and 1997 along all but a 13 mile section between IH 69/U.S. 59 and IH 10 on the Northeast side of Houston. These were originally not considered for construction by the HCTRA. However the toll road authority eventually undertook building them between July 2009 and February 2011.
The freeway lanes between IH 45 and IH 69/U.S. 59 serving Intercontinental Airport (IAH) do not have a toll, and are known as Sam Houston Parkway and Beltway 8.
Fort Bend Parkway was originally planned in 1961 as the Bay City Expressway, and dropped due to environmental issues and lack of funds. The freeway was added back to the planning books by Fort Bend County, who supported the project, in the mid-1980s, leading to the State Highway designation (SH 122). Following additional delays, it was decided to secure funding for the roadway by building it as a toll road. The Fort Bend Country Toll Road Authority (FBCTRA) was formed in 1996 to oversee development and construction of the planned road.
The first section of Fort Bend Parkway, from SH 6 to Beltway 8, opened in August 2004. Extensions between Beltway 8 and U.S. 90A in Harris County opened in 2005 and from SH 6 west to Sienna Parkway in 2012. Starting with right of way work in Summer 2019, the Fort Bend Parkway Segment B-2 Extension lengthens the toll road west to Sienna Ranch Road. 16 to 20 months of work on Segment B-2, is scheduled to being in 2021. Future work on Segments C-1 and C-2, will further extension Fort Bend Parkway to FM 2759 and SH 99 (Grand Parkway).
SH 122 was the previously designation outlined for the Fort Bend Parkway corridor. A 17.0 mile route, from Beltway 8 near Hillcroft Street to SH 99 (Grand Parkway) was established by TxDOT in 1990. SH 122 was subsequently dropped from SH 6 to Beltway 8 in 2006, and removed from the state highway system altogether in 2015.


The Westpark Tollway parallels FM 1093 (Westheimer Road) from IH 69/U.S. 59 (Southwest Freeway) in Houston to SH 99 (Grand Parkway) at Cinco Ranch. The Tollway was constructed in 2003 and opened in phases between 2004 and 2005. The Tollway starts at the Southwest Freeway and Loop 610 and heads west to Beltway 8, SH 6 and Grand Parkway (SH 99) in Fort Bend County. A three phase project lengthens the Westpark Tollway along FM 1093 with preliminary work for the frontage road system west from Grand Parkway:2
Phase 1 – costing $67 million and finished in November 2017, work here built the tollway west from SH 99 to Spring Green Boulevard.
Phase 2A – $22 million and scheduled for completion in March 2019, added two-lane frontage roads between FM 1463 and Cross Creek Bend Lane.
Phase 2B – $21 million started in July 2018, constructs two-lane frontage roads along FM 1093 between the planned Texas Heritage Parkway to James Lane in Fulshear.
Costing $42 million to build, the future toll lanes will run from west of Spring Green Boulevard to west of Cross Creek Bend Lane.2 HCTRA constructed the Tollway in Harris County, and Fort Bend County has constructed the Tollway west of FM 1488.
The Crosby Freeway was planned in 1955, and while frontage roads were eventually built, the the first section did not open to traffic as a freeway until 1987. It was completed between Beltway 8 and FM 2100 in February 1991. Construction on the continuation of the freeway between IH 10 at IH 610 east and Beltway 8 did not get started until 2006. It was finally completed by winter 2011.
West from the East Loop of IH 610 through Downtown Houston and Katy, U.S. 90 overlaps with IH 10. Previously U.S. 90 shifted several times through Space City, from the historic alignment along Washington Street into Downtown to an overlap with IH 610 and ultimately onto the Katy Freeway with IH 10.
U.S. 90A, Main Street, follows the original alignment of former U.S. 90 from the southwest. U.S. 90A was designated in 1942, and upgraded to a divided highway as a overlap with US 59 in 1952. The section between Hiram Clark Road and IH 610 was converted to an expressway with grade separations, but not to full freeway standards.
The Northwest Freeway is a basic commuter freeway. U.S. 290 enters Houston co-signed with SH 6 from Hempstead, then travels southwest to meet IH 610 just north of IH 10. The interchange with IH 610 opened in 1963, while the Northwest Freeway was constructed between 1975 and 1982 inside Beltway 8, and 1985 through 2002 northwest of Beltway 8.
The US 290 Program, a 38 mile long corridor between IH 10/610 and U.S. 290 northwest to the Waller County line, started at the interchange with IH 610 in June 2011. TxDOT added an additional general purpose lane to both directions of the Northwest Freeway from IH 610 to SH 6/FM 1960, with a reversible High Occupancy Vehicle (HOV)/Toll lane between Loop 610 and SH 99 (Grand Parkway). The bulk of work on the Northwest Freeway was completed in Spring 2019, with construction continuing along the main lanes between Mason and SH 6/FM 1960.
Plans for a parallel tollway along Hempstead Road, which will relieve some pressure on U.S. 290, as part of TxDOT's long range vision for the U.S. 290 corridor. The toll road is proposed as a four-lane facility between IH 610 and SH 99 (Grand Parkway), with a 50 foot right of way reserved for future transit.
SH 146 was designated in 1939, and planned for expressway upgrade in 1955. However, the first freeway section, just north of Farimont Parkway, opened around 1971. The freeway was extended south to its present terminus in 1987, then extended north through Baytown after the construction of Fred Hartman bridge in 1995. The remainder of the present freeway opened in 1996-97.
La Porte Freeway / Pasadena Freeway
The La Porte Freeway runs from IH 610 to the Pasadena city line; the Pasadena Freeway extends SH 255 east to Deer Park and SH 146 in La Porte. The first section of freeway opened in 1966 to South Richey Road, with extension to Red Bluff Road in 1971. Freeway lanes to Center Avenue, crossing Beltway 8, opened in 1983-84. The Freeway was slowly completed to SH 146, with final completion in 2000.
SH 225 was designated in 1939 as a state highway between U.S. 75 and Baytown.

Designated in 1989, the freeway for SH 249 was constructed to replace FM 149, which had become congested due to development along its corridor spurred by the construction of the Compaq (now HP) campus in Northwest Houston.
SH 249 opened in 1997, and was extended as a freeway to Spring Cypress Road in 2000. Phase 1 of Tomball Tollway was constructed north from the SH 249 freeway at Northpointe Boulevard six miles to FM 2920. Operated by the HCTRA, the toll road uses all electronic toll collection (AET).
TxDOT is lengthening the SH 249 tollway another 15 miles. Land clearing for the project commenced in December 2017 with construction on Section 1A following in 2018. The toll road from FM 1774/FM 149 at Pinehurst to FM 1774 at Todd Mission will be completed in 2022.
SH 288 was designated in 1939 between Houston and Freeport. The freeway was designed in the mid-1960s, with TxDOT planning it for an ultimate width of 14 lanes in a dual freeway design. The eight outer lanes, serving local traffic, were eventually built, but the inner six lane express freeway went uncompleted. The SH 288 Toll Lanes Project eventually added four managed lanes between the outer roadways of the South Freeway.
The South Freeway opened as an expressway south of Loop 610 in 1981, followed by a section north of Loop 610 as full freeway. The South Freeway between IH 69/U.S. 59 and Loop 610 was open by 1984, with the expressway south of Loop 610 upgraded to Freeway during the 1990s.

Spur 330 was authorized as a freeway in 1961. The frontage roads were the first built, and were completed by 1966. Freeway mainlanes were a long time coming, though, and were not completed until 2004.

Westheimer Road begins at Loop 610 and travels west towards SH 99 (as UR 1093), then continues west to eventually reach FM 3013 at Eagle Lake. The FM road was originally designated in 1949 from Post Oak Road west to FM 359.

FM 1960 is a major arterial road through north Houston. The road was originally designated in 1951-52 between US 290 and US 59, then extended through Humble in 1954. FM 1960 was relocated to the Humble bypass in 1978, and has been widened to its present six lane configuration as development has necessitated widening. The section between US 290 and FM (UR) 3100 is now designated an Urban Road (UR), but signed as a Farm to Market (FM) road.

FM 2920 was designated in 1964 between US 290 and FM 149 (now SH 249). The road was extended in 1965 to IH 45. FM 2920 is rapidly becoming another major arterial through Spring and Tomball as development continues to march northward.