The Rio Grande Valley is one of the southernmost regions in the continental United States, second to the southern tip of Florida. Locally referenced as "the Valley", the four-county region expands across nearly 4,316 square miles along the Rio Grande River, and is predominantly agricultural due to its year round temperate climate. First settled in the 1700s by Spanish explorers1, two things excelled the development of the Rio Grande Valley region: irrigation and the railroad. Irrigation was introduced to the Valley on a large scale in 1898, with railroad lines entering the area by 1904. Both resulted in thousands of acres being converted for agriculture use and turned the region into a major agricultural center2. Since then, the Rio Grande Valley has seen exponential growth in several of its cities, including Brownsville, Harlingen, McAllen, and Pharr.
The southernmost city in the Rio Grande Valley, Brownsville is the county seat of Cameron County, one of the four counties that make up the region. Founded in 1848, and incorporated twice due to a land ownership dispute (1850 and 1853, respectively)3 Brownsville serves as the only deepwater port in the region. Due to its geographic location, Brownsville is one of the southernmost municipalities in the contiguous U.S., only slightly higher in latitude than several Florida cities, including Miami.
Harlingen, incorporated in 1910, lies at the crossroads of IH-69E (U.S. 77) and IH-2 (U.S. 83) in the east-central part of the Valley. The city boasts itself as being the "Capital of the Rio Grande Valley"4 and serves as a shipping and distribution hub.
Originally the site of ranch land owned by John McAllen, the city named after him was formally incorporated by 1911. McAllen is located in the lower-central part of the Rio Grande Valley, north of Hidalgo and the Mexico border. The city serves as an agricultural and oil center, as well as also being one of several tourist destinations in the region.
Pharr is a neighboring city to McAllen in central Hidalgo County. Established in February 1916, Pharr experienced tremendous growth through the 2000s, with a population ballooning to over 70,400 by 2010.5. Both IH-69C (U.S. 281) and IH-2 (U.S. 83) serve as principle corridors linking Pharr with other Rio Grande Valley cities: McAllen and Mission to the west, Edinburg to the north, and Harlingen and Brownsville to the south and east.
Three primary highway corridors connect the Rio Grande Valley with the remainder of the state: Interstate 2 & U.S. 83, Interstate 69C & U.S. 281, and Interstate 69E & U.S. 77. Until 2012, the Rio Grande Valley region was the largest not served by the Interstate Highway System. Federal legislation in that year designated freeway portions of U.S. 77, 83, & 281 throughout the Valley as branches of the IH-69 corridor. The eastern branch (IH-69E) runs tandem with U.S. 77 from Raymondville through to Brownsville while the central branch (IH-69C) follows U.S. 281 from a point north of Edinburg south to Pharr. IH-2 currently travels with U.S. 83 from Mission east to Harlingen where it ends at IH-69E. Long range plans call for an extension of IH-2 west from its current end to Laredo.


Locally dubbed as the regional "Main Street", U.S. 83 runs parallel to the Rio Grande River southeasterly from Laredo, entering the Valley at Rio Grande City. East of La Joya, Interstate 2 joins U.S. 83, and the two follow a freeway through to the Mission, McAllen, and Pharr metro area. IH-2 and U.S. 83 then continues east to Donna and Mercedes before meeting IH-69E and U.S. 77 at Harlingen. While IH-2 ends, U.S. 83 turns southeast to follow IH-69E and U.S. 77 for the duration to Brownsville and the Mexico border.
The current alignment of U.S. 83 between Mission and Weslaco originally opened as a bypass in 1963, with the remaining portion to Harlingen being completed by 1966. Conversion of the bypass route to freeway standards occurred in the early 1970s. U.S. 83 was part of the original Texas highway system to McAllen, and extended to Brownsville in the 1939-realignment over the former routing of U.S. 96. In 1997, U.S. 83 was slightly extended to the Los Tomates International Bridge crossing.
The 46.9-mile Business U.S. 83-S represents the lone business loop along the U.S. 83 corridor in the Rio Grande Valley region. The longest business loop in Texas stretches between Penitas and Harlingen on the former course of U.S. 83, and was designated as U.S. 83 was moved onto its current alignment. The section between Mission and Weslaco was designated in 1963, followed by the segment to Harlingen in 1966. The following year, U.S. 83 Business extended another 5.5 miles west of Mission, and extended one final time to Palmview in 1987 when the current bypass was completed.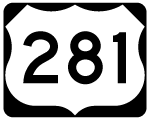 Interstate 69C & U.S. 281
U.S. 281 enters the Rio Grande Valley from the north, connecting San Manuel-Linn with Edinburg, McAllen and Pharr. South of McAllen, U.S. 281 turns east to parallel the Rio Grande River for the remainder to Brownsville. The U.S. highway ends at U.S. 77 Business and SH 48 two miles shy of Downtown Brownsville. The central branch of Interstate 69 (IH-69C) travels along the freeway portion of U.S. 281 from FM 490 south of San Mandolin through to the systems exchange with IH-2 and U.S. 83 in Pharr.
Historically, U.S. 281 replaced U.S. 96 and portions of SH 4 through the region during the highway number realignment of 1939.
Portions of U.S. 281 in the Rio Grande Valley area initially began freeway conversion in 1980 with the Edinburg bypass, with additional sections following suit. This bypassed section of former US 281 is now BU 281-W.
One business loop (Business U.S. 281-W) and one spur branch off of U.S. 281 in the Edinburg and Pharr regions. Business U.S. 281-W follows the original course of U.S. 281 through Edinburg along Closner Boulevard while the U.S. 281 spur extends west 4.8 miles to the McAllen-Hildago-Reynosa International Bridge to Reynosa, Mexico.


Like U.S. 281, Interstate 69E and U.S. 77 enter the Rio Grande Valley from the north near Raymondville, and travels south to Harlingen, where it meets Interstate 2 and U.S. 83. IH-69E, U.S. 77 & 83 then turn southeast toward San Benito, Brownsville, and the Mexico border. The section of U.S. 77 within the Valley region was extended from Corpus Christi by 1945. IH-69E, designated by 2012 legislation, overlays U.S. 77 its entire length through the Rio Grande Valley region.
Several bypasses along the U.S. 77 corridor were opened in various stages between Brownsville (1966), Harlingen (1968), Sebastian (1974) and Raymondville (1969). Once bypasses were completed the remaining segments of U.S. 77 were gradually upgraded to limited-access facilities between the 1970s and early 2000s.
Two business loops and a spur service cities along the U.S. 77 route in the Rio Grande Valley area. BU 77-W branches to the west of IH-69E and U.S. 77 to serve both Raymondville and Sebastian while the longer BU 77-X connects the freeway to Combes, Harlingen, and San Benito. Commerce Street in Harlingen represents an even older alignment of U.S. 77, but is not part of the state highway system. A third business route spurs south along Central Boulevard and Elizabeth Street in Brownsville, ending at Texas 4 (International Boulevard).
International Boulevard & Boca Chica Boulevard
SH 4 extends east 24.4 miles, connecting the central business district of Brownsville with Boca Chica State Park on the Gulf Coast. Following International Boulevard through the CBD from the Gateway International Bridge, SH 4 travels northeast through to an intersection with SH 48 (Boca Chica Boulevard) before turning east for the Gulf of Mexico. SH 4 follows Boca Chica Boulevard for its remaining course to Las Palomas Wildlife Management Area and Boca Chica State Park. SH 4 also serves interests to Brownsville-South Padre Island International Airport (BRO).
Originally SH 4 was part of a much longer route through Texas until 1939 when the state highway was truncated to its run between Brownsville and the coast. One short extension occurred in May 1997 when SH 4 overlaid the former routing of U.S. 77 & 83 between the Gateway International Bridge and the IH-69E and U.S. 77 & 83 freeway.
Boca Chica Boulevard & Brownsville-Port Isabel Highway
SH 48 serves as an essential link between Brownsville, Port Isabel and South Padre Island. Stretching 22.3 miles, the state highway begins at the south end of U.S. 281, traveling across north Brownsville along Boca Chica Boulevard before turning northeast at SH 4 toward the Port of Brownsville and Port Isabel. SH 48 follows Brownsville-Port Isabel Highway north of and parallel to the ports shipping channel before turning northward to Port Isabel and its end at SH 100. SH 100 provides the remaining connection to South Padre Island. In addition to the port, SH 48 also serves as the southern terminus of future Interstate 169 (SH 550).

SH 100 is an east-west state highway that runs 24.6 miles between IH-69E and U.S. 77 & 83 near Russelltown and South Padre Island. Spoking east from IH-69E near Russelltown, SH 100 passes through Los Fresnos before traversing around the water body of Bahia Grande to Port Isabel. The state highway continues east as Texas Park Road 100 along the Queen Isabella causeway before entering San Padre Island. This addition to SH 100 was added into the state highway system by February 1968.

One of the longer state highways in the Rio Grande Valley region, SH 107 travels between Mission, Edinburg, and Combes on a route parallel to both IH-69C (U.S. 281) and IH-2 (U.S. 83). Its initial leg runs north-south from IH-2 through to downtown Mission and neighboring Alton. North of Alton, SH 107 turns east at FM 681 to reach Edinburg and IH-69C. The state highway continues east from Edinburg through the rural communities of La Blanca and Edcouch before meeting its end at IH-69E in Combes.
Like other state highways in the region, SH 107 was also part of the 1939 restructuring of the highway system.

State Highway 336 links Hidalgo with McAllen and the western reaches of Edinburg. The state highway begins its northerly trek at a trumpet interchange with the U.S. 281 spur in east Hidalgo, then travels north bypassing McAllen Miller International Airport (MFE) to the east before skirting downtown McAllen. SH 336 continues north as a commercial arterial, becoming more rural near its end at SH 107 west of Edinburg. The state highway overlays 10th Street its entire duration.
SH 345 is an 8.8-mile spur highway providing a connection between San Benito and Rio Hondo. Beginning at IH-69E (U.S. 77 & 83), SH 345 follows Sam Houston Boulevard northeast through the heart of San Benito, turning northerly at Villa Del Sol. The state highway ends at FM 106 to the east of Rio Hondo. Added to the state highway system in 1942, the north end of SH 345 was moved to its current position by 1945.

Spanning only one mile, SH 486 is a spur linking IH-69E (U.S. 77 & 83) with U.S. 77 Business northwest of San Benito. SH 486 travels along Oscar Williams Road its entire length.

7.9 miles in length, Loop 499 is an at-grade loop around the east side of Harlingen, providing access to Valley International Airport (HRL) and Texas State Technical College. Loop 499 forms the north, east, and south legs of the loop around Harlingen while IH-69E & U.S. 77 make up the west leg. The majority of the loop was constructed in the early 1970s and fully completed by 1979, when the final section was overlaid onto FM 801.
Sources:
1. "Rio Grande Valley's historical heritage", The Valley Spotlight (www.rgvaff.com)

2. "Rio Grande Valley", Texas State Historical Association (TSHA) (www.tshaonline.org)

3. "History of Brownsville", Rio Grande Valley Texas (riograndevalleytx.us)

4. City of Harlingen Texas website (myharlingen.us)

5. American FactFinder Community Facts (factfinder.census.gov)
Page updated January 20, 2018.