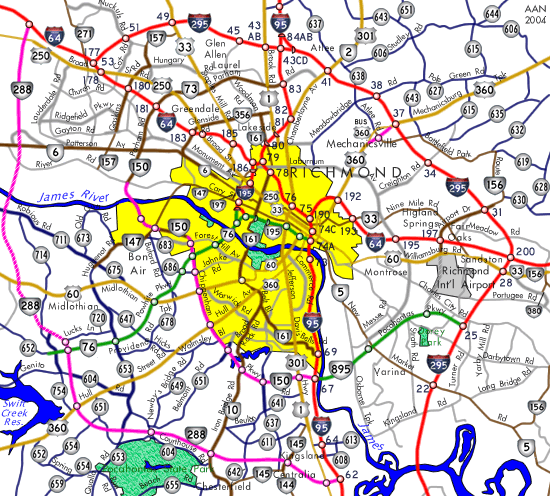 Interstates | US Highways | State Routes | Other Roads
The Richmond-Petersburg metropolitan area is located approximately two hours south of downtown Washington D.C. on Interstate 95. Unlike D.C., the Interstate highway system through Richmond is complete, with immediate access to the downtown areas of both cities.
Richmond is the capital of Virginia, located on the James River. Due to the depth of the river, Richmond has a port with access to Chesapeake Bay and the Atlantic Ocean downriver. With over 43 inches of rainfall and 14 inches of snow annually, the river is consistently deep and wide. Served by Interstates 64 and 95, Richmond is at the crossroads of Virginia, with access to Hampton Roads to the southeast and the nation's capital to the north. One of the older cities in the country, Richmond was founded in 1737.
Petersburg, located 25 miles south of Richmond, is located on the Appomattox River, a tributary to the James River. Much smaller than its cosmopolitan neighbor to the north, Petersburg is the northern terminus of Interstate 85 as it meets Interstate 95. Connecting the two cities, Interstate 95 follows the Richmond-Petersburg Turnpike, a former toll road that was converted to a toll-free road in 1992 once the debt from the highway was paid.
Interstate 64, connecting St. Louis with Hampton Roads, passes through Richmond, serving Downtown along a shared corridor with Interstate 95 north of the central business district.
Interstate 85, which connects many of the largest cities in the Southeast and Mid-Atlantic states (including Montgomery, Atlanta, Charlotte, and Raleigh-Durham), concludes in Petersburg where it meets Interstate 95.
Interstate 95 is one of the most heavily traveled corridors in the country, spanning more states than any other Interstate highway and connecting the Northeast with the Mid-Atlantic and Deep South. The freeway enters the state south of Emporia, then heads due north into Petersburg and Richmond. Interstate 95 continues north toward Washington. D.C. and Baltimore.

Interstate 195, a short spur from Interstate 64-95, provides an alternate route to the west side of downtown Richmond. The Interstate ends at the interchange with Virginia 76 (Powhite Parkway) and Virginia 195 (Downtown Expressway). both of which are toll roads managed by the Richmond Metropolitan Authority (RMA).
Interstate 295, which passes to the east and north of Petersburg-Richmond, provides an alternative to Interstate 95 and Interstate 64 for through traffic. Originally, plans called for Interstate 295 to carry the Interstate 95 designation, but when it was completed in 1992, it retained its numbering as Interstate 295.
U.S. 1 – the main north-south highway along the East Coast, U.S. 1 enters the metropolitan area parallel to Interstate 85. At Petersburg, it joins U.S. 301, and the two routes follow the Jefferson Davis Highway between Petersburg and Richmond. Upon exiting Richmond, the two routes divide, with U.S. 1 resuming its role as the parallel route to Interstate 95, and U.S. 301 heading northeast toward Annapolis via the most southerly bridge over the Potomac River.
Coming into the Mid-Altantic from the Midwest, U.S. 33 traces a southeasterly arc from Indiana southeast into Ohio and West Virginia. Upon entering Virginia, U.S. 33 is signed east-west as it angles toward Richmond. U.S. 33 enters Richmond along Staples Mill Road, then joins U.S. 250 at Broad Street. The two routes continue together until five blocks west of U.S. 1-301, where Virginia 33 turns left from Broad Street. U.S. 250 continues alone on eastbound Broad Street into downtown. U.S. 250 terminates at U.S. 60 just east of Interstate 95. Meanwhile, Virginia 33 continues east through downtown via Leigh Street (parallel to Broad Street but to the north a few blocks), crosses Interstate 95 via the Martin Luther King, Jr. Bridge, then changes into O Street east of downtown. Virginia 33 then follows Nine Mile Road and Interstate 64 before breaking on its own east toward Chesapeake Bay. The state route ends at Deltaville/Stingray Point, east of Richmond.
Nearly a transcontinental route, U.S. 60 begins its easterly journey in the deserts of Arizona, then slowly crosses the country through the states of New Mexico, Texas, Oklahoma, Missouri, Kentucky, West Virginia, and finally Virginia. Entering Richmond, U.S. 60 follows the Midlothian Turnpike (not a toll road), crossing the James River southeast of downtown. It meets U.S. 33-250 where they meet Interstate 95. U.S. 60 continues east of here parallel to Interstate 64 all the way to Hampton Roads.
Another route from the Midwest that paralleled Interstate 64 closely from Staunton southeast to Richmond, U.S. 250 enters the metropolitan area as Broad Street, merging with U.S. 33 just northwest of Downtown at the intersection with Staples Mill Road. U.S. 250 ends at the intersection between Broad Street and U.S. 60 (21st Street) east of Downtown.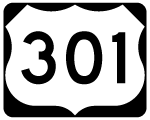 Following Interstate 95 through the Carolinas, U.S. 301 passes through Emporia before reaching Petersburg. Entering Petersburg as Crater Road, U.S. 301 splits into U.S. 301 and Alternate U.S. 301. The alternate route enters downtown, while U.S. 301 remains east of downtown, passing Interstate 95 twice. Between Petersburg and Richmond, U.S. 1 and U.S. 301 are merged along Jefferson Davis Highway, and they split north of downtown Richmond. U.S. 301 continues northeast toward Annapolis before meeting its northern terminus at Glasgow, Delaware.
Coming from south central Virginia, U.S. 360 angles northeast from Danville through South Boston and Amelia Court House to enter Richmond. Following Hull Street, U.S. 360 meets U.S. 60 and U.S. 33-250 east of downtown. U.S. 360 continues northeast from Richmond through Mechanicsville, reaching its end at Reedville/Chesapeake Beach.
The only route to serve Petersburg solely is U.S. 460, which traces an east-west path across the center of Virginia. Briefly linking with Interstate 85, U.S. 460 remains south of downtown Petersburg but offers a business route into the urban area. U.S. 460 continues southeast of Petersburg to join U.S. 58 in Suffolk, then heads east into Hampton Roads.

Virginia 76 is the Powhite Parkway from west of Virginia 288 northeast to Interstate 195 and Virginia 195 near Downtown Richmond. A toll road, the Powhite Parkway (Virginia 76) is operated by the Richmond Metropolitan Authority (RMA) south to Chippenham Parkway (Virginia 150). From that point southwest to the terminus of the road (approximately eight miles), the road is called the "Powhite Parkway Extension" and is operated by the Virginia Department of Transportation.1
Virginia 150 is Chippenham Parkway, connecting Interstate 95 and Virginia 895 in the south with Virginia 76 (Powhite Parkway) and Virginia 6 (Patterson Avenue). The parkway connects to Interstate 64 via Parham Road. Portions of the parkway between Virginia 76 and Virginia 6 are not freeway.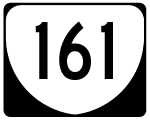 Virginia 161 travels 14 miles along a mostly urban course through the city of Richmond and Henrico County. The route originates in south Richmond from Interstate 95 at Exit 69. Arcing northwest and then north, the state route follows Boulevard north across I-64 & 95 (Richmond-Petersburg Turnpike) en route to U.S. 1 at Lakeside.
| | |
| --- | --- |
| | - Boulevard |
| | |
| --- | --- |
| | SR 161 (Arthur Ashe Boulevard) has a direct ramp to I-64/95 (Richmond-Petersburg Turnpike) north. The southbound entrance ramp departs from Robin Hood Road. 08/08/04 |
| | |
| --- | --- |
| | SR 161 reassurance shield posted along Arthur Ashe Boulevard southbound after the intersection with Moore Street and Leigh Street east. 08/08/04 |
Virginia 195 is the continuation of Interstate 195, which follows Downtown Expressway toll road southeast to I-95. Together, Interstate 195 and Virginia 195 form an internal beltway to the west of Downtown Richmond.
Virginia 288 serves as the southwestern bypass of Richmond, connecting Interstate 95 near Chester with Interstate 64 at Short Pump. The freeway was constructed in stages, with the final segment completed in late 2004 (with construction of the SR 3840 / Woolridge Road interchange continued into 2005) from Virginia 76 to Interstate 64. The bypass allows traffic from Interstate 95 north to Interstate 64 west and vice versa to avoid Downtown Richmond. Virginia 288, like Virginia 895, was a PPTA (public-private project).2
Virginia 895 is the tolled Pocahontas Parkway, which opened in 2002. This connector freeway links Interstates 95 and 295 over the James River. The freeway had been considered as a candidate for Interstate 895 but instead was constructed as a public-private partnership.
For more background and other related information to Richmond and Petersburg area highways, please see the Roads to the Future page by Scott Kozel.
Monument Avenue
Just northwest of the city of Richmond is the nation's only street that has been designated as a national historic landmark: Monument Avenue. Constructed as an extension of downtown's Franklin Street, Monument Avenue is famous for the historic monuments and statues that are interspersed in traffic circles and rights of way along the one and one-half mile length of the road. The monuments date back to 1890, when a statue of Confederate General Robert E. Lee was unveiled at the intersection of Monument and Allen. Each of the monuments are presented in the table below.
| | |
| --- | --- |
| | Monument Avenue passes over Interstate 195 ahead of the southbound entrance ramp. 06/02/03 |
| | |
| --- | --- |
| | The first monument along westbound honors General Robert E. Lee. Lee led the Confederate army during the Civil War, and he surrendered to the Union at Appomattox Court House. This statue was the first one placed along Monument Avenue, back on May 29, 1890, only 25 years after the conclusion of the Civil War! 07/09/10 |
| | |
| --- | --- |
| | Major General James Ewell Brown Stuart fought many battles in the Civil War, and his statue was unveiled on May 30, 1907. 06/02/03 |
| | |
| --- | --- |
| | The Jefferson Davis monument is surrounded by 13 columns that represent the 11 states that seceded from the Union and two states that sent representatives to the Confederate Congress during that troubled period. Jefferson Davis was the lone president of the Confederate United States. He held office during the course of the Civil War (1861-1865). 06/02/03 |
| | |
| --- | --- |
| | General Thomas Jonathan "Stonewall" Jackson earned his famous nickname for his bravery at the first Battle of Manassas (also known as the Bull Run). Dedicated on Oct. 11, 1919, his statue is located at the corner of Monument Avenue and Boulevard. 06/02/03 |
| | |
| --- | --- |
| | The Matthew Fontaine Maury Monument was added to Monument Avenue in 1929. According to the Monument House webpage, Maury was known as "the Pathfinder of the Seas" and wrote about oceanography, sea navigation and meteorology. 06/02/03 |
| | |
| --- | --- |
| | The final monument honors Arthur Ashe, Jr., the tennis great. Ashe is the only African-American along the avenue and offers a departure from the first four monuments that feature Civil War-era personae. His monument was dedicated July 10, 1996. 06/02/03 |
Sources:
Daffron, Meade. Clarified the maintenance responsibilities for Virginia 76.
Moore, Mark.
Page Updated March 25, 2010.