U.S. Highway 50
---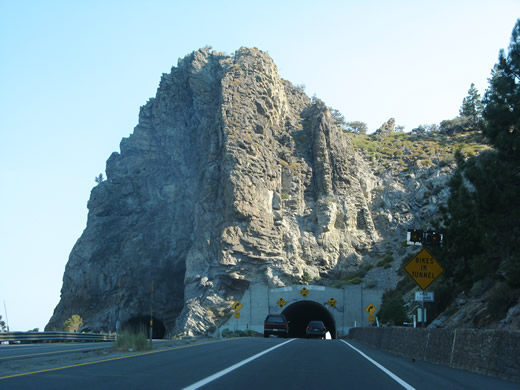 The Cave Rock Tunnels carry U.S. 50 from South Lake Tahoe to Carson City. This view looks northbound (eastbound) at the newer of the two tunnels, built in 1957. The original tunnel (westbound lanes) was constructed in 1931. Photo taken 07/09/07.
U.S. 50 (The Lincoln Highway) is a cross-country route like U.S. 40; however, it manages to get to Sacramento, California, before being absorbed by Interstate 80. Across Nevada, U.S. 50 is famous for being "America's Loneliest Road." It crosses through the Lake Tahoe Basin (where the highway is anything but lonely), then descends into the Carson Valley via a single carriageway, four-lane highway. Once in Carson City, U.S. 50 slowly loses traffic; past Fallon, you'll see road signs like these touting U.S. 50, the nation's loneliest road.
U.S. 50 Nevada Highway Guides
Guide
U.S. 50 was commissioned in 1926 as one of the original U.S. routes. As planned in 1926, U.S. 50 traveled almost exactly the same path as it does today. However, between 1929 and 1953, U.S. 50 was rerouted to serve Salt Lake City. During this time, between Ely, Nevada, and Green River, Utah, U.S. 50 followed present day along U.S. 93 and 93A from Ely north to Wendover, then paralleled U.S. 40 east to Salt Lake City. At Salt Lake City, U.S. 50 turned south along U.S. 89-91 to Spanish Fork, then southeast along current U.S. 6 to Green River. In 1953, U.S. 50 was rerouted to its original, 1926 routing. Today U.S. 50 follows along the same route near Great Basin National Park and Delta, Utah.
The routing of U.S. 50 between the Lake Tahoe region and Ely has remained unchanged between 1926 and today, with a few adjustments due to road improvements and minor realignments.
The two main east-west routes across northern Nevada follow Interstate 80 (old U.S. 40) and U.S. 50. For much of the 20th Century, U.S. 40 overshadowed U.S. 50 as the primary route across the state. (For more information on the Victory and Lincoln Highway Associations, go to the U.S. 40 page.) With its status as the preferred route across northern Nevada, U.S. 40 was selected as the corridor for Interstate 80. Today, U.S. 50 remains as "the Loneliest Road in America."
In 1986, a Life magazine article identified U.S. 50 as a desolate road devoid of many services. The article warned travelers to avoid U.S. 50 entirely. Rich Moreno, the director of public relations for the Nevada Commission on Tourism between 1985 and 1992, used this article to the advantage of advancing state tourism by creating the "I survived Highway 50, the Loneliest Road in America" promotional campaign in July 1986. In May 2004, Mr. Moreno wrote, "That was the same month in which a photo and story appeared in the July 1986 issue of Life magazine that depicted a cowboy on a horse riding across a lonely stretch of U.S. 50 in Nevada. The text to the photo described the 287-mile stretch of U.S. 50 between Ely and Fernley as 'the Loneliest Road in America' and cited an unnamed AAA advisor as saying that a traveler would need 'survival skills' to make the trip.
"The towns along the route were initially upset about the characterization of their region but our office quickly convinced them of the public relations possibilities. In response, we developed a tongue-in-cheek 'Highway 50 Survival Kit,' which contained useful information about the various towns along the route and included a little game travelers could play; they could take a cartoon map with a tear-off card and have the card stamped with 'I Survived' next to the names of the five major towns along that stretch of road. If the traveler returned the card to us, we would send him or her an official 'I Survived Highway 50' certificate signed by the Governor, a pin, and other prizes.
"We (initially) printed 500 of the kits to determine the interest and those were gone in less than a month. To date, the campaign is still going on and more than 40,000 Survival Kits have been sent out by the state. Our office also succeeded in getting the state legislature to officially designate U.S. 50 as the Loneliest Road in America and in having the state highway department erect Loneliest Road signs along the route. During 1986-89, I promoted the heck out of the Loneliest Road, working with CNN, CBS, the Los Angeles Times, the Chicago Tribune, etc. to produce features about America's Loneliest Road. I also worked with local businesses in each town to develop t-shirts, bumper stickers, pins, etc. Since that time, there have been a couple of books about the Loneliest Road, a song (for a BBC play), thousands of newspaper and magazine articles from around the world, and probably lots of other stuff."
Contrary to prior statements made on this page, the original Loneliest Road story appeared in Life magazine, not Trailer Life. Mr. Moreno visited the offices of Trailer Life magazine in Southern California in 1987 to promote the Loneliest Road story, and that magazine followed up with a similarly themed story sometime later that year. However, the Loneliest Road article first appeared in Life magazine.1
Now U.S. 50 is seen as a welcome respite from the hustle of trucks and traffic on Interstate 80. The tourism commission's campaign enticed people to take the less traveled road and to visit one of the nation's newer national parks (Great Basin).
U.S. 50 enters Nevada right in the heart of South Lake Tahoe, California. The obligatory casinos stand tall on both sides of the five-lane highway (two lanes each way plus turn lane). During the summer evenings, tourists will flock from all over the south shore of Lake Tahoe to the casinos, resulting in monumental traffic jams and tie ups between the California 89 (the "Y") junction and the casinos. Parking at the casinos can be a breeze, or it could be a nightmare.
Plans are currently on hold for Caltrans and Nevada DOT to construct a U.S. 50 Bypass route, which would likely follow a freeway alignment along Pioneer Trail to the south of South Lake Tahoe right along the base of the mountains. It is very unlikely that a freeway would be built here due to environmental concerns, so traffic typically remains on U.S. 50. Even traffic that uses the Pioneer Trail to bypass the Y junction must still rendezvous with U.S. 50 before entering Nevada and meeting the towering casinos.
Plans from the 1950s, called for U.S. 50 to be constructed as a full-freeway through the foothills and mountains between Placerville and Carson City. This is no longer a possibility, given the extremely high cost of literally punching a hole in the mountains around Echo Summit (where U.S. 50 crosses the top of the Sierra Nevada) and routing a freeway down the steep, narrow incline along a sheer cliff.
U.S. 50 serves as the principal route for Lake Tahoe visitors, as it connects Sacramento and Carson City residents. Heading east away from the casinos, U.S. 50 hugs the shoreline of Lake Tahoe in a northeasterly direction until just before Spooner Junction, which is its connection to Nevada 28. Nevada 28 continues around the lake, while U.S. 50 resumes its trip east to Carson City. Scenic U.S. 50 is now four lanes wide. From one-quarter mile east of Spooner Summit all the way down the hill to one-half mile west of U.S. 395, U.S. 50 is a divided highway (new since 2000). This has reduced accidents along this potentially dangerous and steep highway. As you travel down the highway (approximately a 2,000 to 3,000 foot drop), it is hard to realize that the lowest point of Lake Tahoe is still deeper than the floor of Carson Valley.
Once joining U.S. 395, U.S. 50 enters the state capital of Nevada. Currently, U.S. 50 goes directly through the city. However, the recent TEA-21 legislation has approved money for the future U.S. 395 bypass that will be built east of town. The U.S. 50 designation will be moved to this new bypass, and old U.S. 50 will likely gain a "business" designation. Already, the Nevada DOT considers the joined U.S. 50-395 section to be Nevada 529, and the U.S. 50 section Nevada 530.
Upon leaving the capital area, U.S. 50 quickly loses its extra lanes and is a mere two lanes as it travels away from civilization and into the depths of the Great Basin. Fallon acts as a last outpost prior to the all-encompassing vastness and emptiness between Carson City and Grand Junction, Colorado. U.S. 50, in fact, does not enter another large city for over 500 miles.
U.S. 50 leaves Fallon rather quickly. Some traffic from the west comes in via U.S. 50 Alternate, which is a fast connection between Interstate 80 and the remote communities of central and eastern Nevada. I can list rather easily the remaining "major" towns along U.S. 50 through the rest of Nevada: Austin, Eureka, and Ely. That's it. There are some smaller developments and communities along the way, but none provide all of the main amenities, such as restaurants, stores, lodging, gas stations, and so on. Ely is the only one that has a fast-food chain presence (not that a fast food chain is a good thing, but it does give you an idea of how profitable McDonald's finds the U.S. 50 Corridor).
Austin and Eureka both lie at intersections with state routes that link to Interstate 80. Naturally, those towns along the old U.S. 40 corridor are much larger and well traveled due to their proximity to the freeway. The towns along I-80 have historically done better than those along U.S. 50. First, the transcontinental railroad was constructed along the modern I-80 alignment - the U.S. 50 corridor was deemed to be too hilly. Then, in the early quarter of this century, U.S. 40 (the Victory Highway) was the chosen path for the Lincoln Highway, which was (and is) a major arterial for the automobile. The biggest blow came in the early 1950s, when U.S. 40 was chosen as an Interstate highway corridor over U.S. 50. Perhaps the only saving grace is that U.S. 50 still remains in the rugged West today, while U.S. 40 dies short of reaching Salt Lake City, Utah.
Heading east, Austin is the first small town after Fallon. Along the way, look out for Sand Mountain (below), which is more like a sand dune than a mountain. There are some small motels, gas stations, and homes in the Austin area, but not much else. At night, you can see the cars ascend the switchbacks leading the 7,484 foot Austin Summit. While the summit is within the Toiyabe National Forest, there are many more sagebrush bushes than trees! During the winter, the Austin Summit is notorious for accidents, as westbound cars and trucks don't realize the steep descent into Austin and skid off the road at one of the many switchbacks.
Eureka, the small mining town, is another 120 miles past Austin. Recent development of the Ruby Hill Mine, a project of the Homestake Mining Company, stimulated the economy, but the mine has slowed operations. Mining is a naturally short-term proposition, and locals rightfully fear that the economic boost brought on by the new mine will not translate into long-term growth or into real economic development. New homes that were built for the miners may lie vacant in years to come if another industry does not stimulate growth.
Continuing east, U.S. 50 reaches the first town of any real significance in Ely. Located 120 miles from nearly any other significant town, Ely is an interesting place. U.S. 50 travels through a narrow canyon before entering Ely, and then it goes directly through the town center, meeting U.S. 6 Business (Murry Street) near downtown. Parking meters line the street, which is surprising for such a small town.
U.S. 50, now joined with U.S. 6 and U.S. 93, head southeast toward Great Basin National Park. If you are heading westbound, this segment of U.S. 50 seems eternal, since it is nearly 20 miles between the Majors Place (U.S. 6-50-93) and the town center of Ely. The road gradually gains elevation from Majors Place to Ely, making the town invisible until the last few miles of the journey.
Near the junction with U.S. 93, you can see the backside of Wheeler Peak, which is one of the tallest mountains in Nevada. Typically snow-capped, Wheeler Peak is the beacon for travelers crossing the Utah desert toward Nevada. It is protected as part of the Great Basin National Park (formerly Lehman Caves National Monument). Access to the national park from U.S. 6-50 is via Nevada 487 and 488 on the east side of the mountain chain.
Right after the junction with Nevada 487, U.S. 6-50 enter Utah, the Beehive State. U.S. 6-50 remain merged until Delta, Utah, which is the first town of significance since Ely. The trip from Ely to Delta is a relatively short trip when compared to others in the Great Basin. U.S. 6 treks northeast toward Provo (along the Historic routing of U.S. 50), while U.S. 50 heads more directly west to meet Interstate 70. U.S. 6 and U.S. 50 will meet again near Green River, Utah, but don't be surprised at the lack of signing. Both the states of Utah and Colorado are known for their lack of signing U.S. routes along Interstate highways.
Geographically, U.S. 50 begins climbing and descending the various mountain ranges and crests between Fallon and the Utah State Line while traveling great distances through remote valleys. The first major summit along U.S. 50 is at New Pass (6,348 feet), which is about 20 miles west of Austin and 30 miles east of Middlegate (the Nevada 361 junction). Austin Summit lies just east of the town of Austin at 7,484 feet. Just beyond that, still within the Toiyabe National Forest, lies Scott Summit at 7,195 feet. This 12-mile section between Austin and Nevada 376 is very steep and twisty.
Hickison Summit is about 12 miles east of Nevada 376. From here, U.S. 50 remains on a valley floor all the way to Eureka, which is 70 miles east of Austin. Then U.S. 50 rises to four more passes between Eureka and Ely: the Pinto Summit at 7,376 feet, Pancake Summit at 6,521 feet, Little Antelope Summit at 7,438 feet, and Robinson Summit at 7,588 feet. At Ely, U.S. 50 merges with U.S. 6 and 93. Together they climb Connors Pass at 7,722 feet. U.S. 6-50, just east of Majors Place (U.S. 6-50-93), climb Sacramento Pass (7,154 feet) near the towering Wheeler Peak (elevation 13,063 feet).
In all, U.S. 50 traverses nine mountain passes between Fallon and the Utah border. This gives U.S. 50 an elevation range between approximately 4,000 and 7,000 feet with each pass. The highway can be treacherous in the winter.
U.S. 50 Auxiliary Routes
U.S. 50 Alternate runs north with U.S. 95 Alternate from Silver Springs to Business Loop I-80 in Fernley, then southeast to Hazen, rejoining U.S. 50 west of Fallon. U.S. 50 Alternate provides a direct route from Interstate 80 to U.S. 50. Approved by AASHTO on November 12, 1976, U.S. 50 Alternate replaced the east-west branch of U.S. 95 Alternate.
U.S. 50 Alternate (former route from around 1960) provided a short alternate east of Fallon around 1960.
U.S. 50 Alternate (former route from 1954-1976) ran from U.S. 50 in Ely east to U.S. 50 in Spanish Fork, Utah along what is now U.S. 93, U.S. 93 Alternate, Interstate 80, Utah 201, and Interstate 15. This lengthy alternate route was the original route of U.S. 50, from when it used to serve Salt Lake City, Utah, directly.
U.S. 50 Business in Carson City will be created when U.S. 50 fully shifts onto the Carson City Freeway (Interstate 580) in August 2017. The business route will follow old U.S. 50 (South Carson Street) north along side U.S. 395 Business from Spooner Junction to Downtown, and old U.S. 50 along William Street east back to U.S. 50 at I-580.
U.S. 50 scenes
U.S. 50 through the community of Stateline is signed as "Highway 50," as evidenced by this traffic signal banner found on northbound Lake Parkway just east of the casinos. Photo taken 07/31/12.
Near the California-Nevada state line, several artifacts associated with the Pony Express can be found near the Harrah's casino property, including an innocuous chrome pole located in a planter with embossed writing and a pony rider statue on the south side of U.S. 50 north of the hotel-casino. Harvey's Hotel and Casino come into view on the south side of U.S. 50. Photos taken 07/29/12.
Between Lake Parkway and a point near the Nevada 207 intersection in Stateline, the Edgewood Tahoe golf course lies on the south side of U.S. 50. Lake Parkway, which is slated to become a future realignment of U.S. 50, parallels the golf course on the west side and circles west toward the California state line. Photos taken 07/31/12.
This series of photos show the beach and the Tahoe Queen dock at Zephyr Cove. Usage is high in summer months for the many visitors to the Tahoe Basin. Photos taken 07/24/09.
Several historic markers are located at the southeastern corner of the intersection between U.S. 50/Lincoln Highway (Overland Trail) and Dayton Valley Road (Nevada 822) in Dayton. These markers tell the history of Dayton as well as some background on the Pony Express, which briefly passed through here in 1860-1861. The first in this series is State Historic Marker #7. Photos taken 07/31/12.
Sources:
Rich Moreno, June 9, 2004, personal email "Loneliest Road Information"
---
Page Updated October 8, 2012.