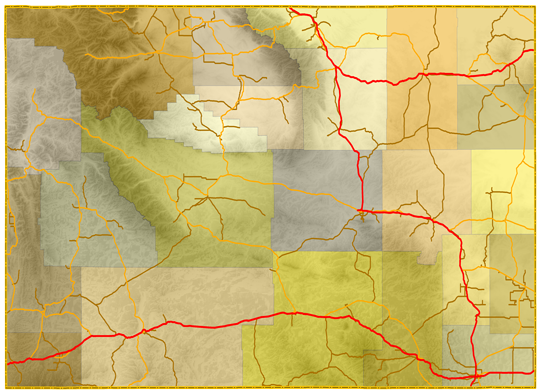 The Wyoming Department of Transportation Reference Marker System lists highways by their state inventory control number. Since these inventory numbers are not featured on the highways, lists compiled here are designed to provide mile posting information for individual, signed highways across the state.
The following tables lists all of the major towns, geographical features, highway junctions, and points of interests along the route. The second column shows the actual milepost marker found on the highway; note that the mileposts rarely reset at zero at the start of new highways. The distance column lists the distance between each geographical feature. If there are multiple features that require several lines to explain, then the distance in this column is omitted. The overall mileage column references the cumulative mileage of the route, with the bold-faced number in the column providing the total mileage for a signed route.
Acronyms used include "CL" referring to "City" or "Corporate" Limits, AH for miles Ahead, BK for miles Back.
Page Updated June 10, 2012.