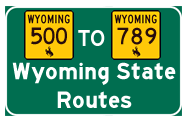 STATE ROUTE
DESCRIPTION
COUNTY
MILEAGE
NAMING
History: In 1938, Wyoming 514 was the current Wyoming 24 from U.S. 14 at Devils Tower Junction north to the national monument and the town of Hulett. This designation lasted from 1938 until 1961, when the road was recommissioned as Wyoming 24 to be consistent with former South Dakota 24. When South Dakota 24 was absorbed into South Dakota 34 (which crosses the entire state of South Dakota) a bit later, Wyoming did not change Wyoming 24 to match South Dakota 34.
Crook
N/A
Wyoming 24
History: Between 1936 and 1939, the current mainline section of U.S. 14 between Greybull and Burgess Junction was known as Wyoming 520. Prior to 1936, this segment was called Wyoming 416. At that time, the current Alternate U.S. 14 was known as U.S. 14 in those days. Wyoming 520 was decommissioned in 1939 when mainline U.S. 14 was rerouted via Greybull, and its old routing became Wyoming 14 by 1940.
Crook
N/A
U.S. 14
Routing: Wyoming 530 travels rom Business Loop I-80 and U.S. 30 (Flaming Gorge Way) in Green River south to the Utah-Wyoming State Line near Manila, Utah, along the west side of the Flaming Gorge Reservoir. At the state line, southbound Wyoming 530 directly transitions onto Utah 43 west.
Guide: Wyoming 530 is a good scenic road, paralleling Flaming Gorge Reservoir. The reservoir is famous for its fishing, especially bass fishing. The Flaming Gorge also has one of the largest shorelines in the state. It is the result of the Green River being dammed up near Dutch John, Utah. Near that dam is some very impressive geological and scenic sites to behold, including Sheep Creek Canyon off Utah 44. The Wyoming Highway Department has invested a significant amount of time and money into improving Wyoming 530 from Green River south to the border near Manila, Utah. The improved sections of Wyoming 530 have widened shoulders and more passing lanes but is usually two lanes (except in the city limits of Green River). An alternate route to Wyoming 530 is Sweetwater County Road 1, which runs from Wyoming 414/Utah 43 north to Wyoming 530 at an angle. In the city of Green River, Wyoming 530 follows five-lane Uinta Avenue (two lanes each way plus a middle turn lane). In 1996, the Wyoming 530 bridge over the Union Pacific Railroad yard was widened from two lanes to four lanes.
Sweetwater
45.34
West Flaming Gorge Road
Routing: Wyoming 585 is a north-south state highway that starts at U.S. 85 in Four Corners and travels northwest to Business Loop I-90 and U.S. 14 in Sundance.
History: Wyoming 585 first appeared in 1933 and has maintained its original alignment since that time. At that time, U.S. 85 had four U.S. auxiliary routes: U.S. 185, U.S. 285, U.S. 385, and U.S. 485. Planners probably hoped to make Wyoming 585 into a U.S. 585, but that never happened. DeLorme's 1992 Wyoming Atlas and Gazetteer mistakenly refer to Wyoming 585 as U.S. 585. It never was a U.S. route, not even when U.S. routes as short as 28 miles long were common (see U.S. 116, 320, 420, etc.).
Weston, Crook
28.05
–

Routing:Wyoming 789 is a major north-south state highway that is likely the longest state numbered highway in Wyoming. As part of a longer planned route from Mexico to Canada, Wyoming 789 has several distinct parts in the Equality State, three-quarters of which run concurrently with other routes. They are:

State Control Route 18 from the Colorado-Wyoming Border near Baggs north to Interstate 80 exit 187 (Creston Junction), signed solely as Wyoming 789.
Interstate 80 from exit 187 east to exit 211 (West Rawlins business loop exit), signed as Interstate 80, U.S. 30, and Wyoming 789. This is the only spot where a state highway and an interstate highway are signed on a shared alignment in the state of Wyoming.
State Control Route 21 from Rawlins northwest to Muddy Gap and State Control Route 20 from Muddy Gap to Lander, signed as U.S. 287/Wyoming 789.
State Control Route 20 from Lander northeast to Riverton, signed solely as Wyoming 789.
State Control Route 20 from Riverton northeast to Shoshoni, signed as U.S. 26 and Wyoming 789.
State Control Route 34 from Shoshoni north to Worland, signed as U.S. 20 and Wyoming 789.
State Control Route 34 from Worland north to Greybull, signed as U.S. 16-20 and Wyoming 789.
State Control Route 34 around Greybull, signed as U.S. 14-16-20 and Wyoming 789.
State Control Route 34 from Greybull north to Frannie via Lovell, signed as U.S. 310 and Wyoming 789.

Carbon, Sweetwater, Natrona, Fremont, Hot Springs, Washakie, Big Horn
407.14
Canada to Mexico Highway
Page Updated June 17, 2012.