California State Route 29
---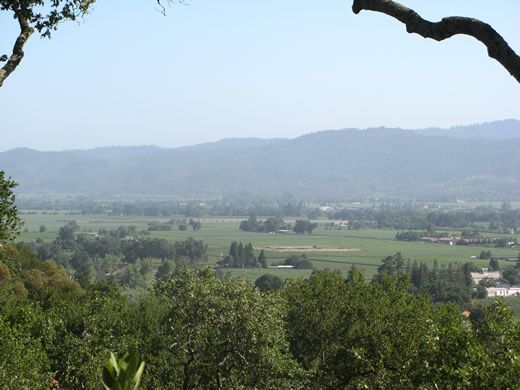 California 29 serves the fertile Napa Valley, home to the most famous wine making region in the United States. Vineyards dot the valley, and California 29 and nearby Silverado Trail link visitors to dozens of wineries. This view looks at Napa Valley from Rutherford Hill Winery. Photo taken 07/07/07.
California 29 starts at Interstate 80 in Vallejo and travels north through the city as Sonoma Boulevard. Upon exiting Vallejo, California 29 travels north toward Napa, gateway to the internationally famous Napa Valley wine country. The highway briefly becomes a freeway as it avoids the city center of Napa, then reverts to a rural highway as it passes through the Napa Valley communities of Yountville, Saint Helena, and Calistoga. Some of the wineries it serves includes Robert Mondavi Winery, Turnbull Winery, Grgich Hills Cellar, V Sattui Winery, Sutter Home Winery, and Beringer Vineyards. Calistoga, home of the nationally famous Calistoga brand mineral water and home to the geyser "Old Faithful of California," marks the northern end of Napa Valley. California 29 ascends an extinct volcano, Mount Saint Helena, to leave Napa County and enter Lake County. Lake County is home to Clear Lake, the largest natural freshwater lake in California (aside from Lake Tahoe, which is shared by Nevada). California 29 passes through Middletown, Lower Lake, Kelseyville, and Lakeport on its way around the southern and western shores of Clear Lake. It even becomes a freeway as it bypasses Lakeport, and plans call for expansion to a four-lane expressway for the two-lane bypass around Kelseyville. California 29 reverts to a two-lane highway north of Lakeport, and it ends at its junction with California 20 near Upper Lake, with most traffic continuing west on California 20 toward Ukiah.
California State Route 29 Guides
California 29 scenes

The George F. Butler Bridge carries California 29 over the Napa River; it was built in 1977 and carries the freeway high above the flood plain. Photos taken 05/25/06.
| | |
| --- | --- |
| | Silverado Trail and California 29 facilitate most north-south travel through Napa Valley between the cities of Napa and Calistoga. This view looks north on Silverado Trail as it approaches California 29 near the northern end of Napa Valley. A right turn on California 29 leads to the Mt. St. Helena grade into Lake County en route to Middletown, Clearlake, and Lakeport. Turn left here to downtown Calistoga. Photos taken 07/07/07. |
---
Page Updated October 23, 2009.