California 62
---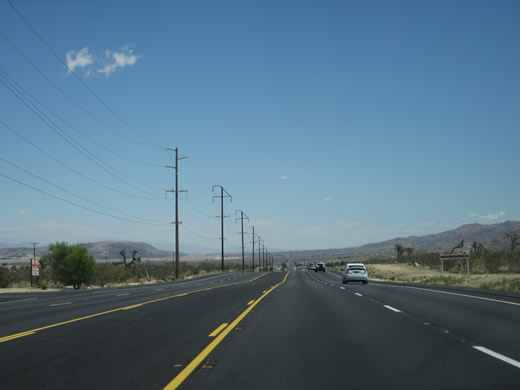 Between Interstate 10 and Twentynine Palms, California 62 has four to five lanes of traffic (often with the center turn lane). Along the way, California 62 serves Desert Hot Springs, Morongo Valley, Yucca Valley, Joshua Tree, and Twentynine Palms. Photo taken 04/26/14.
California 62 is a major desert highway that starts at Interstate 10 near White Water, heads north via Morongo Valley and Yucca Valley, then turns east into Joshua Tree National Park via Twenty-Nine Palms. California 62 then enters the undeveloped desert, with no services between Twenty-Nine Palms and Vidal Junction. The highway ends when it crosses the Colorado River and becomes Spur Arizona 95 near Parker, Arizona.
One of the most eccentric things about California 62 is a shoe tree. Donald Burke writes, "I've driven California 62 west from Parker to Twentynine Palms on four occasions in the last few years. Each time, I've passed a lone tree at the roadside which is adorned with hundreds of sneakers and other footwear. A couple of years ago, it had been stripped but a few weeks ago I passed it and it was full again. Does anybody know the story behind this tree and its bizarre decoration?" Well, it turns out that there are plenty of shoe trees throughout the Southwest. According to the Roadside America Shoe Tree Guide, shoe trees may be found on U.S. 50 near Middle Gate, Nevada, and on U.S. 395 south of Alturas, California. According to this web page, sadly, the shoe tree on California 62 was burned down in 2004.1
California 62 Highway Guides
California 62 scenes
At this side road at California 62, the distance sign points to U.S. 60, a route decommissioned back in 1964, which dates this sign accordingly. This sign has since been replaced. Photo taken 11/12/00.
This view looks north from the Colorado River bridge toward the railroad bridge between Parker, Arizona, and Earp, California. Photo taken 02/20/05.
California 62 is signed along Arizona 95 north in Parker, Arizona. This overhead shows that California 62 travels west into California, while Arizona 95 turns north toward Lake Havasu City. The short connector road between Arizona 95 and California 62 is technically designated as Spur Arizona 95 (although signs also show the route as Truck Arizona 95). Photo taken 02/20/05.
This suite of photos follows Arizona 95 Spur (Parker Dam Road) from Arizona 95 to Parker Dam, which holds back Lake Havasu. The dam was built in 1938 and features art deco touches. California 62, which was extended east from Twentynine Palms to Parker in 1970, was never routed over Parker Dam, and the road leading to the dam from the California side is not part of the state highway system (unlike the spur designation given the route from the Arizona side). Photos taken 02/20/05.
Parker Dam Road eastbound from California into Arizona; the portion of highway east of the dam is designated as Arizona 95 Spur. Note the gate closure that occurs nightly for security purposes. Photos taken 02/20/05.
Sources:
Personal Email, "Regarding the 'hoe tree' question on CA 62 page," from Colin on March 19, 2005.
---
Page Updated May 19, 2014.