Located wholly within Anne Arundel County, I-97 is the shortest two digit route in the Interstate Highway System at just 17.62 miles in length. A well traveled commuter highway between the capital of Annapolis and Baltimore, Interstate 97 connects Glen Burnie with suburban areas of Severn and South Gate. The north end of the freeway connects with the Baltimore Beltway (Interstate 695) at Linthicum Heights and I-895 Spur Branch A to the Harbor Tunnel Thruway.
Interstate 97 Maryland Guides
Interstate 97 was first proposed to travel south from the Baltimore Beltway to U.S. 50/301 (John Hansen Highway) near Annapolis then west to the Capital Beltway (I-95). This alignment was approved by the American Association of State Highway and Transportation Officials (AASHTO) on November 15, 1975. It included Interstate 297, a proposed loop overlaying MD 3 (Crain Highway) 9.0 miles southwest from Millersville to Bowie, and Interstate 197, a spur overlaying U.S. 50/301 east to MD 70 outside Annapolis.
With nothing yet constructed for Interstate 97 south of Glen Burnie, the numbering changed with I-97 following its eventual alignment from U.S. 50/301 northward to the Glen Burnie Bypass. I-97 along U.S. 50 (John Hansen Highway) west to I-95 outside D.C. and I-197 east to MD 70 (Rowe Boulevard) were initially proposed as Interstate 68. I-297 remained as an upgrade for MD 3 (Crain Highway). AASHTO withheld action on an application for this renumbering on June 29, 1981.
A revised plan renumbering the proposed I-68 east of I-97 to MD 70 (Rowe Boulevard) as Interstate 168 was approved by AASHTO on October, 3, 1981. Subsequent action by AASHTO formally eliminated I-97 and I-197 along U.S. 50 on June 29, 1982.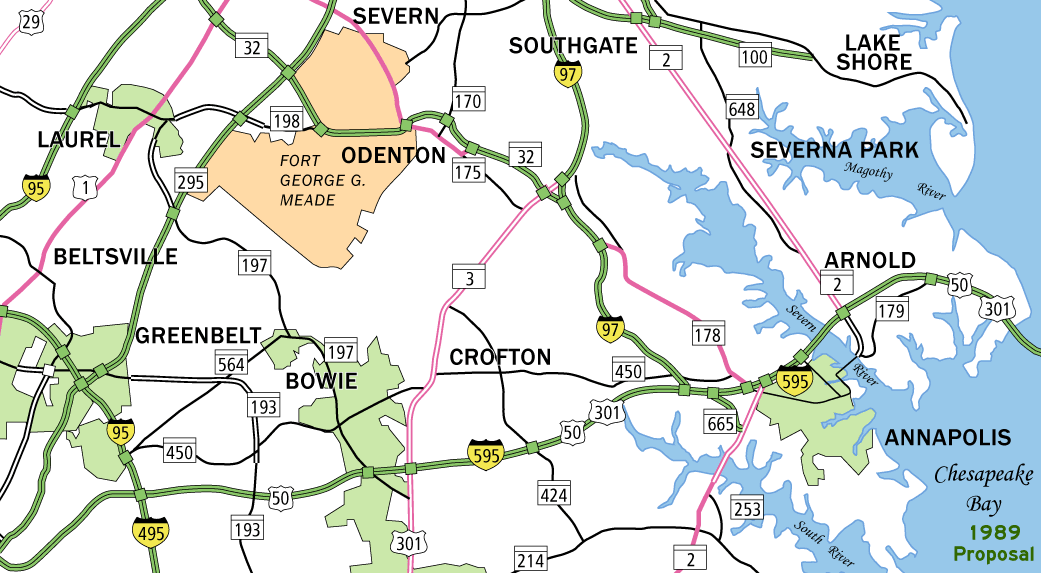 A final numbering scheme arose by 1989 as construction continued upgrading U.S. 50 (John Hansen Highway) to Interstate standards. The proposed route I-68 and I-168 along U.S. 50 (John Hansen Highway) were dropped in favor of Interstate 595, allowing Maryland and West Virginia to utilize the I-68 designation along U.S. 48 between Morgantown and Hancock. The Maryland Department of Transportation (MDOT) ultimately opted not to post signs for Interstate 595 to offset motorist confusion with the existing U.S. 50/301 signing.
Interstate 97 was constructed north from U.S. 50/301 (I-595) and MD 3 at Exit 7 between 1984 and 1989. Work followed from Exit 7 north to the Glen Burnie Bypass at Exit 12 in 1993. Upgrades along the Glen Burnie Bypass, an expressway built in the 1960s, north to I-695 followed between 1994 and 1997.1
Connect with:
Interstate 595
Interstate 695 - Baltimore Beltway
Interstate 895
U.S. 50
U.S. 301
Route 32 - Patuxent Freeway
Route 100
Page Updated 02-07-2023.