Within Georgia, U.S. 319 measures 215.78 miles north from the Florida state line south of Thomasville to U.S. 1/SR 78 at Wadley. U.S. 319 generally travels northeast, joining Moultrie with Tifton, McRae and Wrightsville.
U.S. 319 forms part of an arterial bypass around Thomasville, overlapping with U.S. 84 east 3.03 miles to U.S. 19. North into Colquitt County, the lone business route for U.S. 319 runs 6.80 miles through Moultrie.
Through Tifton, U.S. 319 overlaps with U.S. 82 east 2.56 miles before turning northeast to Ocilla. U.S. 319 combines with U.S. 129 north 7.11 miles from Ocilla to Fitzgerald and with U.S. 441 for 55.78 miles from south of Jacksonville to Downtown Dublin.
U.S. 319 turns east along side U.S. 80 for 1.88 miles to East Dublin before turning northward en route to Wrightsville. A final overlap takes U.S. 319 north along side U.S. 221 for 3.59 miles to Bartow.

North

East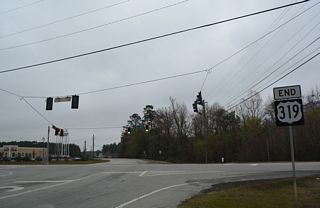 An end shield for U.S. 319 stands at the intersection joining SR 78 (Calhoun Street) with U.S. 1/SR 4. SR 78 extends east.
12/14/17

East

West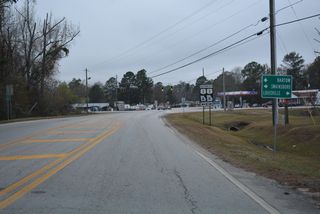 State Route 78 enters the city of Wadley at Boggy Gut Creek. The highway advances southwest to intersect U.S. 1/SR 4 across from U.S. 319 south.
12/14/17

South

West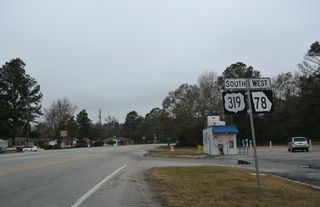 The first confirming marker for U.S. 319 south stands between U.S. 1/SR 4 and Martin Luther King, Jr. Boulevard in Wadley.
12/14/16
Connect with:
U.S. 1
U.S. 19
U.S. 80
U.S. 82
U.S. 84
U.S. 129
U.S. 221
U.S. 441
Page Updated 06-15-2020.