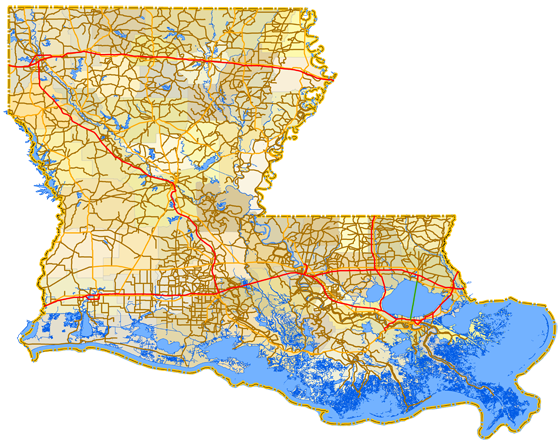 Sitemap to all pages covering the state of Louisiana. Photographs and contributions by Alex Nitzman, Andy Field, Brent Ivy, Carter Buchanan, Justin Cozart and others.
General Information
Photo Guides
City / Area Guides
State Highways
State Population
4,657,757
Metropolitan Populations
New Orleans-Metairie
1,271,845
Baton Rouge
870,569
Lafayette
478,384
Shreveport-Bossier City
393,406
Lake Charles
222,402
Houma-Thibodaux
207,137
Monroe
207,104
Alexandria
152,192
Top Parish Populations
East Baton Rouge
456,781
Jefferson
440,781
Orleans
383,997
St. Tammany
264,570
Lafayette
241,753
Caddo
237,848
Calcasieu
216,785
Ouachita
160,368
Top City Populations
New Orleans
389,476
Baton Rouge
219,052
Shreveport
184,786
Lafayette
126,535
Lake Charles
78,433
Bossier City
68,216
Kenner
66,288
Monroe
46,998
Sources: 2020 U.S. Census Data (metro populations and counties), 2020 U.S. Census Estimate (cities)
About Louisiana
Capital: Baton Rouge
Nickname: Pelican State
State Flower: Magnolia
State Bird: Brown Pelican
State Tree: Bald Cypress
Land Area: 46,923.27 square miles, 31st largest
Total Interstate Mileage: 933.84 miles
Highest Point: Driskill Mountain (535 feet above sea level)
Lowest Point: Sea Level
Number of Parishes: 64
Statehood: 18th state; admitted April 30, 1812
Major League Sports Franchises
New Orleans Saints (NFL)
New Orleans Pelicans (NBA)
New Orleans Jazz (NBA) – moved to Salt Lake City in 1979.