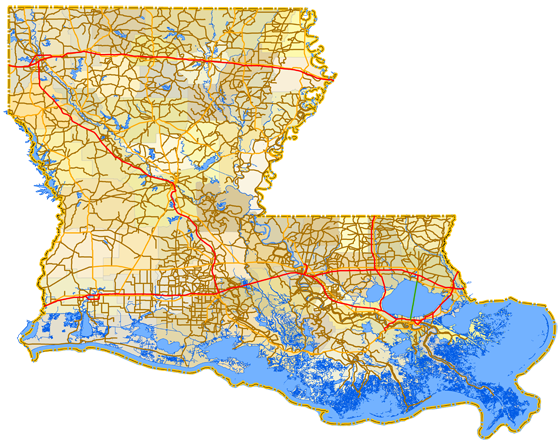 Sitemap to all pages covering the state of Louisiana. Photographs and contributions by Alex Nitzman, Andy Field, Brent Ivy, Carter Buchanan, Justin Cozart and others.
General Information
Highway Guides
City / Area Guides
Interstates
U.S. Highways
State Highways
About Louisiana
Capital: Baton Rouge
Nickname: Pelican State
State Flower: Magnolia
State Bird: Brown Pelican
State Tree: Bald Cypress
Land Area: 46,923.27 square miles, 31st largest
Total Interstate Mileage: 933.84 miles
Highest Point: Driskill Mountain (535 feet above sea level)
Lowest Point: Sea Level
Number of Parishes: 64
Statehood: 18th state; admitted April 30, 1812
Major League Sports Franchises
New Orleans Saints (NFL)
New Orleans Pelicans (NBA)
New Orleans Jazz (NBA) – moved to Salt Lake City in 1979.
Updated November 18, 2019.